Blogs
Lisa Jo Rudy on Authentic Inclusion. PANIC! The Reality of Anxiety. Beyond Blue. "Bewitched, bothered, and bewildered am I" wrote US songwriter Lorenz Hart about the feeling of infatuation.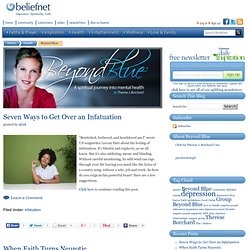 It's blissful and euphoric, as we all know. But it's also addicting, messy and blinding. Without careful monitoring, its wild wind can rage through your life leaving you much like the lyrics of a country song: without a wife, job and truck. So how do you reign in this powerful beast? Here are a few suggestions. Dr Petra Boynton - Sex educator, Agony Aunt, Academic. Many years ago I was asked to review a small qualitative study for a healthcare journal.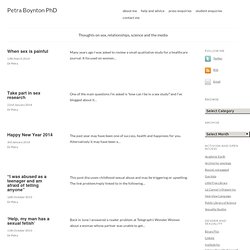 It focused on women… One of the main questions I'm asked is 'how can I be in a sex study?' And I've blogged about it… The past year may have been one of success, health and happiness for you. Alternatively it may have been a… Neuromarketing. How would you like to do a mind-meld with some of the world's top experts in psychology, persuasion, marketing, neuroscience and more?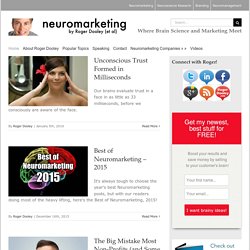 For free? I've got exciting news for my Neuromarketing readers! Frontier Psychiatrist - Mental Illness for the Masses. Posts - Research Blogging. In the news by Karen Franklin PhD. The Situationist. We're Only Human. Wray Herbert has been writing about psychology and behavioral science for many years.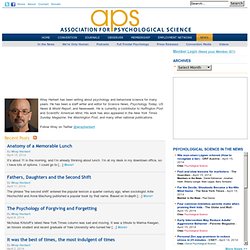 He has been a staff writer and editor for Science News, Psychology Today, US News & World Report, and Newsweek. He is currently a contributor to Huffington Post and Scientific American Mind. His work has also appeared in the New York Times Sunday Magazine, the Washington Post, and many other national publications. Follow Wray on Twitter @wrayherbert Recent Posts. Brain Blogger. Channel N: Brain and behavior videos. All About World Bipolar Day By Sandra Kiume For World Bipolar Day on March 30, 2014, Matthew McKenzie of London, England created a video to celebrate and inform.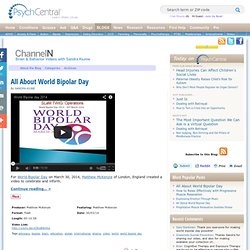 Continue reading… » High Tech Suicide Prevention Two suicide prevention advocates from Grassroots Suicide Prevention talk about developments in e-health, including search engines, smartphones, and social media. The Neurocritic. Mind Hacks. PsyBlog - Psychology studies relevant to everyday life. Psychology Today. World of Psychology - Psychology and mental health blog. 5 Tips to Keep 'Keeping Score' from Ending Your Relationship by Susie & Otto Collins Why holding on to your partner's mistakes will end up hurting you.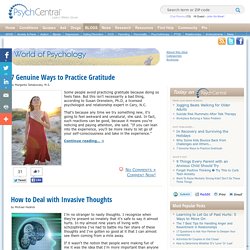 The Last Psychiatrist.
---