Blogs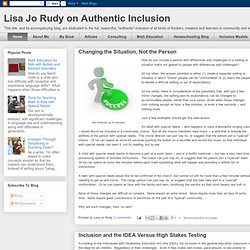 According to the Individuals with Disabilities Education Act (the IDEA), full inclusion in the general education classroom is the ideal for all children. Regardless of their challenges. Even if they make odd noises, pace around, or are unable to communicate verbally. Even if their cognitive challenges make it impossible for them to read at anything close to grade level or produce schoolwork that can be compared in any way to their classmates'. To achieve this goal, children with significant challenges of any kind must be taught according to his own needs, based on an Individualized Education Plan (IEP). This could work!
Lisa Jo Rudy on Authentic Inclusion
PANIC!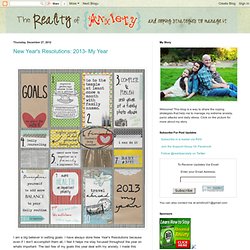 I am a big believer in setting goals. I have always done New Year's Resolutions because even if I don't accomplish them all, I feel it helps me stay focused throughout the year on whats important. The last few of my goals this year deal with my anxiety. I made this scrapbook page and printed it out so I can hang it up in my office and I also made it my computer desktop wallpaper so I will see it everyday as a reminder of what I should be doing and focusing my time on.
The Reality of Anxiety
"Bewitched, bothered, and bewildered am I" wrote US songwriter Lorenz Hart about the feeling of infatuation. It's blissful and euphoric, as we all know. But it's also addicting, messy and blinding. Without careful monitoring, its wild wind can rage through your life leaving you much like the lyrics of a country song: without a wife, job and truck. So how do you reign in this powerful beast? Here are a few suggestions.
Beyond Blue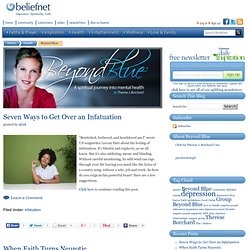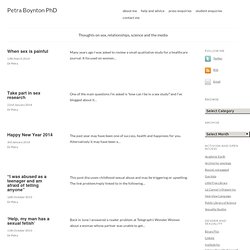 Many years ago I was asked to review a small qualitative study for a healthcare journal. It focused on women… One of the main questions I'm asked is 'how can I be in a sex study?'and I've blogged about it… The past year may have been one of success, health and happiness for you. Alternatively it may have been a…
Dr Petra Boynton - Sex educator, Agony Aunt, Academic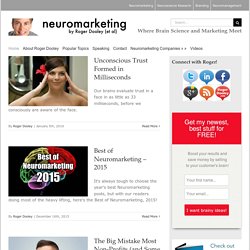 Neuromarketing
Subliminal Messages, SXSW Neuromarketing, Formula for a Bestseller, More – Roger's Picks Another week, another batch of content for your reading pleasure. Whether you want to turn your book into a bestseller or develop an app that's as addictive as an illegal drug, we've got something for you!
Frontier Psychiatrist - Mental Illness for the Masses
At a recent Art of Psychiatry meeting we held a screening of the film which is about the experiences of Paul Schreber who, at the turn of the 20th century published a famous account of his experiences of (what others saw as) mental disorder. Afterwards Helen Taylor-Robinson (psychoanalyst and fellow of the Institute of Psychoanalysis London) and Clive Robinson (psychiatrist) talked about their work on the film, with which they were both involved. They've kindly answered some questions for this website which give a flavour of the film's subject matter and themes. Can you tell us about the film and how it tells Schreber's story? The film is an imaginative drama documentary based on the German judge Daniel Paul Schreber's (1903). The film is in narrative form, set in the period of the late nineteenth, early twentieth century.
Posts - Research Blogging
Forensic psychology bloggers are few and far between, so I was delighted to make the acquaintance of Harald Merckelbach, a psychology professor at Maastricht University in the Netherlands who co-hosts -- you guessed it -- a "Forensische Psychologie Blog." Maastricht University, in case you are not familiar with it, is an internationally oriented school that -- together with Portsmouth in the UK and Gotheborg in Sweden hosts a three-year Ph.D. program in legal psychology funded by the European Union that is open to excellent candidates from the USA and Canada (check it out HERE). Dr.
In the news by Karen Franklin PhD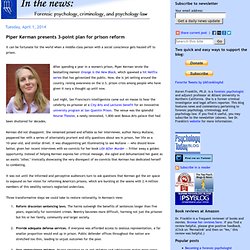 By Bjorn Carey (Stanford News) Nalini Ambady, a Stanford professor of psychology, died Oct. 28 after a long battle with leukemia. Her passing followed a yearlong, worldwide effort by family, friends and students to find a bone marrow donor match. She was 54.
The Situationist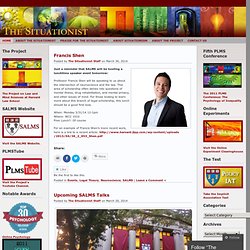 We're Only Human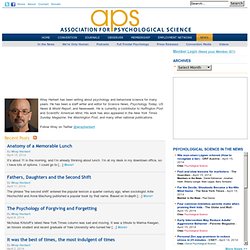 Wray Herbert has been writing about psychology and behavioral science for many years. He has been a staff writer and editor for Science News, Psychology Today, US News & World Report, and Newsweek. He is currently a contributor to Huffington Post and Scientific American Mind. His work has also appeared in the New York Times Sunday Magazine, the Washington Post, and many other national publications. Follow Wray on Twitter @wrayherbert Recent Posts
Welcome Guest Login or Register Close Connect with other sites in the UBM MedicaNetwork
Brain Blogger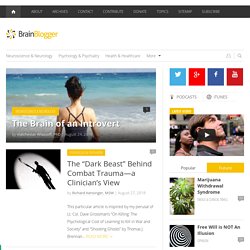 Channel N: Brain and behavior videos
All About World Bipolar Day By Sandra Kiume For World Bipolar Day on March 30, 2014, Matthew McKenzie of London, England created a video to celebrate and inform. Continue reading… » High Tech Suicide Prevention Two suicide prevention advocates from Grassroots Suicide Prevention talk about developments in e-health, including search engines, smartphones, and social media.
The Neurocritic
NCAA college basketball isn't the only hot competition involving a team from the University of Virginia. UVa Psychology Professor Brian Nosek is one of three founders of Project Implicit, a collaborative nonprofit dedicated to the study of implicit social cognition — how unconscious thoughts and feelings can influence attitudes and behavior. Prof Nosek is also heavily involved in the Open Science and Replication movements. Along with graduate student Calvin Lai, he led a multinational group of 22 other researchers in a competition to see who could devise the best intervention to reduce racial bias scores on a widely administered implicit test, the race IAT (Lai et al, 2014).
Mind Hacks
The headlines BBC: Truth or lie – trust your instinct, says research British Psychological Society: Our subconscious mind may detect liars Daily Mail: Why you SHOULD go with your gut: Instinct is better at detecting lies than our conscious mind The Story Researchers at the University of California, Berkeley, have shown that we have the ability to unconsciously detect lies, even when we're not able to explicitly say who is lying and who is telling the truth. What they actually did The team, led by Leanne ten Brinke of the Haas School of Business, created a set of videos using a "mock high-stakes crime scenario".
PsyBlog - Psychology studies relevant to everyday life
Psychology Today
World of Psychology - Psychology and mental health blog
The Last Psychiatrist