Blogs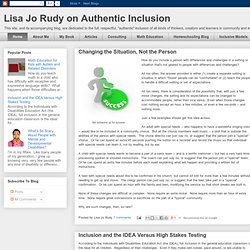 According to the Individuals with Disabilities Education Act (the IDEA), full inclusion in the general education classroom is the ideal for all children. Regardless of their challenges. Even if they make odd noises, pace around, or are unable to communicate verbally. Even if their cognitive challenges make it impossible for them to read at anything close to grade level or produce schoolwork that can be compared in any way to their classmates'. To achieve this goal, children with significant challenges of any kind must be taught according to his own needs, based on an Individualized Education Plan (IEP). This could work!
Lisa Jo Rudy on Authentic Inclusion
PANIC!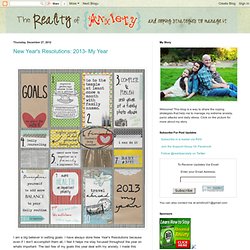 I am a big believer in setting goals. I have always done New Year's Resolutions because even if I don't accomplish them all, I feel it helps me stay focused throughout the year on whats important. The last few of my goals this year deal with my anxiety. I made this scrapbook page and printed it out so I can hang it up in my office and I also made it my computer desktop wallpaper so I will see it everyday as a reminder of what I should be doing and focusing my time on.
The Reality of Anxiety
When does reciting scripture become a symptom of neurosis? Or praying the rosary an unhealthy compulsion? Not until I had the Book of Psalms practically memorized as a young girl did I learn that words and acts of faith can morph into desperate measures to control a mood disorder, that faithfulness and piety can disguise acute anxiety and depression. Click here to continue reading this post. One of my mom's best pieces of advice: "Hang with the winners."
Beyond Blue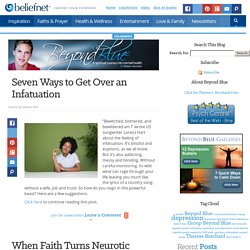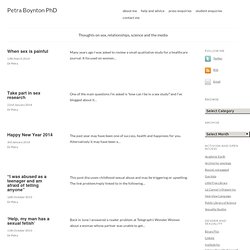 The past year may have been one of success, health and happiness for you. Alternatively it may have been a… This post discusses childhood sexual abuse and may be triggering or upsetting. The link problem/reply linked to in the following… Back in June I answered a reader problem at Telegraph's Wonder Women about a woman whose partner was unable to get… Recently my advice column for The Telegraph answered a question from a woman who wasn't sure about receiving oral sex….
Dr Petra Boynton - Sex educator, Agony Aunt, Academic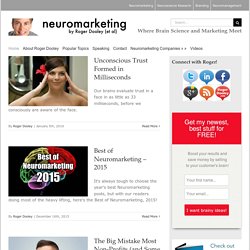 Neuromarketing
Subliminal Messages, SXSW Neuromarketing, Formula for a Bestseller, More – Roger's Picks Another week, another batch of content for your reading pleasure. Whether you want to turn your book into a bestseller or develop an app that's as addictive as an illegal drug, we've got something for you!
Frontier Psychiatrist - Mental Illness for the Masses
At a recent Art of Psychiatry meeting we held a screening of the film which is about the experiences of Paul Schreber who, at the turn of the 20th century published a famous account of his experiences of (what others saw as) mental disorder. Afterwards Helen Taylor-Robinson (psychoanalyst and fellow of the Institute of Psychoanalysis London) and Clive Robinson (psychiatrist) talked about their work on the film, with which they were both involved. They've kindly answered some questions for this website which give a flavour of the film's subject matter and themes. Can you tell us about the film and how it tells Schreber's story? The film is an imaginative drama documentary based on the German judge Daniel Paul Schreber's (1903). The film is in narrative form, set in the period of the late nineteenth, early twentieth century.
Posts - Research Blogging
Forensic psychology bloggers are few and far between, so I was delighted to make the acquaintance of Harald Merckelbach, a psychology professor at Maastricht University in the Netherlands who co-hosts -- you guessed it -- a "Forensische Psychologie Blog." Maastricht University, in case you are not familiar with it, is an internationally oriented school that -- together with Portsmouth in the UK and Gotheborg in Sweden hosts a three-year Ph.D. program in legal psychology funded by the European Union that is open to excellent candidates from the USA and Canada (check it out HERE). Dr.
In the news by Karen Franklin PhD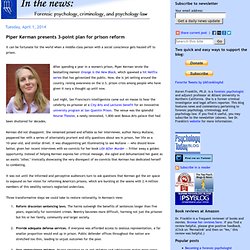 Some recent discoveries in evolutionary biology, ethology, neurology, cognitive psychology and behavioral economics impels us to rethink the very foundations of law if we want to answer many questions remain unanswered in legal theory. Where does our ability to interpret rules and think in terms of fairness in relation to others come from? Does the ability to reason about norms derive from certain aspects of our innate rationality and from mechanisms that were sculptured in our moral psychology by evolutionary processes? Legal theory must take the complexity of the human mind into account
The Situationist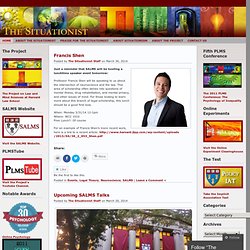 We're Only Human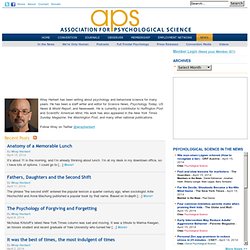 Wray Herbert has been writing about psychology and behavioral science for many years. He has been a staff writer and editor for Science News, Psychology Today, US News & World Report, and Newsweek. He is currently a contributor to Huffington Post and Scientific American Mind. His work has also appeared in the New York Times Sunday Magazine, the Washington Post, and many other national publications. Follow Wray on Twitter @wrayherbert Recent Posts
Brain Blogger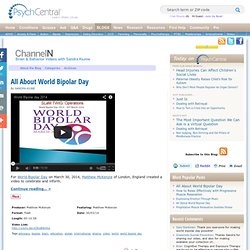 Channel N: Brain and behavior videos
All About World Bipolar Day By Sandra Kiume For World Bipolar Day on March 30, 2014, Matthew McKenzie of London, England created a video to celebrate and inform. Continue reading… » High Tech Suicide Prevention Two suicide prevention advocates from Grassroots Suicide Prevention talk about developments in e-health, including search engines, smartphones, and social media.
The Neurocritic
** This post is meant to be read in tandem with its more complimentary cousin,Electroconvulsive Therapy Impairs Memory Reconsolidation, atThe Neurocomplimenter. ** Bad memories haunt a significant number of people with serious mental illnesses, such as chronic major depression and post-traumatic stress disorder (PTSD).
Mind Hacks
The headlines BBC: Truth or lie – trust your instinct, says research British Psychological Society: Our subconscious mind may detect liars Daily Mail: Why you SHOULD go with your gut: Instinct is better at detecting lies than our conscious mind The Story Researchers at the University of California, Berkeley, have shown that we have the ability to unconsciously detect lies, even when we're not able to explicitly say who is lying and who is telling the truth. What they actually did The team, led by Leanne ten Brinke of the Haas School of Business, created a set of videos using a "mock high-stakes crime scenario".
PsyBlog - Psychology studies relevant to everyday life
Psychology Today
World of Psychology - Psychology and mental health blog
The Last Psychiatrist