Utilities
Welcome to MailChimp | MailChimp.com
Hazel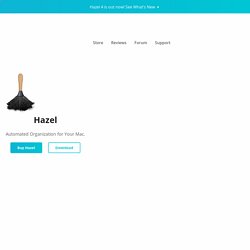 When you throw away applications, they can leave behind support files that never get cleaned up. With Hazel's App Sweep, Hazel will detect when you throw applications away, search for its support files and offer to throw those away as well. Uninstalling applications is integrated with your Trash so you don't even have to think about it. Made a mistake?
Restaurants and Restaurant Reservations
JibApps | Software for Mac OS X
Products
OmniDiskSweeper
WhenIsGood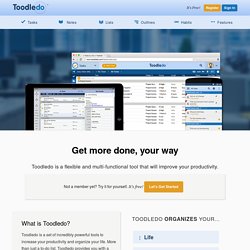 A to-do list to organize your tasks
Organize Your Tasks. Use folders, tags, contexts, subtasks and more to organize, search and sort through your tasks. Improve Your Productivity. Toodledo's hotlist, customizable alarms, and sortable online to-do list will help you remember to complete tasks on-time. Go Anywhere. Get Toodledo on your mobile phone, in your email, on your calendar, integrated directly into your web browser, and more.