News
Vincent Wong and Yoyo Chen Make Out for 72 Hours | JayneStars.com
21share 3share Since Vincent Wong (王浩信)and Yoyo Chen (陳自瑤)were photographed kissing by the poolside in their Tseung Kwan O apartment in 2009, TVB allegedly were dissatisfied with the pair high-profile relationship. Due to Vincent's focus on his acting career, he neglected Yoyo. Although Yoyo moved out of their shared residence in the beginning of 2011, Vincent sent two thousand text messages to ask for reconciliation. Two months after their dispute, Vincent and Yoyo were back together again.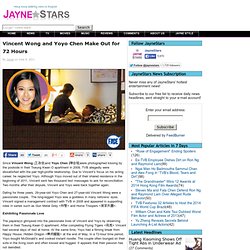 JayneStars.com | Hong Kong Celebrity News in English
Yammie Nam was late to work every day while filming in Taiwan, provoking co-star Ti Ang to ambush and kick Yammie to the ground. (One Comment) Chiling Lin's new underwear ad was too sexy for a young primary school student to handle, distracting him from studying. (7 Comments) Josie Ho and Vincent Wong portray a tragic couple in TVB's new prison drama, "Battle of Tomorrow"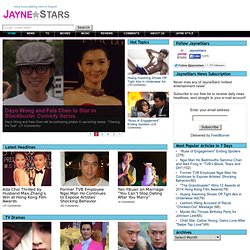 The Atlantic Follow Us Video Let's Get Physical: A 1950s Guide to Hooking Up Watch Music Bring Back Memories for Alzheimer's Patients How songs can help people whose minds are deteriorating Olga Khazan 4 Hunting Licenses—to Shoot Drones A new age of uncharted legal territory in low-level airspace Rebecca J.