Africa
Richard Bona. Geoffrey Oryema. Geoffrey Oryema during a concert in Mainz, Germany, 13 March 2001 Geoffrey Oryema (born 16 April 1953) is an internationally renowned Ugandan musician.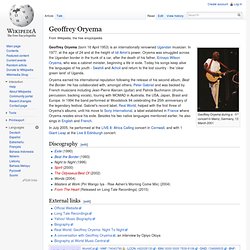 In 1977, at the age of 24 and at the height of Idi Amin's power, Oryema was smuggled across the Ugandan border in the trunk of a car, after the death of his father, Erinayo Wilson Oryema, who was a cabinet minister, beginning a life in exile. Today his songs keep alive the languages of his youth - Swahili and Acholi and return to the lost country - the 'clear green land' of Uganda.
Oryema earned his international reputation following the release of his second album, Beat the Border. Ayub Ogada. He received his first exposure to Western culture early on.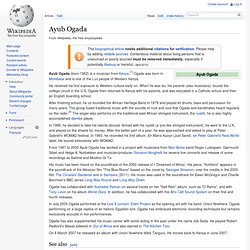 When he was six, his parents (also musicians), toured the college circuit in the U.S. Ogada then returned to Kenya with his parents, and was educated in a Catholic school and then an English boarding school.
---