Camping
Camping & BBQ Recipes Week: Potato Boat Dinner with Ham, Cheese & Bacon
Hi there & welcome to Day 3 of Camping & BBQ Recipes Week! Today's tin foil packet recipe is for a Potato Boat Dinner with ham, bacon & cheese. My son loves this dinner because it includes 2 of his favourite food groups...ham & bacon. {Be sure to visit 2 of my popular posts ever on camping here and here.}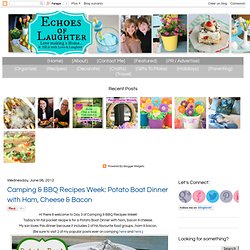 Three-Cheese Potatoes Recipe
Camping Haystacks Recipe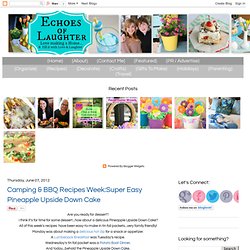 Are you ready for dessert? I think it's for time for some dessert...how about a delicous Pineapple Upside Down Cake? All of this week's recipes have been easy-to-make in tin foil packets...very family friendly! And today...behold the Pineapple Upside Down Cake. For this recipe, you will need:
Camping & BBQ Recipes Week:Super Easy Pineapple Upside Down Cake
Over Spring Break a few weeks ago, I took the kids camping. I'll be honest, we weren't totally roughing it ~ our cabin had heat and electricity (and even a little fridge and microwave). Despite those "luxuries", I knew I wanted to do most of our cooking over the campfire.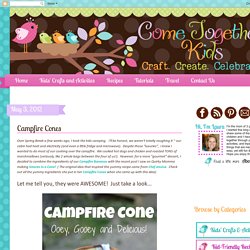 Campfire Cones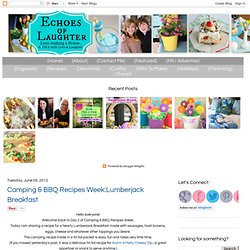 Camping & BBQ Recipes Week:Lumberjack Breakfast
Hello everyone! Welcome back to Day 2 of Camping & BBQ Recipes Week. Today I am sharing a recipe for a hearty Lumberjack Breakfast made with sausages, hash browns, eggs, cheese and whatever other toppings you desire. This camping recipe made in a tin foil packet is easy, fun and takes very little time. {If you missed yesterday's post, it was a delicious tin foil recipe for Warm & Melty Cheesy Dip...a great appetizer or snack to serve anytime.} {Be sure to visit 2 of my most popular posts ever on camping here and here.}