Philosophy
London philosophy study guide. EpistemeLinks. Virtual philosopher. The Royal Institute of Philosophy. The Philosophers' Magazine. Internet Encyclopedia of Philosophy. Philosophy Pages.
Philosophy Now. Philosophy around the Web. The main purpose of this site is to act as a guide and a gateway to philosophy resources on the Internet.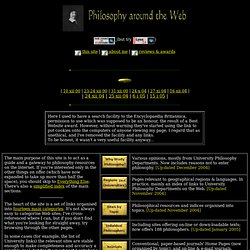 If you're interested only in the other things on offer (which have now expanded to take up more than half the space), you should skip to Everything Else. There's also a simplified index of the main sections. The heart of the site is a set of links organised into fourteen main categories. It's not always easy to categorise Web sites; I've cross-referenced where I can, but if you don't find what you're looking for straight away, try browsing through the other pages.
Stanford encyclopedia of philosophy.
---