Philosophy
london philosophy study guide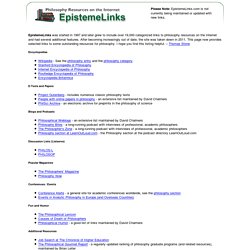 EpistemeLinks was started in 1997 and later grew to include over 19,000 categorized links to philosophy resources on the Internet and had several additional features. After becoming increasingly out of date, the site was taken down in 2011. This page now provides selected links to some outstanding resources for philosophy.
A version of this review originally appeared in the Times Literary Supplement, 4th January 2013. It is reproduced here with permission. On the Offensive: a review of Jeremy Waldron The Harm in Hate Speech (Harvard, 2012) by Nigel Warburton Free expression has consequences, some tragic, some surreal: that much is clear.
virtual philosopher
The Royal Institute of Philosophy
The Royal Institute of Philosophy is a charity dedicated to the advancement of philosophy in all its branches through the organisation and promotion of teaching, discussion and research of all things philosophical. The Institute is not committed to any particular philosophical school or method or, of course, any ideology. You can use this site to find out more about the Institute's many activities. PUBLIC LECTURES: The Institute supports philosophical events which are open to the general public through a system of 25 branches all over the UK. We run a themed series of talks in London each year that's also free and open to anyone.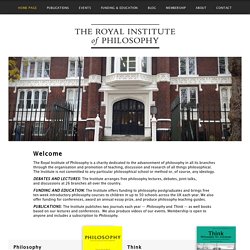 Blogging at TPM After running the Palace Saloon 5K, I participated in a cleanup of a nearby park. This event, organized by my running [...]Source:Talking Philosophy || Date : 18 April 2014 | 1:00 pm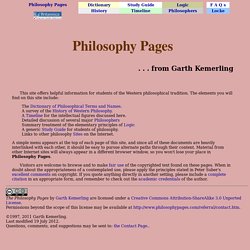 This site offers helpful information for students of the Western philosophical tradition. The elements you will find on this site include: The Dictionary of Philosophical Terms and Names. A survey of the History of Western Philosophy. A Timeline for the intellectual figures discussed here. Detailed discussion of several major Philosophers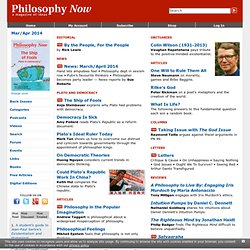 By the People, For the People by Rick Lewis News: March/April 2014 Hand lets amputees feel • Philosophy dept in sexism row • Putin's favourite thinkers • Philosopher becomes party leader — News reports by Sue Roberts The Ship of Fools Anja Steinbauer explains why Plato had problems with democracy.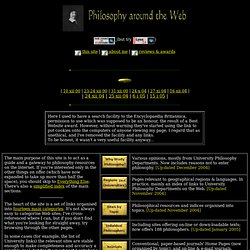 The main purpose of this site is to act as a guide and a gateway to philosophy resources on the Internet. If you're interested only in the other things on offer (which have now expanded to take up more than half the space), you should skip to Everything Else. There's also a simplified index of the main sections. The heart of the site is a set of links organised into fourteen main categories. It's not always easy to categorise Web sites; I've cross-referenced where I can, but if you don't find what you're looking for straight away, try browsing through the other pages.
Philosophy around the Web
stanford encyclopedia of philosophy