Move to ema
Audio-Visual Language Games. NaldicSFL. VerenaStein.SFG. Functional Grammar: Course homepage. Systemic-Functional Grammar (prepared primarily for students at the ) Links to websites of relevance for Systemic Functional Grammar.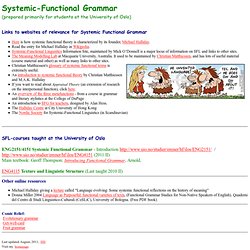 Welcome to Kings Cross Online. On nominalisations. A correspont writes to say he is having trouble with nominalisations.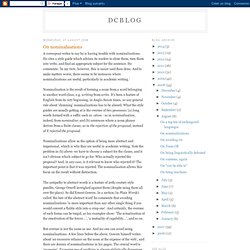 He cites a style guide which advises its readers to shun them, turn them into verbs, and find an appropriate subject for the sentence. He comments: 'In my view, however, this is easier said than done. And to make matters worse, there seems to be instances where nominalisations are useful, particularly in academic writing.' Nominalisation is the result of forming a noun from a word belonging to another word-class, e.g. writing from write. It's been a feature of English from its very beginning, in Anglo-Saxon times, so any general rule about 'shunning' nominalizations has to be absurd. Thinking about how language works. The purpose of this resource is to provide teachers with additional information about language that will help them to analyse student responses to ARB items.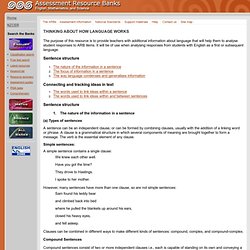 It will be of use when analysing responses from students with English as a first or subsequent language. Sentence structure Connecting and tracking ideas in text. Plain English. Problem, time, and stress management menu. Your Study Gudies and Strategies starts here!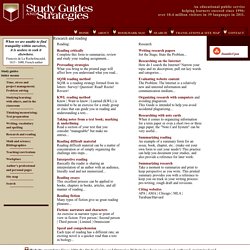 Home An educational public service helping learners succeed since 1996:over 10.4 million visitors in 39 languages in 2011. Study Guides and Strategies When we are unable to find tranquility within ourselves, it is useless to seek it elsewhere. Reading. Reading Comprehension. Within this page,the complex processes involved in reading comprehension are divided into three categories (much like the National Reading Panel Report).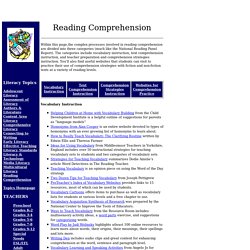 The categories include vocabulary instruction, text comprehension instruction, and teacher preparation and comprehension strategies instruction. You'll also find useful websites that students can visit to practice their use of comprehension strategies with fiction and non-fiction texts at a variety of reading levels. Helping Children at Home with Vocabulary Building from the Child Development Institute is a helpful outline of suggestions for parents as "language models"
---