Social TV articles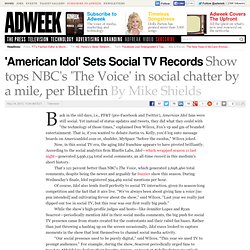 'American Idol' Sets Social TV Records
Back in the old days, i.e., PF&T (pre-Facebook and Twitter), American Idol fans were still social. Yet instead of status updates and tweets, they did what they could with "the technology of those times," explained Don Wilcox, Fox's vp and gm of branded entertainment. That is, if you wanted to debate Justin vs. Kelly, you'd log onto message boards on AmericanIdol.com or, shudder, MySpace "before the exodus," Wilcox joked. Now, in this social TV era, the aging Idol franchise appears to have pivoted brilliantly. According to the social analytics firm Bluefin Labs, Idol — which wrapped season 11 last night —generated 5,956,134 total social comments, an all-time record in this medium's short history.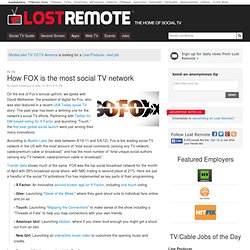 How FOX is the most social TV network
On the eve of Fox's annual upfront, we spoke with David Wetheimer, the president of digital for Fox, who was also featured in a recent USA Today social TV story. The past year has been a defining one for the network's social TV efforts. Partnering with Twitter for DM-based voting for X Factor and launching "Touch," the first ever global social launch were just among their many innovations. According to Bluefin Labs (for data between 9/19-11 and 5/6/12), Fox is the leading social TV network in the US with the most amount of "total social comments (among any TV network; cable/premium cable or broadcast)" and has the most number of "total unique social authors (among any TV network; cable/premium cable or broadcast)". Trendrr data shows much of the same.
Which new NBC shows will be a hit?
At ESPN's upfront presentation today, the sports network announced a strategic relationship with Twitter to co-produce unique social experiences around larger sports events. Advertisers will be able to buy into both ESPN's properties and the Twitter components in a single integrated buy: the first time Twitter has cut such a deal with a network around major events. The first event gets underway shortly with the NBA Finals: fans will be encouraged — via ESPN and ABC promotion — to tweet photos of their best "game face" with the #gameface hashtag. At the end of each game, NBA Tonight will reveal the best photographs on-air and feature them in a gallery on ESPN.com.
Twitter breaks into TV dollars with ESPN deal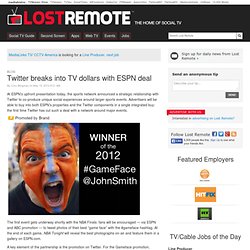 20-somethings switch between media 27 times an hour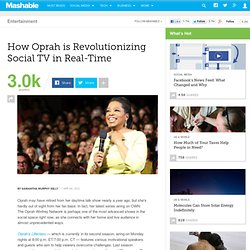 Oprah may have retired from her daytime talk show nearly a year ago, but she's hardly out of sight from her fan base. In fact, her latest series airing on OWN: The Oprah Winfrey Network is perhaps one of the most advanced shows in the social space right now, as she connects with her home and live audience in almost unprecedented ways. Oprah's Lifeclass — which is currently in its second season, airing on Monday nights at 8:00 p.m.
How Oprah is Revolutionizing Social TV in Real-Time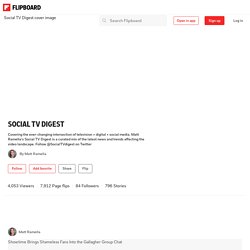 Reblogged from TVGuide.com Why do fans engage in social TV activity? To keep their favorite shows on the air! According to a survey about social TV by TVGuide.com in partnership with the Social TV Summit, 76 percent of respondents say their main motivation for social activity — which includes posts, status updates, check-ins and comments — is to prevent their favorite show from being canceled.
Survey: Fans Engage in Social TV Activity to Keep Shows on Air
3 Things Advertisers Can Expect from Social TV in 2012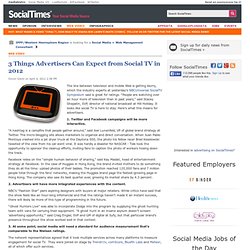 The line between television and mobile Web is getting blurry, which the industry experts at yesterday's NBCUniversal SocialTV Symposium said is great for ratings. "People are watching over an hour more of television than in past years," said Stacey Shepatin, SVP, director of national broadcast at Hill Holiday. It looks like social TV is here to stay. Here's what this means for advertisers.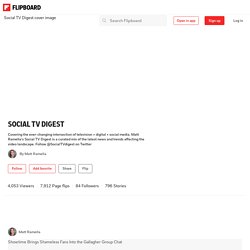 Reblogged from iMediaConnection, by Kyle Montero Admit it; the future is scary. No, we shouldn't be trembling with fear in fetal positions or looting local markets for canned goods and Twinkies, but the future's unpredictability can torment those with a taste for the familiar. And what do we do to settle our nerves? We make predictions.
5 Thriving Social TV Apps
One Year of Social TV in the USA [INFOGRAPHIC]
How MTV And Its Shows Got to 100 Million Facebook Likes
SocialGuide Launches Twitter-Monitoring Social TV Dashboard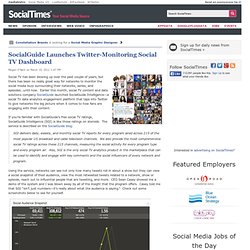 Social TV has been blowing up over the past couple of years, but there has been no really great way for networks to monitor the social media buzz surrounding their networks, series, and episodes…until now. Earlier this month, social TV content and data solutions company SocialGuide launched SocialGuide Intelligence—a social TV data analytics engagement platform that taps into Twitter to give networks the big picture when it comes to how fans are engaging with their content. If you're familiar with SocialGuide's free social TV ratings, SocialGuide Intelligence (SGI) is like those ratings on steroids. The service is described on the SocialGuide blog : SGI delivers daily, weekly, and monthly social TV reports for every program aired across 215 of the most popular US broadcast and cable television channels. We also provide the most comprehensive social TV ratings across these 215 channels, measuring the social activity for every program type and every program air.
Publications Social TV's Evolution Ushers In New Era Of Content Creation 03/20
Stripping away all the buzz and technology, at its core social media is just another way to tell a story and simultaneously grow your audience base and drive ratings. At MTV, we've been hyper-focused in growing our social ecosystem and exploring new ways to create quality experiences on these platforms. The hard work and investment appears to be paying off -- we've grown our social graph to nearly 100 million Facebooks likes and close to 5 million Twitter followers, as well as ranking as the No. 1 TV brand on many other platforms, such as Foursquare, Tumblr and Instagram. In addition to reach, our fans are deeply engaged and highly active with us on these social platforms.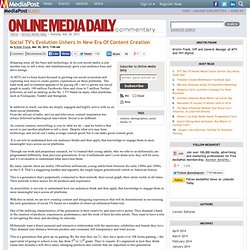 Social TV highlights and takeaways from SXSW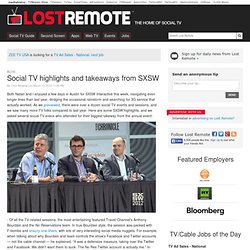 Both Natan and I enjoyed a few days in Austin for SXSW Interactive this week, navigating even longer lines than last year, dodging the occasional rainstorm and searching for 3G service that actually worked. As we previewed , there were over a dozen social TV events and sessions, and we saw many more TV folks compared to last year. Here are some SXSW highlights, and we asked several social TV execs who attended for their biggest takeway from the annual event: - Of all the TV-related sessions, the most entertaining featured Travel Channel's Anthony Bourdain and the No Reservations team.
Last week, I summarized some of the statistics in the current social TV landscape that show this trend is alive and well and making a measurable impact. However, as someone recently said to me, the phenomenon is a little like sex in high school – everyone's talking about it, some people are doing it, but no one is really doing it as well they could. And, I would add, many are not necessarily thinking about their partner in this – the audience. So this week, I have spent many hours being that audience.
A Sampling of Social TV Apps | From Search to Screen Blog
The Current Landscape of Social TV Apps | From Search to Screen Blog
Study Shows Correlation Between Social Buzz and TV Ratings
Google Could Be Planning to Completely Disrupt the TV Business [REPORT]
TR10: Social TV
Social TV ads bringing in millions, says TVGuide.com
LocalResponse Buys Social TV Advertising And Check-In Platform Philo
Where the NBA lives on TV when there's no NBA season