Jobs
5 Ways Social Media Is Revolutionizing Talent Acquisition. Sajjad Masud is co-founder & CEO of Simplicant, a cloud-based social recruiting platform transforming talent acquisition and making enterprise-level recruiting technology accessible to companies of all sizes.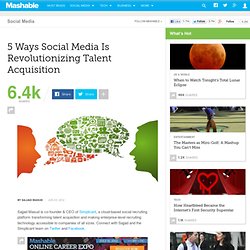 Connect with Sajjad and the Simplicant team on Twitter and Facebook. The way we communicate with each other has evolved rapidly over the last decade. Social media has further intensified the departure from traditional communication methods to redefine how people and businesses interact with each other. As Job Growth Slows, Will Republicans Double Down On Austerity?
By Pat Garofalo on June 1, 2012 at 10:05 am "As Job Growth Slows, Will Republicans Double Down On Austerity?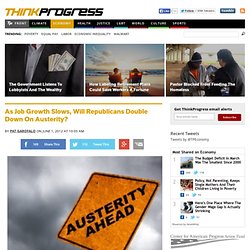 " The Bureau of Labor Statistics today reported that the economy created a disappointing 69,000 jobs last month, and that the unemployment rate increased to 8.2 percent. The job creation totals for March and April were both revised downward. What Is Your Best Job Interview Question? Congratulations, graduates!
All those early-morning classes and late-night cramming sessions and what's your reward? A lousy job market. 12 Ways to Optimize Your Resume for Applicant Tracking Systems. Mona Abdel-Halim is the co-founder of Resunate.com, a job application tool that tailors and optimizes your resume for a specific job.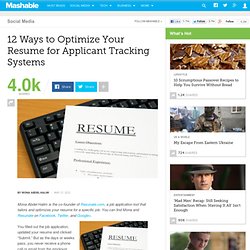 You can find Mona and Resunate on Facebook, Twitter, and Google+. You filled out the job application, updated your resume and clicked "Submit." But as the days or weeks pass, you never receive a phone call or email from the employer. What happened? Unbeknownst to many job seekers, a whopping 72% of resumes are never seen by human eyes. 70+ Events in Design, Social Media and Advertising. Do you want to network with some of the thought leaders in your industry?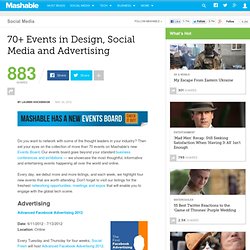 Then set your eyes on the collection of more than 70 events on Mashable's new Events Board. Our events board goes beyond your standard business conferences and exhibitions — we showcase the most thoughtful, informative and entertaining events happening all over the world and online. Every day, we debut more and more listings, and each week, we highlight four new events that are worth attending. Don't forget to visit our listings for the freshest networking opportunities, meetings and expos that will enable you to engage with the global tech scene. 6 Things on Your LinkedIn Profile That Shouldn't Be on Your Resume. Gerrit Hall is the CEO and co-founder of RezScore, a free web application that reads, analyzes and grades resumes instantly.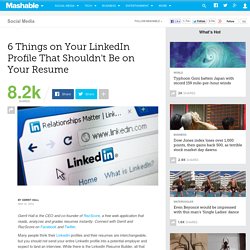 Connect with Gerrit and RezScore on Facebook and Twitter. Many people think their LinkedIn profiles and their resumes are interchangeable, but you should not send your entire LinkedIn profile into a potential employer and expect to land an interview. While there is the LinkedIn Resume Builder, all that does is reformat your existing profile into a resume — it's not tailored enough to show the value you could bring to the specific job you're applying for. Huntsy: A Dashboard for Your Job Search. Ask any job seeker, and he'll tell you that looking for a job is, in and of itself, a job.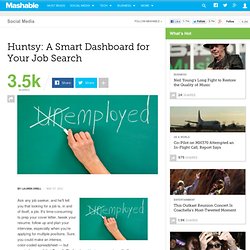 It's time-consuming to prep your cover letter, tweak your resume, follow up and plan your interview, especially when you're applying for multiple positions. Sure, you could make an intense, color-coded spreadsheet — but most of us aren't that Type A. The Job Interview Secret No One's Telling You. Women in Entertainment Empowerment Network. Home » The WEEN career center is a portal where members can search and apply for various jobs, volunteer and internship opportunities inside and outside of the entertainment industry.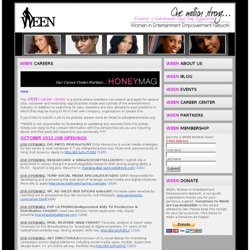 In addition to searching for jobs, members are also allowed to post positions in which they may be trying to fill in their own company, organization or private firm. If you'd like to submit a job to be posted, please send an email to jobs@weenonline.org. **WEEN is not responsible for forwarding or validating any resumes from this portal. Simply just reply to the contact information with the perspective job you are inquiring about and that party will respond to you personally. An International Look at Women in Media Jobs - Women's Presence in International Media It's been said that America is the land of opportunity for everyone, regardless of gender, but it this true?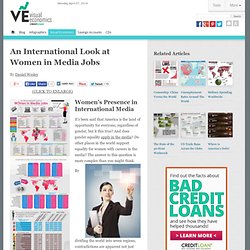 And does gender equality apply in the media? Do other places in the world support equality for women with careers in the media? The answer to this question is more complex than you might think. Mobile Jobseeking is Going Mainstream [INFOGRAPHIC] Have you checked your company's mobile job offerings recently?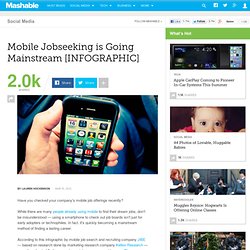 While there are many people already using mobile to find their dream jobs, don't be misunderstood — using a smartphone to check out job boards isn't just for early adopters or technophiles. In fact, it's quickly becoming a mainstream method of finding a lasting career. According to this infographic by mobile job search and recruiting company JIBE — based on research done by marketing research company Kelton Research — more than 4 out of 5 of surveyed smartphone users would use an iPhone, Android, Blackberry or Windows phone to search for jobs.
Of those, nearly half would actually apply to a job right from a smartphone. Job Description - Social Editor, Yahoo! Entertainment (1242741)
---