Facebook Group Pages
Facebook's Website Just Crashed (Updated) Infographic / #Facebook reaches 500 million #mobile users. Facebook Has Gone Public in More Ways Than You Might Think. Facebook has just become a publicly traded company — and almost all its privacy settings are being switched to "public," too, in a trade-off Facebook is making for access to the stock market and potential windfall profits for its biggest shareholders.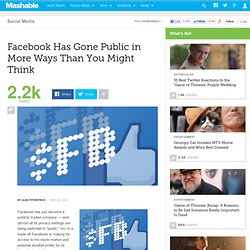 As a private company, Facebook was free to keep plenty of secrets from the general public. It could hide away, for example, how much money CEO Mark Zuckerberg took home in annual pay ($1.5 million in 2011) or the intriguing details of the Instragram acquisition — both of which have become known only from the company's S-1 filing. Now that Facebook's selling stock to the general public, it's going to have to report to the federal government's agency for regulating public companies: the Securities and Exchange Commission, or SEC. How Iraq is Using Reality TV and Facebook to Inspire a Generation of Peacemakers. Educational reality TV and social media are the drivers inspiring a group of Iraqi youth demanding a different future — one with peaceful resolutions and equality.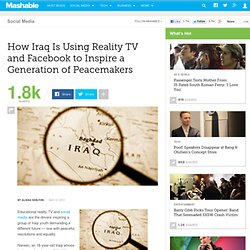 Nareen, an 18-year-old Iraqi whose last name has been withheld for safety reasons, starred in Iraq's first youth reality TV show called Salam Shabab to compete for the title of becoming an "Ambassador of Peace" last year. Salam Shabab is a competitive TV show with the ultimate goal of uniting Iraq through peace building. The first step to peace building is getting Iraqis from different races, religions and geographical backgrounds to respect and understand each other and work together. Iraqis have immense local pride, but do not have a strong sense of nationalism. Facebook Launches Crisis Tools for Military Service Members.
A new Facebook program provides military personnel, veterans and their families with customized resources when their content is flagged as harmful or suicidal.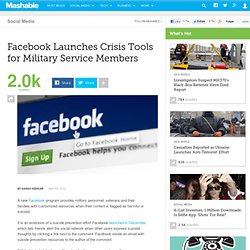 It is an extension of a suicide prevention effort Facebook launched in December, which lets friends alert the social network when other users express suicidal thoughts by clicking a link next to the comment. Facebook sends an email with suicide prevention resources to the author of the comment. "While this is helpful for a military family, there are several specific resources provided to our nation's military that we wanted to make sure they were aware of at their time of need," military support organization Blue Star Families, which along with the Department of Veterans Affairs partnered with Facebook for the effort, wrote in a statement.
How to Hide Pinterest Activity on Facebook. Pinterest's social integration is very well-done, and has contributed to the fast growth of the sharing service.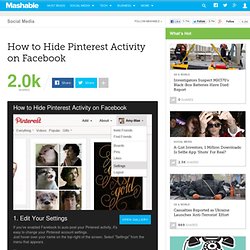 However, you may not want to broadcast everything you do on Pinterest to your Facebook friends. Similarly, you might not be interested in every single thing your Facebook acquaintances pin. We can help you out. Facebook Launches App Center, Lets You Sell Apps. Facebook just got a little bit more like Apple and Google.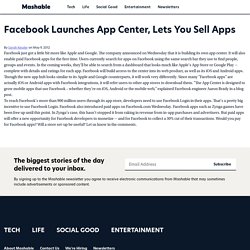 The company announced on Wednesday that it is building its own app center. It will also enable paid Facebook apps for the first time. Users currently search for apps on Facebook using the same search bar they use to find people, groups and events. Study Says Facebook Privacy Concerns Are on the Rise - Is It Accurate? [STUDY] Consumer Report's annual State of the Net study found that people are increasingly concerned with their privacy on Facebook.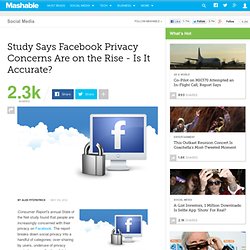 The report breaks down social privacy into a handful of categories: over-sharing by users, underuse of privacy controls, over-collection of data, over-sharing of data by apps and cyberbullying or harassment. 2,002 online households were surveyed, including 1,340 Facebook users. Based on those numbers, Consumer Reports extrapolated its results upon the rest of Facebook's 188 million North American users. Facebook Launches Two-Filter 'Instagram' on 'Facebook for Every Phone' Facebook Organ Donation: How Does It Work? Facebook today offered users the option to designate themselves as organ donors and as one friend commented (on Facebook, naturally): "Wait, this isn't an Onion article?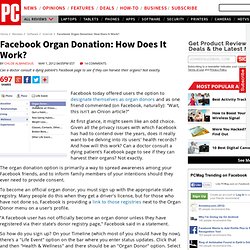 " At first glance, it might seem like an odd choice. Given all the privacy issues with which Facebook has had to contend over the years, does it really want to be delving into its users' health records? Facebook App Fosters Community for Breast Cancer Patients. A new Facebook app, Circle of Support, provides a rare support community for people living with metastatic breast cancer (MBC).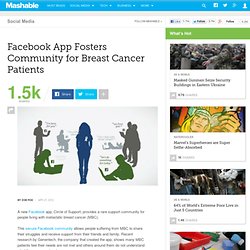 This secure Facebook community allows people suffering from MBC to share their struggles and receive support from their friends and family. Recent research by Genentech, the company that created the app, shows many MBC patients feel their needs are not met and others around them do not understand what they are experiencing. "The Facebook app was designed as a part of this overarching program to provide additional support for people with MBC," Susan Willson, a spokeswoman for Genentech told Mashable. "As a company, we felt there was more we could be doing outside of the lab to support people with the disease. Women's Rights Advocates Demand Facebook Appoint Women to Board. Facebook and Romantic Relationships.
Facebook Partners With 'Apps for Good' to Teach Unemployed Youth to Code. Facebook Meets Instagram: What It Means for Your Brand. Joshua Teixeira heads up the strategy discipline at Big Spaceship, helping shape engagements for active projects and prospective clients alike.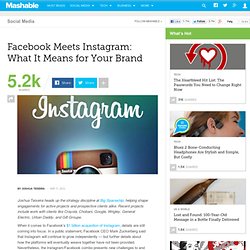 Recent projects include work with clients like Crayola, Chobani, Google, Wrigley, General Electric, Urban Daddy, and Gilt Groupe. When it comes to Facebook's $1 billion acquisition of Instagram, details are still coming into focus. In a public statement, Facebook CEO Mark Zuckerberg said that Instagram will continue to grow independently — but further details about how the platforms will eventually weave together have not been provided. Nevertheless, the Instagram/Facebook combo presents new challenges to and opportunities for marketers.
Instagram is a place we go to communicate visually, to give friends a glimpse into our daily life — what we ate for lunch, which shoes we just bought, the view from the window at work. Kred Adds Facebook to Its Influence Score. People who spend more time on Facebook than Twitter might find themselves with more Kred.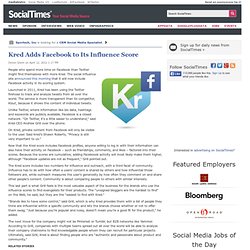 The social influence site announced this morning that it will now include Facebook activity in its scoring system. Launched in 2011, Kred has been using the Twitter firehose to track and analyze tweets from all over the world. The service is more transparent than its competitor, Klout, because it shows the content of individual tweets. Unlike Twitter, where information like bio data, hashtags and keywords are publicly available, Facebook is a closed network. "On Twitter, it's a little easier to understand," said Kred CEO Andrew Grill over the phone. On Kred, private content from Facebook will only be visible to the user.
Blackberry Messenger Integrates with Facebook, Twitter Apps. Research in Motion, creators of the Blackberry, have had a tough run for the last few years. The stock is down to $13 from $80 in 2010 and even higher before that, and Blackberry market share has taken a big hit. Just recently, one of the co-founders stepped down and the company appointed a new CEO to help the company reverse its ailing fortunes. Part of this turnaround is to enhance the customer offering, and RIM has announced a series of new social apps that leverage BBM in their social applications, and it may help strengthen the Blackberry offering. The new applications integrate BBM functionality directly into the social applications, so that your BBM contacts and functionality is available directly from within whatever social application you choose to use. An example is the new Facebook for Blackberry 3.0, where you can share a status update as your BBM message.
Facegram FTW! How Facebook Could Improve Instagram. No doubt you'll hear or read this phrase a hundred times Monday: Instagram is over. Facebook bought it and now it's going to ruin it, right? It'll never be the service we knew and loved again. (1) facebook relationships - Facebook Search. (1) Facebook Ruins Relationships. (1) Facebook Ends Relationships.
---