Minecraft Mods
1.4.5v1 onwards has been documented.
1.0] Portal Gun - Reconstructed [v5] - Turrets!
0.0] AETHER - V1.04_01 Launch Bug Fixed - BUG FIXES - Crystal Trees, Enchanted Grass, White Apples!
Hello everyone! Sorry for the delay in the patch; the team has been very busy wrapping things up with the new mod version, and of course some of us have to attend to real life. However, we have finally finished the patch, and it is now available for download!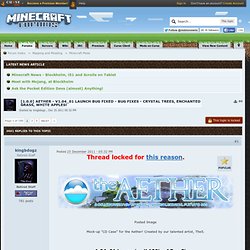 <div class='message error'><strong>Javascript Disabled Detected</strong><p>You currently have javascript disabled. Several functions may not work. Please re-enable javascript to access full functionality.