Unbedint lesen
10 Absolute "Nos!" for Freelancers
1) Can you show me a mock-up to help us choose a designer/developer? No.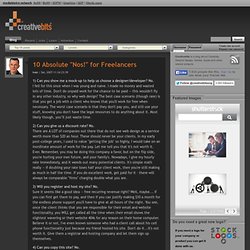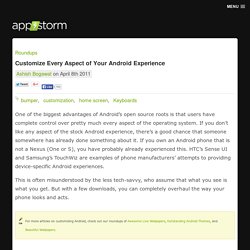 One of the biggest advantages of Android's open source roots is that users have complete control over pretty much every aspect of the operating system. If you don't like any aspect of the stock Android experience, there's a good chance that someone somewhere has already done something about it.
Ethiopian multiplication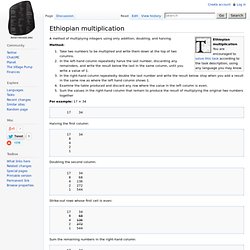 Ethiopian multiplication You are encouraged to solve this task according to the task description, using any language you may know.
ColorCombos When designing a website, one of the firsts (and most important) steps of the process is to choose a color scheme. Color Combos allow you to browse thousand of different colors combinations for getting inspired for your upcomming design. Color schemes can be browsed by colors. Visit colorcombos.com LIpsum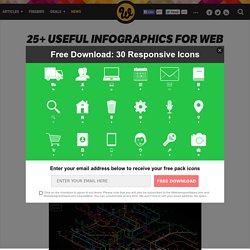 Infographics can be a great way to quickly reference information. Instead of pouring over figures and long reports to decipher data, an infographic can immediately make apparent exactly what a dataset actually means . Below are more than 25 infographics that can be useful to web designers. Some are incredibly practical, some provide information that might be of interest to designers and some just present data that might be interesting to those who design websites all day. If you know of any good ones that we may have missed, please add them in the comments section below. 1.
Blog Archive » The Human Computer Interface of the Future for People w/ More Than Two Fingers
Posted by Andy | Posted on 14-10-2009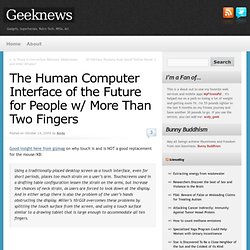 About two years ago when I became a full time freelance web designer, I made it a point to operate with little overhead. Even though I was confident I could make it as a freelancer, there was some fear that things might not go as planned. Because of this, I didn't go out and spend lots of money on equipment and expensive software. My focus was on being frugal and saving money where I could.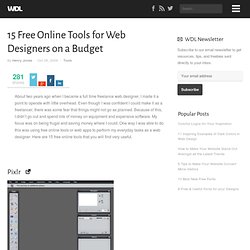 How To Respond Effectively To Design Criticism - Smashing Magazine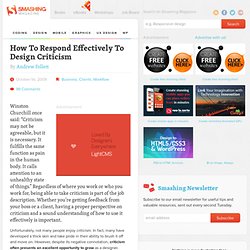 Winston Churchill once said: "Criticism may not be agreeable, but it is necessary. It fulfills the same function as pain in the human body.
7 iPad Apps That Help You Budget and Improve Your Lifestyle
photo: Ben Atkin
The Holy Grail of Python's 20 most hilarious sketches, celebrating their 40th anniversary. This Anniversary Special marks the day that Monty Python made its sparkling debut on television when the very first episode of Monty Python's Flying Circus was aired on the BBC on 5 October 1969.
Ridiculous Image Technology Coming Video
Everyone would agree that usability is an important aspect of Web design. Whether you're working on a portfolio website, online store or Web app, making your pages easy and enjoyable for your visitors to use is key. Many studies have been done over the years on various aspects of Web and interface design, and the findings are valuable in helping us improve our work.