Writing
How Users Read on the Web. They .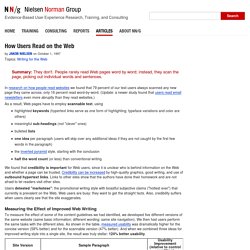 People rarely read Web pages word by word; instead, , picking out individual words and sentences. In research on how people read websites we found that 79 percent of our test users always scanned any new page they came across; only 16 percent read word-by-word. (Update: a newer study found that users read email newsletters even more abruptly than they read websites.)
As a result, Web pages have to employ , using. Write Your Name in Elvish in Ten Minutes. Write Your Name in Elvish in Ten Minutes You want to write your name in Elvish, but every place you go seems to make it harder than it ought to be.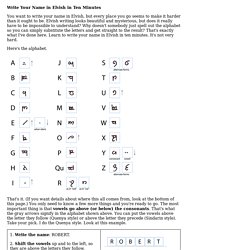 Elvish writing looks beautiful and mysterious, but does it really have to be impossible to understand? Why doesn't somebody just spell out the alphabet so you can simply substitute the letters and get straight to the result? That's exactly what I've done here. Verbing of America. Ambiguous Words. Ambiguous Words Here's a bunch of words that, by themselves, have a handful of meanings.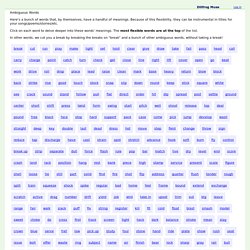 Because of this flexibility, they can be instrumental in titles for your songs/poems/stories/etc. Click on each word to delve deeper into these words' meanings. Cheek to Frozen Veggie-Burger 4-Pack. Word Perhect. One Sentence - True stories, told in one sentence.
CALLIHOO Writing Helps--Feelings Table. 20 Common Grammar Mistakes That (Almost) Everyone Gets Wrong. I've edited a monthly magazine for more than six years, and it's a job that's come with more frustration than reward.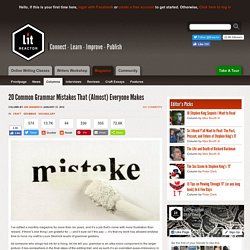 If there's one thing I am grateful for — and it sure isn't the pay — it's that my work has allowed endless time to hone my craft to Louis Skolnick levels of grammar geekery. As someone who slings red ink for a living, let me tell you: grammar is an ultra-micro component in the larger picture; it lies somewhere in the final steps of the editing trail; and as such it's an overrated quasi-irrelevancy in the creative process, perpetuated into importance primarily by bitter nerds who accumulate tweed jackets and crippling inferiority complexes.
Essay
The Cab Ride I'll Never Forget. "Great moments often catch us unawares…."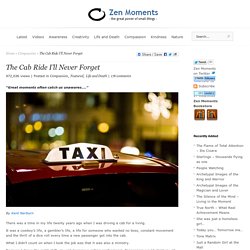 By Kent Nerburn There was a time in my life twenty years ago when I was driving a cab for a living. It was a cowboy's life, a gambler's life, a life for someone who wanted no boss, constant movement and the thrill of a dice roll every time a new passenger got into the cab. Copyright. How To. Writers' Humor. Grammar. Words. Writing Prompts. Online Writing Tools.
FundsforWriters. Telescopic Text & Joe Davis 2008 - StumbleUpon. [places for writers] - connecting writers with places to publish. Publish a book? If you've never truly considered writing a book, take another look at the rubbish filling bookshelves at airport kiosks.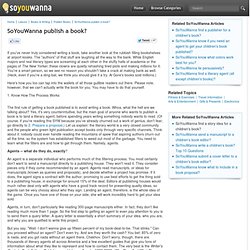 The "authors" of that stuff are laughing all the way to the bank. While English majors and real literary types are screaming at each other in the stuffy halls of academia or the pages of The New Yorker, these clowns are quietly rehashing tired plots and making millions for it. You're a smart person, so we see no reason you shouldn't take a crack at making bank as well. General Fiction. Www.writing.upenn.edu/library/Mayer-Bernadette_Experiments.html. Editing Wizard.
---