Ipad Gear
The Screen-Top Keyboard for iPad. SE - - Keyboard Case for iPad 2. iPhone 4 and iPad Cases by Grove | Grove. Remote (iPad) 15 superheta appar till iPad du inte får missa! Gillar du det jag skriver och bloggar om?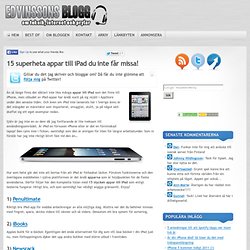 Då får du inte glömma att följa mig på Twitter! Än så länge finns det såklart inte lika många appar till iPad som det finns till iPhone, men utbudet av iPad-appar har ändå vuxit på sig rejält i AppStore under den senaste tiden. Penultimate. Description The most natural digital handwriting experience on iPad, Penultimate gives you the convenience and feel of writing on paper with the added power and availability of Evernote.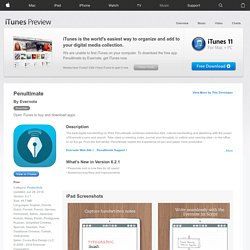 Take notes in class or a meeting, journal your thoughts, or outline your next big idea -- in the office, on the go, or at home on the sofa. THE EXPERIENCE OF INK AND PAPER, MADE BETTERYour handwriting and drawings look spectacular in black or color gel ink on your choice of photorealistic paper styles, or import any image to create your own personalized paper. Our inking technology produces pen strokes that look better than real ones, and the automatic Wrist Protection mode prevents stray marks from appearing on a page for writers of all grips.
Articles for iPad. Description Articles is a beautiful Wikipedia reader for your iPad, iPad mini, iPhone and iPod touch.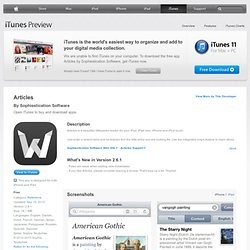 Just enter a search term and let Articles find the Wiki entry you are looking for. Use the integrated maps feature to learn about interesting places and historic events around your current location, or anywhere else in the world.
---