Grafisk Design
Get flash to fully experience Pearltrees
Initially silhouette was applied on portraits or pictorial which were be used for thin black card. But nowadays, we can easily find silhouette images in many media forms like artworks, illustration, photography, movies, graphic design or even fashion and fitness. Modern designers use silhouette to create dramatic effect in many art works because silhouette emphasizes the outline and view of an object. The mystery of silhouette objects create a space for viewers' imagination. Apple's iPod advertisement is a successful example of using silhouette.
I get a lot of requests to release more seamless textures here on L&T, so this set is for you guys. It includes a giant selection of thirty repeatable textures ranging from paper to fabric to subtle grunge and noise. Each one of them is fully tile-able and will work perfect for website background or pattern overlays in photoshop.
A Vintage or retro style design is meant to transport it's audience decades into the past. Designers try to do this by using various design elements such as textures and patterns from a certain time period. But it's also important to use accurate typography from the time period you are trying to represent.
Copywriter and Art director duo wanted to have a card that they can hand out to promote themselves as a team, but also wanted to have opportunity to practice their professions individually. Rethink Canada designed this Mr.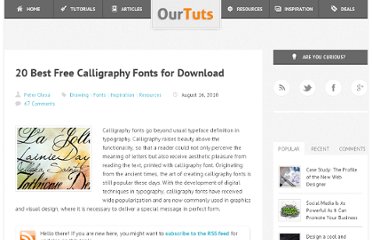 Calligraphy fonts go beyond usual typeface definition in typography. Calligraphy raises beauty above the functionality, so that a reader could not only perceive the meaning of letters but also receive aesthetic pleasure from reading the text, printed with calligraphy font. Originating from the ancient times, the art of creating calligraphy fonts is still popular these days. With the development of digital techniques in typography, calligraphy fonts have received wide popularization and are now commonly used in graphics and visual design, where it is necessary to deliver a special message in perfect form. Jellyka Waterways Seafarers