Giggles Folder 2
Charts - Least Used Chat E-bbreviations. Holeinchest.jpg (904×567) 54.png (539×813) Mmmmm&8230;Pamcakez! - Lolcats 'n' Funny Pictures of Cats - I... - StumbleUpon. When-work-feels-overwhelming.jpg (468×312) American Society for Velociraptor Attack Prevention. Billy Mays Facts. HOW TO TICK PEOPLE OFF. Just for Fun! Karate Kyle Is Back. The Inspiration Tree: Stuff No One Told Me by Alex Noriega. Reasons its good to be a man - StumbleUpon.
This has been sitting on my hard drive in one form or another for years.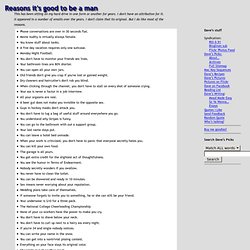 I don't have an attribution for it. It appeared in a number of emails over the years. I don't claim that its original. But I do like most of the reasons. Phone conversations are over in 30 seconds flat. Watch?v=ROwH8ZEST1U&start=45 from gifsound.com. @TrolleyCat's (Erika) best tweets - StumbleUpon. Cookies.jpg (JPEG Image, 353x500 pixels) Funniest and most insane pictures - Humli.com. GREATER OR LESSER SCOTT! - StumbleUpon. Now this game is getting fun - (See, I Fixed It) - StumbleUpon.
---