Stores
TKB Trading, Pigments, Dyes and Mica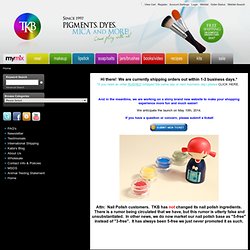 Hi there! We are currently shipping orders out within 1-3 business days.**If you need an order RUSHED (shipped the same day or next business day) please CLICK HERE.
We celebrate diversity one face at a time with our large selection of multi-use minerals in over 400 unique and modern colors of the rainbow. Please check back as we add new colors and products to our collection of eye shadows, blushes, foundations, collections and more. Let us inspire your makeup routine with modern colors, unique selection and collections that inspire you to get a new look. Our community of individuals, makeup artists, professionals, and more inspire us everyday with their use of color and imagination. Beauty From The Earth is committed to offering you the freshest selection of makeup colors and accessories. As you browse our website, you will find products colors that are unique and modern.
Affordable, All Natural Mineral Makeup, BFTE Cosmetics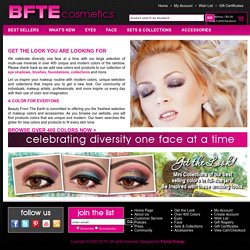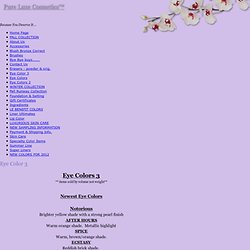 Eye Colors 3** items sold by volume not weight** Newest Eye Colors NotoriousBrighter yellow shade with a strong pearl finishAFTER HOURSWarm orange shade.
Eye Color 3
beautycrunch - premium discount makeup. low-cost discount makeup sets and more - quality cosmetics at discount prices.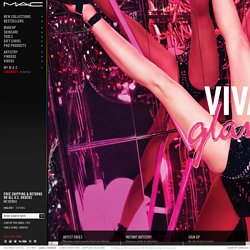 SERVICE PROVIDER Verizon AT&T T-Mobile Sprint Metro PCS US Cellular Boost Cricket Communications Virgin Mobile US Not Listed -------------------- ACS Wireless Alltel Appalachian Wireless Bluegrass Wireless Boost Unlimited Carolina West Wireless Cellcom Cellular South Cellular One of E.C. IL Cellular One of NEPA Centennial Wireless Cincinnati Bell Cox Wireless Dobson GCI Wireless Golden State Cellular Illinois Valley Cellular Immix Inland Cellular Midwest Wireless Nex-Tech Wireless Nextel nTelos Revol Thumb Cellular Unicel United Wireless Viaero Wireless West Central Wireless I'd like to hear from MAC Cosmetics Online about products, services, events and special insider-only offers. When signing up, you are agreeing to MAC Email and Mobile Terms and Conditions.