VIDEOS NIÑOS
Tale Toons (Part 1) - Moral Stories for Kids - English. The Greatest Treasure: Learn English with subtitles - Story for Children "BookBox.com" English for Children. Short Stories English for Children (1). 100 easy short stories for kids who have just started to learn English.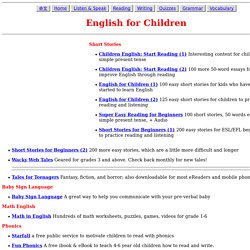 English for Children (2). 125 easy short stories for children to practice reading and listening. Super Easy Reading for ESL/EFL Beginners. 100 short stories (50 words each), simple present tense, + Audio. Super simple songs. Arthur. ABCya.com | Kids Educational Computer Games & Activities. Long long time ago: stories for children. Free Online English Learning For Kids | Pumkin Online English. Any questions?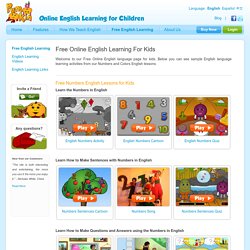 "Pumkin is a delightful way to learn English. It is fantastic and my kid really enjoys it!" - vivi221180 "The site is both interesting and entertaining, the more you use it the more you enjoy it." - Nicholas White, China "So easy to learn and so much content!" - jbkenneth "I can highly recommend it for young children with no prior knowledge of English." - Stephanie Venemas, The Netherlands "The content is very appealing to children and has a very well structured course." - junru19850117 "So much fun! English program for children/フラッシュ. Educational games and activities for preschool and primary school children. Cartoons and Kids Videos: Welcome to the Kids Channel! Bible stuff for Kids.
---