Video
Epic Trampoline Skills Video. A Collection of the 25 Greatest Unscripted Scenes in Movies. By Ethan Anderton August 15, 2011Source: YouTube While much of the greatness of any given film begins with the words on the pages of a screenplay, there are still plenty of amazing moments in cinema that come from actors' improvisation.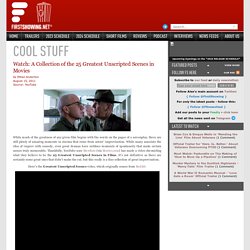 While many associate the idea of improv with comedy, even great dramas have sublime moments of spontaneity that make certain scenes truly memorable. Halloween Special: The 9 Scariest Short Internet Films. This Halloween night, we bet that a lot of you will be watching at least one scary movie in order to get into the proper spirit (no pun intended.)
If you're in the mood for a little spine-chilling fear before the main course, though, you should check out some of the horror fare that the internet has to offer; it's proof positive that a bigger budget does not always equal bigger scares (we're looking at you, Wes Craven.) 9. Still Life Still Life has the one of the most unique premises around: a man drives into a town full of mannequins that (apparently) move when he's not looking at them and freeze when he does, like an incredibly dark and demented version of Toy Story. When our "hero" uses his powers to break into a house and confront the owners, he's able to crush them with ease only to find out that things are not always as they seem.
25 Spectacular Movies You (Probably) Haven't Seen Pt. 2. Human Traffic Very unique comedy about the drug/club culture in the UK.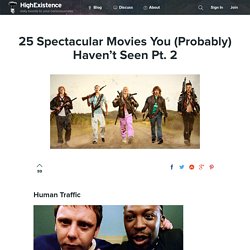 Five friends ponder society, drug use and their own lives as they go about their usual weekend of snorting, smoking, popping, dancing and sex. Internet Story. Watch Whose Line is it Anyway? Free! Le Royaume.
---