Stumbles
Go ahead and take a handful of Advil now. You're welcome. Say goodbye to the rest of the afternoon, because you'll either be entertained for hours by these 100 songs, or you will somehow chew off your own ears and go to the hospital. 1.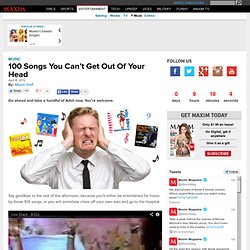 Generate a Random Name - Fake Name Generator
Phone conversation with an acquaintance of my boss. They wanted to host a server with all of the music they'd copied from CDs, pirated or downloaded from iTunes. Me: "Legally, I need to sway you from starting a website that charges people to download all of the music you've copied off of your CDs." Client: "What? Why?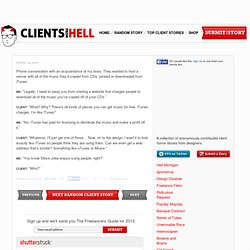 Clients From Hell : Phone conversation with an acquaintance of my...
For most people, getting out of bed in the morning is a bit of a struggle. Luckily, the 10 clocks below are here to help. Some wake you up with an annoyingly loud noise, while others won't shut off until you complete a task--but they all promise to get even the sleepiest sleepyhead up and moving. Start Your Engines It's full speed ahead as soon as this Genuine Hotrod Hardware drag-racing alarm clock goes off. The dashboard-inspired clock makes engine-revving sounds and flashes colored lights at the set time, so you'll feel like you're waking up right on the racetrack.