Minecraft Mods
JohnSmith_V9.3.zip. 2.5] Single Player Commands [V3.2.2] - Official Download. Single Player Commands (SPC) Version 4.9 for Minecraft 1.6.2 If you're looking for a server, or need to contact me, currently the best place is through this PvP survival server: pvp.darkmines.net.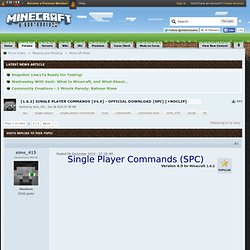 2.5] SDK's Mods [v1] *Apr 4 ModLoaderMP Only* Problem: java.lang.NoClassDefFoundError: SdkInventoryPlayer Explanation: I forgot to include that class in anything but the full download.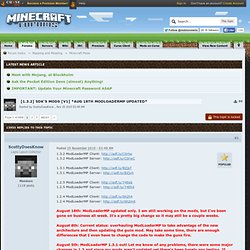 Solution: Redownload, I added them in. Problem: java.lang.NoSuchMethodError: ModLoaderMp.RegisterNetClientHandlerEntity(Ljava/lang/Class;ZI)V Explanation: Outdated ModLoaderMP version. Solution: Download the ModLoaderMP that's in the same download section as the mods. [V1.2.5] Risugami's Mods - Everything Updated. Everything updated for 1.6.2.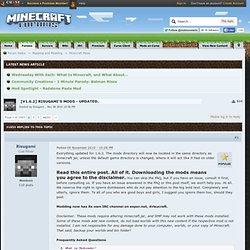 The mods directory will now be located in the same directory as minecraft jar, unless the default game directory is changed, where it will act like it had on older versions. Read this entire post. All of it. Downloading the mods means you agree to the disclaimer. 2.5] Camera Studio (UPDATED on Mar 25) Camera Studiofor Minecraft 1.6.4 Ever wanted to have a smooth camera movement all-together with your accelerated video ?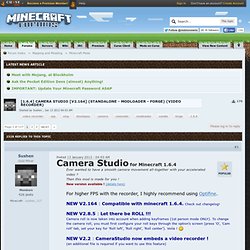 Then this mod is made for you ! New version available ! (details here) VoxelSniper. Lead Design & Programming Additional Programming Gavjenks, Giltwist, psanker, DivineRage Development Builds Development builds of this project can be acquired at the provided continuous integration server.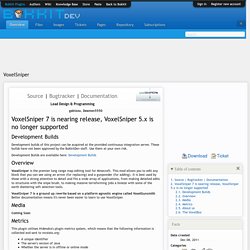 These builds have not been approved by the BukkitDev staff. 2.5] OptiFine HD_A6 (FPS Boost, HD Textures, AA, AF and more) HD Textures Minecraft 1.5 and above comes with general support for HD textures.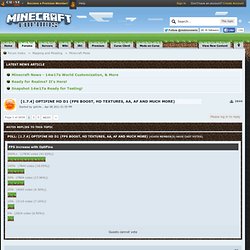 OptiFine fixes many bugs, adds support for new features and fixes the performance of larger texture packs. Custom Animations Minecraft 1.5 and above supports animations for blocks and items (info). OptiFine additionally enables the animation of all other textures. 2.5]Sonic Ether's Unbelievable Shaders (GLSL Shaders, Dynamic Shadows, More!) Sonic Ether's Unbelievable Shaders [compatibile with MC 1.7.2] Please read this entire post before attempting an install or posting about a bug.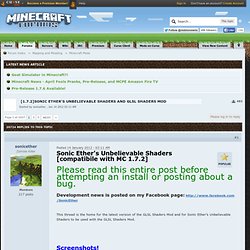 Development news is posted on my Facebook page: This thread is the home for the latest version of the GLSL Shaders Mod and for Sonic Ether's Unbelievable Shaders to be used with the GLSL Shaders Mod. 2.5] GLSL Shaders (DoF, Bump Mapping, Waving Wheat, Dynamic Shadows, and More!) Works with 1.3.1 (Be sure to download the newest installer!)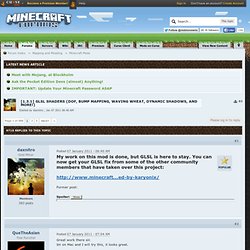 Do not post questions here about your problems if you haven't read this post and haven't checked out the wiki. If you ask a stupid question, I will give you a stupid answer. I don't expect you to know everything about this mod or Java or GLSL but I expect you to use common sense. That means if you get an error in the install log, you need to copy and paste it here.
Minema 1.31 - The recorder for jerk-free movies - now with sound! This mod allows you to record fluid movies in Minecraft, even if the video recording itself isn't.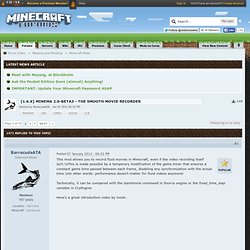 \nThis is made possible by a temporary modification of the game timer that ensures a constant game time passed between each frame, disabling any synchronization with the actual time. \nIn other words: performance doesn't matter for fluid videos anymore! Technically, it can be compared with the startmovie command in Source engine or the fixed_time_step variable in CryEngine. Here's a great introduction video by loook:
Minecraft - Cinema Mods - Bombs and Arrows!
---