Pedagogy
Game based
PBL. Tech. Online Booklets. There are some good services on the web that will turn PDFs into books and booklets and some services that will even allow you to create embeddable booklets online, yet few are quite as simple to use as Simple Booklet.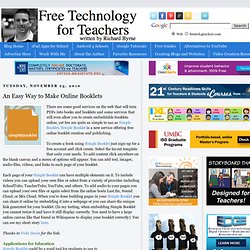 Simple Booklet is a new service offering free online booklet creation and publishing. To create a book using Simple Booklet just sign-up for a free account and click create. Presentation.
Flipping. The Role of Questions in Teaching, Thinking and Le. One of the reasons that instructors tend to overemphasize "coverage" over "engaged thinking" is that they assume that answers can be taught separate from questions.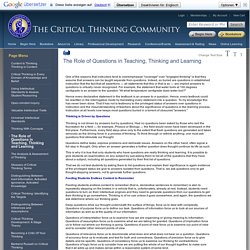 Indeed, so buried are questions in established instruction that the fact that all assertions — all statements that this or that is so — are implicit answers to questions is virtually never recognized. For example, the statement that water boils at 100 degrees centigrade is an answer to the question "At what temperature centigrade does water boil? " Hence every declarative statement in the textbook is an answer to a question.
Hence, every textbook could be rewritten in the interrogative mode by translating every statement into a question. To my knowledge this has never been done. Einstein's Secret to Amazing Problem Solving (and 10 Specific Ways You Can Use It) Einstein is quoted as having said that if he had one hour to save the world he would spend fifty-five minutes defining the problem and only five minutes finding the solution.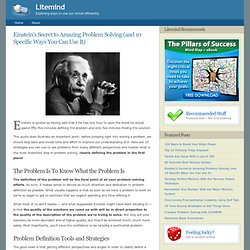 This quote does illustrate an important point: before jumping right into solving a problem, we should step back and invest time and effort to improve our understanding of it. Here are 10 strategies you can use to see problems from many different perspectives and master what is the most important step in problem solving: clearly defining the problem in the first place! 7 Skills To Become Super Smart. People aren't born smart.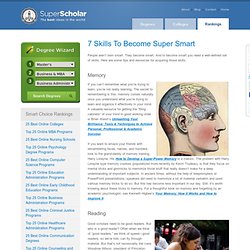 They become smart. And to become smart you need a well-defined set of skills. Here are some tips and resources for acquiring those skills. Memory If you can't remember what you're trying to learn, you're not really learning. 7 Habits of Highly Effective Tech-leading Principals. Leadership | In Print 7 Habits of Highly Effective Tech-leading Principals By Jennifer Demski06/07/12 Patrick Larkin, principal of Burlington High School in Burlington, MA, started a 1-to-1 iPad initiative in the fall of 2012.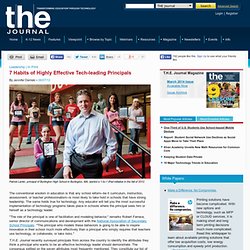 The "You Matter" Manifesto in Education. One of the underlying but often unspoken themes of this blog is the idea that the individual matters in this crazy, hectic, techno-centric world.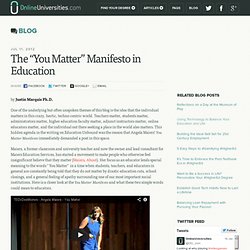 Teachers matter, students matter, administrators matter, higher education faculty matter, adjunct instructors matter, online educators matter, and the individual out there seeking a place in the world also matters. This hidden agenda in the writing on Education Unbound was the reason that Angela Maiers' You Matter Manifesto immediately demanded a post in this space. 10 ways to be a great teacher. I recently read a blog post by one of my favorite bloggers, Vicki Davis.
Vicki is known by many as "@coolcatteacher. " The title of the blog post is 10 ways to be a terrible teacher. After reading the list I found myself agreeing with many of Vicki's points. Nothing is more important than teaching compassion | Teacher Network Blog. How do we educate the next generation of Nelson Mandelas and Dalai Lamas?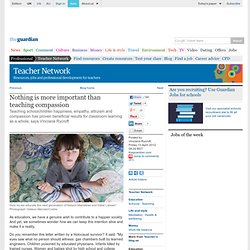 Photograph: Gideon Mendel/Corbis As educators, we have a genuine wish to contribute to a happier society. Lessons Learned. As I complete my thirteenth year as an educator, I would like to share thirteen lessons learned throughout my time as a teacher and/or principal. 1.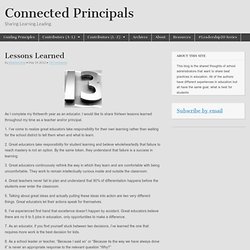 I've come to realize great educators take responsibility for their own learning rather than waiting for the school district to tell them when and what to learn. 2. Great educators take responsibility for student learning and believe wholeheartedly that failure to reach mastery is not an option.
---