Anime
The Anime Blog - Anime and Manga News and Reviews, Japanese Culture Articles, Japanese Recipes, Lolita Fashion and more
ANNCast - Wayward Sons Justin returns for a Twitter show! More Wind Rises chat, Space Adventure Cobra, the Spring season and more are chewed over. Attack on Titan episodes 1-5 (English Dub) It's not flawless, but Attack on Titan's dub is raw in the best way, successful at yanking out heartstrings and more impressively, maintaining the show's healthy sense of humor.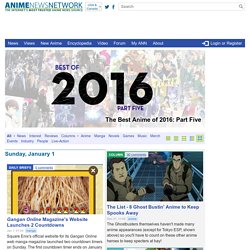 Welcome to Gendou's Anime Music! Subscribe to the Gendou.com RSS feed for news, new songs, and more! Gendou Now Has A SubReddit!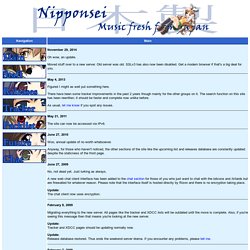 May 4, 2013 Figured I might as well put something here. There have been some tracker improvements in the past 2 years though mainly for the other groups on it.
Hello there, Diaglo here. As some of you may know, MegaUpload has been closed by the FBI because of... things. Just search on Google, they're more knowledgeable than I'd ever be. Fact is, now MultiUpload is down as well. People on the web say it moved to co.uk or something like that, but, since there aren't any proofs, we can't say much about it.
OST Project