Coal
Coal Trans
Six Reasons to Celebrate the Brayton Point Coal Plant Closing. The Brayton Point coal plant is shutting down, and that's a really positive development for a whole lot of reasons.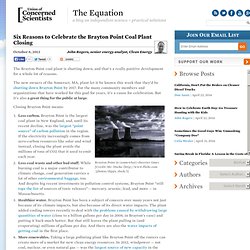 The new owners of the Somerset, MA, plant let it be known this week that they'd be shutting down Brayton Point by 2017. For the many community members and organizations that have worked for this goal for years, it's a cause for celebration. But it's also a great thing for the public at large. Brayton Point in (somewhat) cheerier times [Credit: Mr. Open Source Coal. Expanding Coal Exports Test Obama's Inaugural Climate Pledges. Any views expressed in this article are those of the author and not of Thomson Reuters Foundation.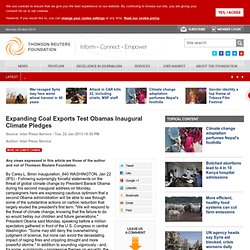 By Carey L. Biron inauguration_640 WASHINGTON, Jan 22 (IPS) - Following surprisingly forceful statements on the threat of global climate change by President Barack Obama during his second inaugural address on Monday, campaigners here are expressing cautious optimism that a second Obama administration will be able to see through some of the substantive actions on carbon reduction that largely eluded the president's first term.
Washington
Oregon. Coal Mining in Pacific West - Coal Diver. Can Coal Ever Be Clean?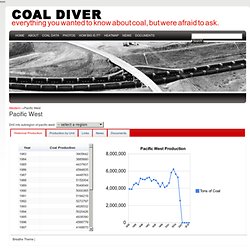 April 10, 2014 National Geographic discusses the argument that clean coal is nothing more than a myth. The article discusses the idea of capturing the CO₂ and how long can these deposits actually store the carbon dioxide. There is evidence from leading Geophysicists that often, the injection of the carbon dioxide is put into reservoirs with brittle rock. This leads to small earthquakes, which cause cracking in the overlying shale rock and leads to CO₂ leaking from the storage facilities.
---