Coal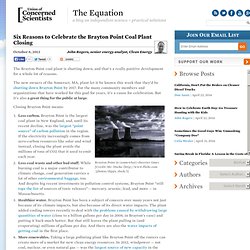 The Brayton Point coal plant is shutting down, and that's a really positive development for a whole lot of reasons. The new owners of the Somerset, MA, plant let it be known this week that they'd be shutting down Brayton Point by 2017. For the many community members and organizations that have worked for this goal for years, it's a cause for celebration. But it's also a great thing for the public at large. Brayton Point in (somewhat) cheerier times [Credit: Mr.
Six Reasons to Celebrate the Brayton Point Coal Plant Closing
Open Source Coal
Any views expressed in this article are those of the author and not of Thomson Reuters Foundation. By Carey L. Biron inauguration_640 WASHINGTON, Jan 22 (IPS) - Following surprisingly forceful statements on the threat of global climate change by President Barack Obama during his second inaugural address on Monday, campaigners here are expressing cautious optimism that a second Obama administration will be able to see through some of the substantive actions on carbon reduction that largely eluded the president's first term.
Expanding Coal Exports Test Obama's Inaugural Climate Pledges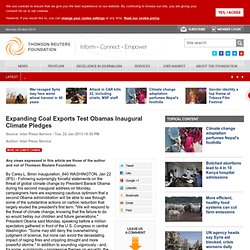 Coal Mining in Pacific West - Coal Diver
Washington: Seattle Votes Against Coal Terminals May 30, 2012 The Seattle City Council passed a resolution May 29, opposing development of coal-export terminals "over concerns about increased train traffic and potential harm to health and the environment," according to the New York Times. The Council's resolution comes in the midst of the federal government's initial review of at least six port facilities proposed in Washington and Oregon that have plans to ship coal from Montana and Wyoming to Asia. According to the New York Times article, it's estimated, "trains could carry at least 100 million tons of coal a year through the Northwest." The Council says, burning more coal is not consistent with the city's goal to combat climate change.