Illustration
Edward Binkley Artwork -- Intro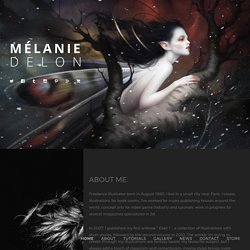 For Commissions & licencing, please feel free to contact me : contact@melaniedelon.com Note that I DO NOT work for free, and DO NOT take private commissions. For personal query, like using my artworks for tubes and such, please read the Legal term below.
New Brow, Contemporary Figurative Realism, Neo-Victorian Illustration, Pop Surrealism & Steampunk Art ~ Brigid Ashwood - HOME
Four months without a formal SOTS update! How does the world survive!? We've got some treats lined up though.
Sons of the Storm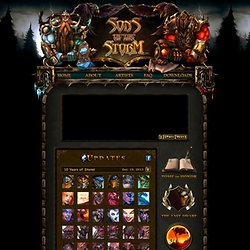 Targete Gallery
POL SERRA
SaraB Illustration - Fairies, Mermaids, and Angels for the Heart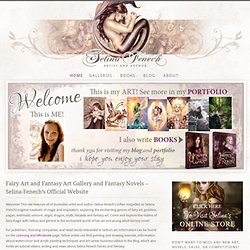 Welcome! This site features all of Australian artist and author Selina Fenech's (often mispelled as Selena French) original creations of magic and inspiration, exploring the enchanting genres of fairy art, goddess, pagan, mermaid, unicorn, angel, dragon, myth, fairytale and fantasy art. Come and explore the realms of fairy magic with Selina, and get lost in the enchanted world of her art and young adult fantasy novel.
Selina Fenech – Fairy Art and Fantasy Art Gallery
Gary A. Lippincott—Elfin Aja
Ruth Sanderson's Golden Wood Studio - Welcome
Nadia Sanchez: Art by la fée déglinguée
CGS Artist Profile - Linda Tso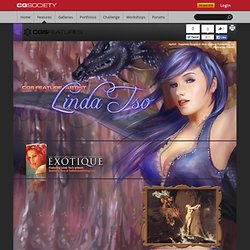 While the world outside has a rich collection of reference, there is nothing like the web as the source of searchable visual reference, and Linda Tso takes advantage of that resource for mood. "I've saved a lot of beautiful images and paintings from the web," she explains, "and I like to browse through the folders when I have nothing to do. As much as things like music and writing inspires me as well, it's the visual queues that make the greatest impact, and that includes movies, dreams and magazines of any kind. Dreams do inspire me, and if I don't dream I'd somehow feel the time I spent sleeping was wasted. Mirror reference and some quick photos of myself are a help sometimes Also. Then there are the Loomis anatomy books."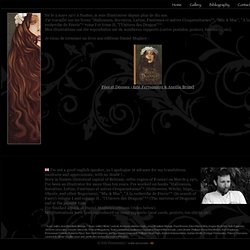 Erlé Ferronnière - Artiste Peintre et Illustrateur
Né le 5 mars 1971 à Nantes, je suis illustrateur depuis plus de dix ans. J'ai travaillé sur les livres "Halloween, Sorcières, Lutins, Fantômes et autres Croquemitaines"*, "Mic & Mac", "À la recherche de Féerie"* tome I et tome II, "l'Univers des Dragon"**. Mes illustrations ont été reproduites sur de nombreux supports (cartes postales, posters, tee-shirts, etc). Je viens de terminer un livre aux éditions Daniel Maghen :
Didier Graffet - Site officiel
The Illustration of David Palumbo
... a forgotten night tale ...natalia pierandrei's portfolio
Jean-Baptiste Monge - Illustrateur
Nekranea Studio Blog
I've just discovered some wax materials that I'm very excited about! Yes, that's right, I just said I'm excited about wax….what of it? I've been diving more seriously into the world of casting, and I like some of the creative doors that the process opens up. I wanted to start creating my originals from something other than the expensive brass that I'm used to using, but I needed the tolerances and machinability that I've grown accustomed to. I've found a couple of professional grade materials that will work great! The blue stuff is really rigid, and is referred to as "Machinable wax".
Eric Freitas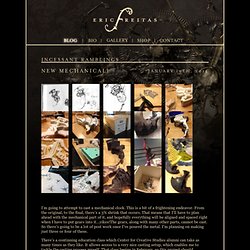 Born in 1963, Linda Ravenscroft is a self taught artist who has been painting since she was very young. until recentyl She lived with her husband John, and animal companions, in the beautiful county of Cheshire, England. Since then she has had the opportunity to follow one of her dreams, moving to the magical town of Glastonbury, "The Isle of AValon" in Somerset. Linda became a professional artist in 1994 after the birth of her daughter Vivien (aka.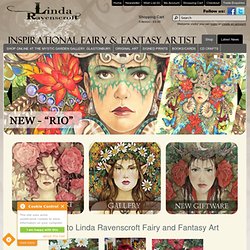 Amy Brown: Fairy Art - The Official Gallery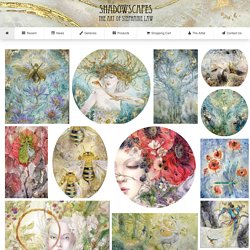 Holiday Shopping Message The last day for shipping before the new year will be December 15th. Shadowscapes will be closed for holiday shipping from December 15 until - January 2!
Welcome to the website of the fantasy artist Josephine Wall
Welcome to James Browne.net! Fairies, Elves, & More
"Choo Choo" "Herkimer" Original Watercolor available on ETSY! "Rainbow's Edge"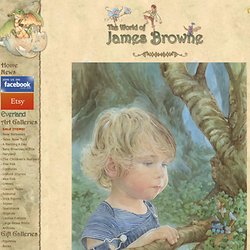 Montse Rubio Ilustradora
Daniel Merriam - Home
647 articles. Mercredi 17 juillet 2013, publié il y a 6 mois. Longhorn est un jeu signé Bruno Cathala pour Jactalea/Blue Orange. C'est un jeu à deux, rapide, retors et redoutable, comme sait si bien le faire Bruno (l'annonce sur TricTrac c'est ici). Cela faisait bien longtemps que je n'avais pas illustré un thème western …Lire la suite » Samedi 13 juillet 2013, publié il y a 6 mois.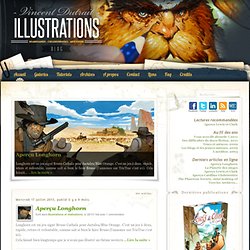 Vincent Dutrait - Illustrations
The Techniques of Puddnhead 1