Illustration
Edward Binkley Artwork -- Intro. MELANIE DELON ? ILLUSTRATOR. New Brow, Contemporary Figurative Realism, Neo-Victorian Illustration, Pop Surrealism & Steampunk Art ~ Brigid Ashwood - HOME. Sons of the Storm. Targete Gallery. POL SERRA. SaraB Illustration - Fairies, Mermaids, and Angels for the Heart. Selina Fenech – Fairy Art and Fantasy Art Gallery. Gary A. Lippincott—Elfin Aja. Ruth Sanderson's Golden Wood Studio - Welcome. I am happy to share the process for creating the cover illustration of my upcoming book A CASTLE FULL OF CATS, due to be released in early 2015.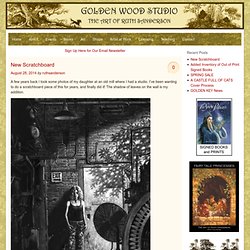 Yes, it takes almost a year for a publisher to produce a book after the artwork is delivered. I'll be doing lots of sneak previews during the year. As you can see from my initial storyboard sketch, I envisioned the cover as a view looking out a window with cats watching the outdoor activities from the inside of the castle. At the next stage, I created a more detailed cover sketch to focus on the queen's "favorite" cat. I also depicted the cats and kittens in a much more active and playful role, indicating the queen and the king outside in the garden. Nadia Sanchez: Art by la fée déglinguée. CGS Artist Profile - Linda Tso. While the world outside has a rich collection of reference, there is nothing like the web as the source of searchable visual reference, and Linda Tso takes advantage of that resource for mood.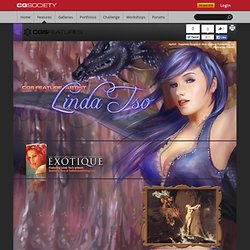 "I've saved a lot of beautiful images and paintings from the web," she explains, "and I like to browse through the folders when I have nothing to do. As much as things like music and writing inspires me as well, it's the visual queues that make the greatest impact, and that includes movies, dreams and magazines of any kind. Dreams do inspire me, and if I don't dream I'd somehow feel the time I spent sleeping was wasted. Mirror reference and some quick photos of myself are a help sometimes Also.
Then there are the Loomis anatomy books." Erlé Ferronnière - Artiste Peintre et Illustrateur. Didier Graffet - Site officiel. The Illustration of David Palumbo. The Official Tim Burton Website. Justin Sweet Gallery. JasonChanArt.Com. ... a forgotten night tale ...natalia pierandrei's portfolio. Jean-Baptiste Monge - Illustrateur. Tony DiTerlizzi, Never Abandon Imagination.
Nekranea Studio Blog. Eric Freitas. I've just discovered some wax materials that I'm very excited about!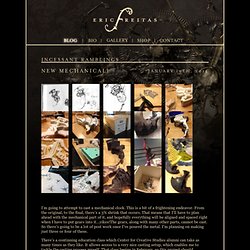 Yes, that's right, I just said I'm excited about wax….what of it? I've been diving more seriously into the world of casting, and I like some of the creative doors that the process opens up. I wanted to start creating my originals from something other than the expensive brass that I'm used to using, but I needed the tolerances and machinability that I've grown accustomed to. I've found a couple of professional grade materials that will work great! The blue stuff is really rigid, and is referred to as "Machinable wax". Linda Ravenscroft Enchanted fairy art. Amy Brown: Fairy Art - The Official Gallery.
Stephanie Pui-Mun Law - Shadowscapes - Fantasy Art. Welcome to the website of the fantasy artist Josephine Wall. Welcome to James Browne.net! Fairies, Elves, & More. Montse Rubio Ilustradora. Daniel Merriam - Home. Vincent Dutrait - Illustrations. 647 articles.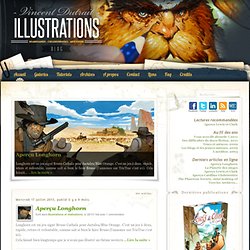 Mercredi 17 juillet 2013, publié il y a 9 mois. Longhorn est un jeu signé Bruno Cathala pour Jactalea/Blue Orange. C'est un jeu à deux, rapide, retors et redoutable, comme sait si bien le faire Bruno (l'annonce sur TricTrac c'est ici). Cela faisait bien longtemps que je n'avais pas illustré un thème western …Lire la suite » Samedi 13 juillet 2013, publié il y a 9 mois. The Techniques of Puddnhead 1.
---