Interests
WilliamsWarn Personal Brewery | Have a Beer With Us
Fishing Wa | Fishing Wa | fishing western australia | fishing exmouth | fishing carnarvon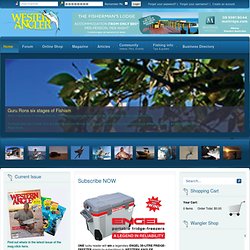 Saragosas, squid and sailfish I LOVE my fishing gear, but I am not one of those blokes who absolutely has to have all the latest bling. I know a lot of guys love fishing tackle and spend thousands so they have every outfit for every occasion, but not me I am only interested in the catching fish. So long as the gear works and I am hooking in I'm happy. Getting to know your localHeading away from home on those bigger fishing trips is something all anglers look forward to. The opportunity to explore new country and the prospect of new species always raises the excitement level.
Western Angler | Your Online Guide to Fishing Western Australia
Abbey Archery: Australia and New Zealand & Asia's largest hunting, target & 3D archery supplier, serving customers with its huge online & retail stores in Sydney & Brisbane & its 10 tonne truck travelling across Australia, fully fitted-out as a Pro Shop. Founded in 1975, we distribute archery products from 70 manufacturers including Mathews, Martin, Bear, Hoyt, Easton, Win & Win, Bohning, Trophy Ridge, AAE-Cavalier, FUSE, Trueflight Feathers, GWS, Trophy Taker, Shibuya, SURE-LOC, Spot-Hogg, Cartel, Beiter, Specialty, Delta, McKenzie, Scott, CBE, Jim Fletcher, NAP, T.R.U. Ball, Samick, Plano, Saunders, PDP, JoJan, BPE, Bowmaster, Apple, Brownell, Winner's Choice, Beman, Slick Trick, Bjorn, Doinker, Vista, Sims, Cobra, BCY, ASAT, Lumenok, Carter, Black Widow, SF Archery, Rinehart & Magnus.
Archery Equipment, Information & Supplies - 2012 Bows, Arrows, Accessories: Abbey Archery Australia