Advice
10 of the Most Important Life Lessons I Learned from My 20s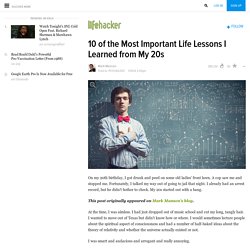 I think the most important lesson I learned in my 20s (not that they're particularly far behind me, fortunately) is this: no matter how hard things get or what horrible shit happens to you, nobody's going to cut you any slack. If you have to grieve, you need repair your torn up life, or you're not perfect because you went through traumatic events in your childhood, it doesn't matter. You're held to the same standards as everyone else, even if things were tough for you.
SExpand Dating new people is fun and exciting. It's also likely to cause even the most rational, level-headed people to make really dumb decisions. Don't worry, though.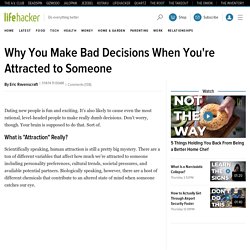 Why You Make Bad Decisions When You're Attracted to Someone
The Magic of Being in Monk Mode
Interesting. I've sort of live in "monk mode", much to the ire of my gregarious wife. Another aspect of "monk mode" is that it removes the gravity of social niceties. For instance, when I had a facebook account I would often post drawings and sketches of the books I was illustrating.
Depends on what kind of parent you are. If you are authoritative your children will understand that no means no and asking might mean catching a beating. I know that isn't PC and the threat of a beating should be good enough. I was only hit 3 times as a child and I deserved all 3 (talking back to my grandmother each time got me a beating from my dad). Point being if a child fears punishment and believes you will carry it out, you likely won't need to.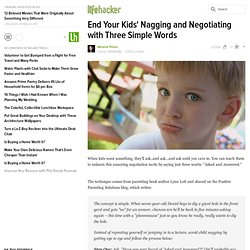 End Your Kids' Nagging and Negotiating with Three Simple Words
Fake it. That sense of confidence you think everyone in the room but you has? Fake it.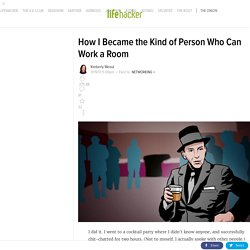 How I Became the Kind of Person Who Can Work a Room
I have a great marriage. I've been married 31 years. And I have thought a lot about how you make a great marriage. How do you make great partnerships?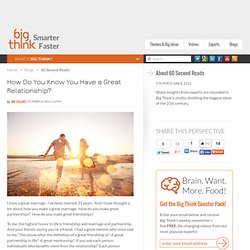 How Do You Know You Have a Great Relationship? | 60 Second Reads
Why Confidence Is So Important (and How to Improve Yours)
Valid observations, but I think the cause is not just "men are assholes" (though many are). Recent research is shining a light on how important social status is to human beings, and whatever the milieu we find ourselves in is the one we turn to in order to derive that status. I'm not excusing bad behavior, just providing what I see as "some insight" into the problem. Even though men have significant advantages, it doesn't change the fact that when their SO is the breadwinner, men are often viewed "poorly" by society - by both men and women. It can eat at some men's confidence because they've been raised to think of themselves as 'the provider'.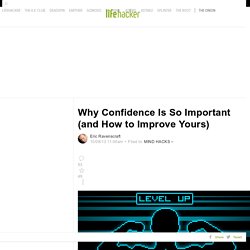 These are probably great tips for moving IN THE BIG CITY, but outside of even the suburbs, it's a little more work. When I found my current place, the local area hadn't quite jumped on CraigsList, and many rentals/landlords here still won't use it. After the local paper, ask the local realtors. My landlord is one and that's how I found this place, which was formerly a ranch house before being remodeled into a duplex. Bonus: storage area downstairs in the unfinished basement.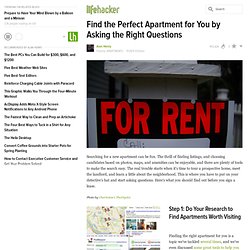 Find the Perfect Apartment for You by Asking the Right Questions
A Scientific Guide to the Perfect First Date
On the dating website Plenty of Fish (POF) they list suggestions for what to talk about with your date. They list women's top ten least favorite conversation topics as politics, other dates, past relationships, religion, history, and some others. The top ten favorite topics are hopes and aspirations, hobbies, music, dreams, romance, friends, travel, and some others. I personally love talking about religion and politics, but struggle with keeping my opinions in check.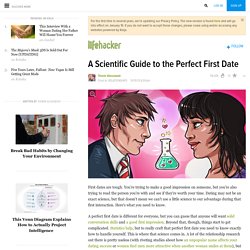 Give Better Presentations by Thinking of Yourself as a Mentor
This is so true. In high school, I took a course called "business lab," (in the late 1970s), in which we learned to use a 10-key adding machine, those IBM typewriters with weird memory cards or something, and, best of all, bookkeeping. We had a packet of material that represented a small company's transactions, including sales, purchasing, and the like. Our task every class (the class involved lots of independent work) was to open a daily envelope, sort out the transactions, and enter them into accounts payable, accounts receivable, pay the bills, send invoices, and update the general ledger.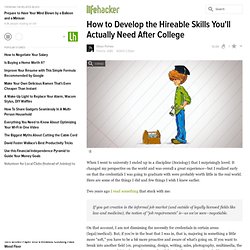 How to Develop the Hireable Skills You'll Actually Need After College
When dialogues become duels | nothing is mere
Why did the recent blow-up between Sam Harris and Glenn Greenwald happen? Why was my subsequent discussion with Murtaza Hussain so unproductive? More, why are squanderous squabbles like this so common? Even among intelligent, educated people with similar moral sensibilities?
Why Don't We Have More Productive Conversations Online?
Nikola Tesla's Best Productivity Tricks
Then there's the whole "live in fancy hotels and never pay your bill" thing. :-) More seriously, I've been lucky enough to work with a number of true 'geniuses' over the years. Seeing these guys close up, IMO, they're different beyond 'doing something different'. Having read a few bios of Tesla, and looked at some of his inventions, yeah, he's in that 'different' category. To be fair, most of his work centers on oscillation and resonance, but he took it quite far (mechanical resonance: small device that could level buildings; light: something very much like a laser; power distribution: much of his work is still used in long distance power transmission) and he did jump to other things that had nothing to do with resonance (e.g. a pump/turbine that uses surface tension, first radio controlled boat). Today 5:00am
Am I Brushing My Teeth Correctly?
This is actually a really important topic. A good friend of mine is a dentist, and he can regale me with stories of people who don't pay attention to their order of operations when they really should, they don't pay attention to the firmness of the bristles they buy when they should, and they spend all their time scrubbing down their teeth but not paying attention to the rest of their mouth (like their gums and tongue) when they should. Similarly, one thing he always warns me about is that people tend to brush their teeth entirely too hard. You're supposed to gently scrub them, but work them like steel wool on dishes. Sometimes lighter is better, as long as they come out clean in the end.
What's the Latest Development? A team of German researchers asked male test subjects to look at 36 pairs of eyes -- 18 male and 18 female -- and, for each pair, to choose from one of two terms meant to describe the emotional or mental state of the person they were seeing. They found that the test subjects "had twice as many problems in recognizing emotions from female as compared to male eyes." The results appeared this week in the online journal PLOS ONE. What's the Big Idea?
New Research Proves Men Really Don't Understand Women
There was no mention of more sex or bungee jumps. A palliative nurse who has counselled the dying in their last days has revealed the most common regrets we have at the end of our lives. And among the top, from men in particular, is 'I wish I hadn't worked so hard'. Bronnie Ware is an Australian nurse who spent several years working in palliative care, caring for patients in the last 12 weeks of their lives. She recorded their dying epiphanies in a blog called Inspiration and Chai, which gathered so much attention that she put her observations into a book called The Top Five Regrets of the Dying. Ware writes of the phenomenal clarity of vision that people gain at the end of their lives, and how we might learn from their wisdom.
How to Pick a Career You Actually Like
Milky Way: Stéphane Guisard's zoomable photo of the Milky Way's center.
Create a Lasting Morning Routine by Making Two Key Changes
Asimov - The Relativity of Wrong
How to Live with Introverts by *SVeidt on deviantART
How Can I Give A Good Gift Without Being Cliche?
Best. Ant-Smoking. Campaign. Ever. | Mind Matters
Best ANTI SMOKING AD EVER.
The Most Common Hiding Places for Workplace Passwords
The 5 Elements of Effective Thinking - Interview With Edward Burger | Big Think TV
Updates: Stop Procrastinating by "Clearing to Neutral"
Why We Buy Into Ideas (And How to Convince Others of Our Thoughts)
How to Master the Art of Looking Busy
You're Not Listening
Seelio | Home
l634724185772400974.jpg (1300×1883)
Advice for High School Graduates
Pale Blue Dot by Carl Sagan - Episode 1: "Wanderers"
If Logic Tells You Otherwise, Ignore Your Gut
Lies We Tell Kids
Advice From An Old Programmer — Learn Python The Hard Way, 2nd Edition