Advice
10 of the Most Important Life Lessons I Learned from My 20s. How to Read Body Language to Reveal the Underlying Truth in Almost Any Situation. Why You Make Bad Decisions When You're Attracted to Someone. The Magic of Being in Monk Mode. End Your Kids' Nagging and Negotiating with Three Simple Words. How I Became the Kind of Person Who Can Work a Room. How Do You Know You Have a Great Relationship? | 60 Second Reads. I have a great marriage.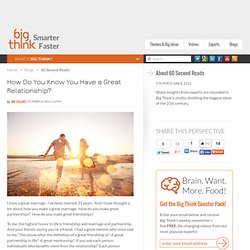 I've been married 31 years. And I have thought a lot about how you make a great marriage. How do you make great partnerships? Why Confidence Is So Important (and How to Improve Yours) Find the Perfect Apartment for You by Asking the Right Questions. A Scientific Guide to the Perfect First Date. Give Better Presentations by Thinking of Yourself as a Mentor. How to Develop the Hireable Skills You'll Actually Need After College.
When dialogues become duels | nothing is mere. Why did the recent blow-up between Sam Harris and Glenn Greenwald happen?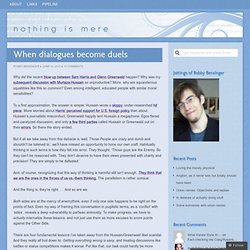 Why was my subsequent discussion with Murtaza Hussain so unproductive? More, why are squanderous squabbles like this so common? Even among intelligent, educated people with similar moral sensibilities? Why Don't We Have More Productive Conversations Online? Nikola Tesla's Best Productivity Tricks. Am I Brushing My Teeth Correctly? New Research Proves Men Really Don't Understand Women. What's the Latest Development?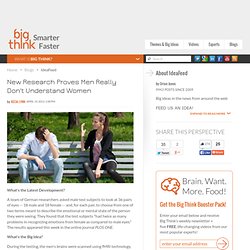 A team of German researchers asked male test subjects to look at 36 pairs of eyes -- 18 male and 18 female -- and, for each pair, to choose from one of two terms meant to describe the emotional or mental state of the person they were seeing. They found that the test subjects "had twice as many problems in recognizing emotions from female as compared to male eyes. " The results appeared this week in the online journal PLOS ONE. What's the Big Idea? Top five regrets of the dying. A palliative nurse has recorded the top five regrets of the dying.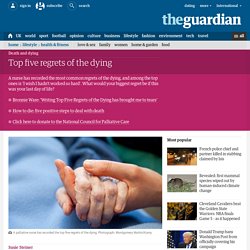 Photograph: Montgomery Martin/Alamy There was no mention of more sex or bungee jumps. A palliative nurse who has counselled the dying in their last days has revealed the most common regrets we have at the end of our lives. And among the top, from men in particular, is 'I wish I hadn't worked so hard'. Bronnie Ware is an Australian nurse who spent several years working in palliative care, caring for patients in the last 12 weeks of their lives. How to Pick a Career You Actually Like. What if you know what makes you happy since you are little and you know what career or field you want to choose from early years and there is no need to hop around?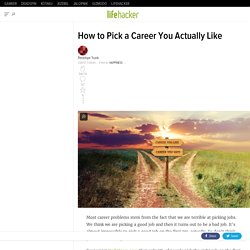 For example I loved to draw and I loved visual arts and I loved music since I was 3 and that made me happy and I knew that no matter what, I couldn't live without being creative - it's who I am at my core. So starting from high school I began learning web design and Photoshop and taking art classes, which lead me to get my first job as a designer when I was only 19. And ever since then, I kept on building on that and incorporating more and more creative skills in my arsenal because I can't imagine doing something else.
And this is what makes me truly happy. Sure, there are people that don't have so clear what they want to do in life, but you can sense where your affiliation lies. Milky Way: Stéphane Guisard's zoomable photo of the Milky Way's center. Forget I asked, because after you click on this link, your day will be gone.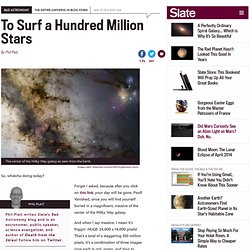 Poof! Vanished, since you will find yourself buried in a magnificent, massive of the center of the Milky Way galaxy. Create a Lasting Morning Routine by Making Two Key Changes. Asimov - The Relativity of Wrong. The Skeptical Inquirer, Fall 1989, Vol. 14, No. 1, Pp. 35-44 The Relativity of WrongBy Isaac Asimov I RECEIVED a letter the other day.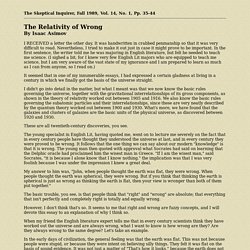 How to Live with Introverts by *SVeidt on deviantART. How Can I Give A Good Gift Without Being Cliche? I liked that one of the example photos was the Zelda symphony.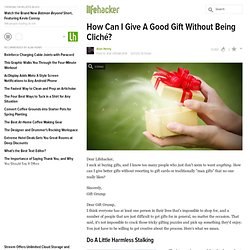 I gave my mom the idea to give that to ManDork for his birthday this year and I'm pretty sure it ended up being one of the best gifts he's ever, ever gotten. He loved the concert, even got a little teary-eyed at one point. And when I told him to write a thank you note, he did it happily without complaining that he had no idea what to say. His family didn't do thank-you cards growing up, so usually I have to heckle him a bit, or write a general note for the whole family (all our birthdays are within a few weeks of each other), or give him ideas on what to say.
Best. Ant-Smoking. Campaign. Ever. | Mind Matters. I'm convinced that human beings are far less rational, coherent, consistent and aware in their daily decisions than they are supposed to be.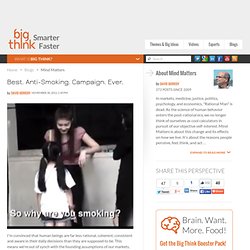 This means we're out of synch with the founding assumptions of our markets, electoral systems and other important institutions. But this doesn't mean I want to throw in the towel and give up on the achievements of our ancestors' faith in reason. I just think that faith needs to engage with all the evidence of the past few decades about how people really make their choices in life. For example, people in public health have known for a long time that simply telling people the facts about smoking ought to be enough to make them quit. Best ANTI SMOKING AD EVER. Ernesto Sirolli: Want to help someone? Shut up and listen!
The Most Common Hiding Places for Workplace Passwords. The 5 Elements of Effective Thinking - Interview With Edward Burger | Big Think TV. Edward Burger is an award-winning professor of mathematics.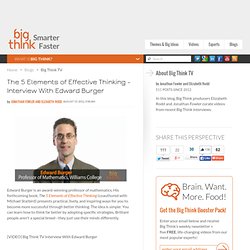 His forthcoming book, The 5 Elements of Effective Thinking (coauthored with Michael Starbird) presents practical, lively, and inspiring ways for you to become more successful through better thinking. The idea is simple: You can learn how to think far better by adopting specific strategies. Brilliant people aren't a special breed--they just use their minds differently.
[VIDEO] Big Think TV Interview With Edward Burger. Updates: Stop Procrastinating by "Clearing to Neutral" By Thanh Pham We often procrastinate because there is this one hidden thing holding us back. It is this one thing that makes you procrastinate and most people are not even aware what this is, but if you eliminate it you can say goodbye to procrastination forever. Why We Buy Into Ideas (And How to Convince Others of Our Thoughts) How to Master the Art of Looking Busy. SExpand As many have said, you can just be seen walking with something in your hand and a purpose in your eyes. If I decide to leave a couple of minutes early, I pass in front of my boss' office with a sheet of paper in my hands just so he saw me right before I left. I often just keep a pen in my hand, even when browsing the internets. Looks like you're gathering notes. Scribble around. You're Not Listening. Seelio | Home.
l634724185772400974.jpg (1300×1883) Advice for High School Graduates. Larry Smith: Why you will fail to have a great career. Susan Cain: The power of introverts. Richard St. John's 8 secrets of success.
Pale Blue Dot by Carl Sagan - Episode 1: "Wanderers" Sometimes All You Need Is A Little Inspiration to Keep Rolling. Open Mind. What You'll Wish You'd Known. January 2005 (I wrote this talk for a high school. I never actually gave it, because the school authorities vetoed the plan to invite me.) When I said I was speaking at a high school, my friends were curious. If Logic Tells You Otherwise, Ignore Your Gut. 8 Things Everybody Ought to Know About Concentrating. "Music helps me concentrate," Mike said to me glancing briefly over his shoulder. Mike was in his room writing a paper for his U.S. History class. Overcoming Procrastination Instantly Using Self Talk.
Changing how we talk to ourselves is the easiest and most powerful way to overcome procrastination. No other method that I know of disarms procrastination so rapidly and at such a fundamental level: that of our own thoughts. The Voices In Our Heads We're talking to ourselves all the time inside our minds. Even when you're not paying attention, these relentless mental debates deeply influence our feelings and, ultimately, our behavior. The good news is that just becoming aware of such mental dialogues — noticing patterns and turning them into productive statements — is usually all you need to overcome many unwelcome feelings and behaviors.
30 Things to Stop Doing to Yourself. Lies We Tell Kids. Advice From An Old Programmer — Learn Python The Hard Way, 2nd Edition.
---