Advice
Why You Make Bad Decisions When You're Attracted to Someone
The Magic of Being in Monk Mode
End Your Kids' Nagging and Negotiating with Three Simple Words
How I Became the Kind of Person Who Can Work a Room
I have a great marriage. I've been married 31 years. And I have thought a lot about how you make a great marriage. How do you make great partnerships?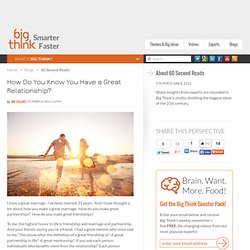 How Do You Know You Have a Great Relationship? | 60 Second Reads
Why Confidence Is So Important (and How to Improve Yours)
These are probably great tips for moving IN THE BIG CITY, but outside of even the suburbs, it's a little more work.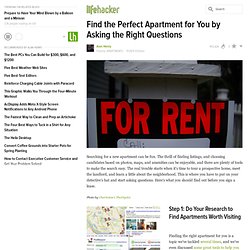 Find the Perfect Apartment for You by Asking the Right Questions
A Scientific Guide to the Perfect First Date
Give Better Presentations by Thinking of Yourself as a Mentor
How to Develop the Hireable Skills You'll Actually Need After College
When dialogues become duels | nothing is mere
Why did the recent blow-up between Sam Harris and Glenn Greenwald happen? Why was my subsequent discussion with Murtaza Hussain so unproductive? More, why are squanderous squabbles like this so common? Even among intelligent, educated people with similar moral sensibilities?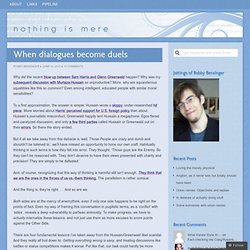 Why Don't We Have More Productive Conversations Online?
Nikola Tesla's Best Productivity Tricks
Am I Brushing My Teeth Correctly?
What's the Latest Development? A team of German researchers asked male test subjects to look at 36 pairs of eyes -- 18 male and 18 female -- and, for each pair, to choose from one of two terms meant to describe the emotional or mental state of the person they were seeing. They found that the test subjects "had twice as many problems in recognizing emotions from female as compared to male eyes." The results appeared this week in the online journal PLOS ONE. What's the Big Idea?
New Research Proves Men Really Don't Understand Women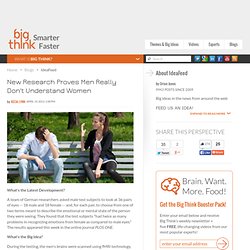 There was no mention of more sex or bungee jumps. A palliative nurse who has counselled the dying in their last days has revealed the most common regrets we have at the end of our lives. And among the top, from men in particular, is 'I wish I hadn't worked so hard'. Bronnie Ware is an Australian nurse who spent several years working in palliative care, caring for patients in the last 12 weeks of their lives. She recorded their dying epiphanies in a blog called Inspiration and Chai, which gathered so much attention that she put her observations into a book called The Top Five Regrets of the Dying. Ware writes of the phenomenal clarity of vision that people gain at the end of their lives, and how we might learn from their wisdom.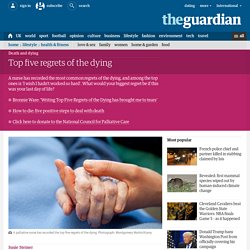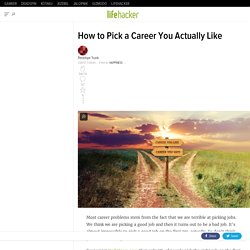 How to Pick a Career You Actually Like
What if you know what makes you happy since you are little and you know what career or field you want to choose from early years and there is no need to hop around? For example I loved to draw and I loved visual arts and I loved music since I was 3 and that made me happy and I knew that no matter what, I couldn't live without being creative - it's who I am at my core. So starting from high school I began learning web design and Photoshop and taking art classes, which lead me to get my first job as a designer when I was only 19. And ever since then, I kept on building on that and incorporating more and more creative skills in my arsenal because I can't imagine doing something else. And this is what makes me truly happy. Sure, there are people that don't have so clear what they want to do in life, but you can sense where your affiliation lies.
Milky Way: Stéphane Guisard's zoomable photo of the Milky Way's center.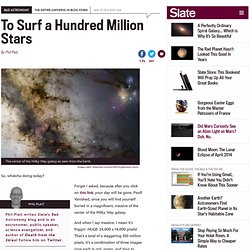 Forget I asked, because after you click on this link, your day will be gone. Poof! Vanished, since you will find yourself buried in a magnificent, massive of the center of the Milky Way galaxy.
I think this is ok for people that are predisposed to waking up early or don't seem to be able to accomplish anything at night, but its not for everyone and you don't need to wake up at 5 a.m. everyday to be successful. I am amongst a small sliver of the population that has an "off" circadian rhythm. Since I was a baby, 3-years-old or so, I have regularly stayed up till 2 or 3 a.m., and if left alone, will sleep 10-12 hours. This is my natural pattern. If I go to bed at 12 a.m., I toss and turn for hours before falling asleep, earlier bed time is even worse.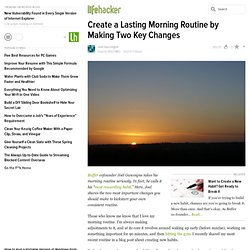 Create a Lasting Morning Routine by Making Two Key Changes
The Skeptical Inquirer, Fall 1989, Vol. 14, No. 1, Pp. 35-44 The Relativity of WrongBy Isaac Asimov I RECEIVED a letter the other day.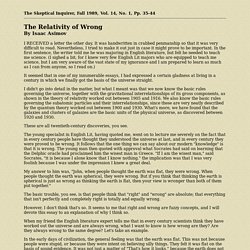 Asimov - The Relativity of Wrong
How to Live with Introverts by *SVeidt on deviantART
SExpand Dear Lifehacker, I suck at buying gifts, and I know too many people who just don't seem to want anything. How can I give better gifts without resorting to gift cards or traditionally "man gifts" that no one really likes? Sincerely, Gift Grump Dear Gift Grump, I think everyone has at least one person in their lives that's impossible to shop for, and a number of people that are just difficult to get gifts for in general, no matter the occasion.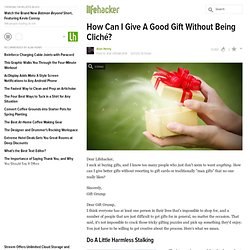 How Can I Give A Good Gift Without Being Cliche?
I'm convinced that human beings are far less rational, coherent, consistent and aware in their daily decisions than they are supposed to be. This means we're out of synch with the founding assumptions of our markets, electoral systems and other important institutions. But this doesn't mean I want to throw in the towel and give up on the achievements of our ancestors' faith in reason. I just think that faith needs to engage with all the evidence of the past few decades about how people really make their choices in life. For example, people in public health have known for a long time that simply telling people the facts about smoking ought to be enough to make them quit.
Best. Ant-Smoking. Campaign. Ever. | Mind Matters
Best ANTI SMOKING AD EVER.
Really like this comic (GREAT illustrations!) for the overall message of not wasting your life.
When I was an IT admin, I had the pleasure of dealing often with people who would submit urgent service requests and then leave for the day, leaving their office empty and computer locked by the time I could get there to help. Fortunately, I was often able to fix their problem while they weren't there. Why?
The Most Common Hiding Places for Workplace Passwords
The 5 Elements of Effective Thinking - Interview With Edward Burger | Big Think TV
Edward Burger is an award-winning professor of mathematics.
Updates: Stop Procrastinating by "Clearing to Neutral"
Why We Buy Into Ideas (And How to Convince Others of Our Thoughts)
How to Master the Art of Looking Busy
You're Not Listening
Seelio | Home
l634724185772400974.jpg (1300×1883)
Advice for High School Graduates
Pale Blue Dot by Carl Sagan - Episode 1: "Wanderers"
If Logic Tells You Otherwise, Ignore Your Gut
Lies We Tell Kids
Advice From An Old Programmer — Learn Python The Hard Way, 2nd Edition