Vintage Clothing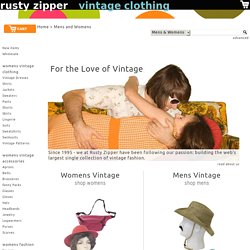 A note from owner Jennifer Chadwick: Our hope is you will share in our fun when you receive you first order and every order from us. RustyZipper.com was the first vintage clothing store on the internet when we launched in 1995 as hobby business. Now I come to work every day surrounded by a team of 9 wacky, creative fun people who share my passion for vintage style, and for doing something a bit out of the ordinary! On any given day, I may ship out fabulous forties and fifties cocktail dresses, a couple of outrageously silly retro 80s light-up ugly christmas sweaters, a gorgeous 1940's Mens Gabardine Shirt, 60s navy bellbottom jeans, perhaps an authentic totally 80s prom dress to a young vintage fashion enthusiast, or help an elderly gentleman find a pristine authentic 80s vintage replacement for his favorite Members Only Jacket. It's hard to believe, but this year, we've entered into our 19th year selling vintage clothing online at RustyZipper.com.
Vintage Clothing, Holt. Norfolk | Past Caring
'Past Caring', (established 1988), is a charming little old shop situated in this pretty Georgian Town of Holt. The shop is crammed full with a wonderful range of ORIGINAL vintage clothes and objects of delight dating from the 1800s to 1960s. There are Victorian capes and skirts, Edwardian camisoles & petticoats,1920s velvet jackets and lace dresses, 1950s cocktail dresses, 1940s crepe dresses, suits, jackets, hats and handbags and shoes and lots of vintage jewellery. There is also a selection of men's and children's clothing.