Sewing, stitching and what not!
New Pattern ~ Crochet Owl Purse « Pattern. A new pattern has been born.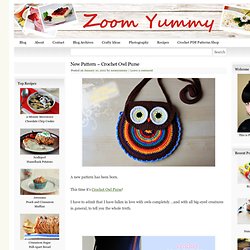 This time it's Crochet Owl Purse! I have to admit that I have fallen in love with owls completely …and with all big-eyed creatures in general, to tell you the whole truth. The pattern took me about one week to prepare – from the very first idea up to editing the last picture and writing down the last word today. Upcycle: T-shirts to Summer vest tutorial. I love to spice up dresses and jeans with long summer vest.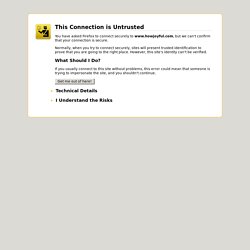 In my last visit to Target I found a few very cool and super cheap items, I already showed you what I did with this dress. So now I wanted to show what I did with two T-shirts, I also used a little piece of lace for the back, but you don't need to use it if you don't like lace. I really liked that the T-shirts were very soft and a thin material, thinner than normal cotton T-shirts. They cost me $3.00 each and both were XL. I am a Medium in shirts so I would recommend to use shirts two sizes bigger than what you normally wear so they are long enough and you end up with a pretty and full bottom.
Sewing 101: making a pouf. Add a burst of color to your room with this crafty pouf!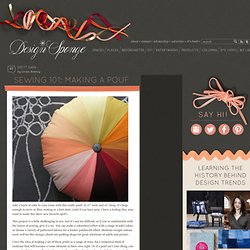 At 17" wide and 10" deep, it's large enough to serve as floor seating or a foot stool. (And if you have pets, I have a feeling they may want to make this their new favorite spot!) This project is a little challenging to sew, but it's not too difficult, so if you're comfortable with the basics of sewing, give it a try. You can make a colorwheel effect with a range of solid colors, or choose a variety of patterned fabrics for a louder patchwork effect.
Medium-weight cottons work well for this design (check out quilting shops for great selections of solids and prints). Re-purposing: Tshirts into 5-strand-braided-headbands. I was walking through Target a few weeks ago and noticed this little knit fabric headband that was not just braided together…….but woven.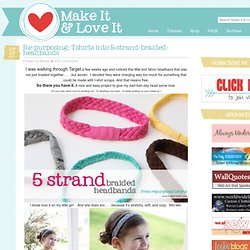 I decided they were charging way too much for something that could be made with t-shirt scraps. And that means free. So there you have it. A nice and easy project to give my bad-hair-day head some love. (Or you may need one for working out. How To Make A Microwave Heating Bag. Instead of using electric heat pads & blankets or hot water bottles for your aches and pains, these microwaveable packs are just the ticket!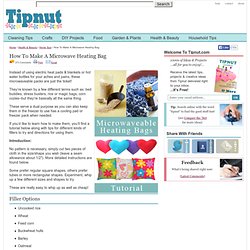 They're known by a few different terms such as: bed buddies, stress busters, rice or magic bags, corn cozies–but they're basically all the same thing. These serve a dual purpose as you can also keep them in the freezer to use has a cooling pad or freezer pack when needed. If you'd like to learn how to make them, you'll find a tutorial below along with tips for different kinds of fillers to try and directions for using them.
Rick Rack Rosettes. A friend gave me this flower ring and necklace, when she handed them to me I thought they were porcelain–there's a very vintage feel to them.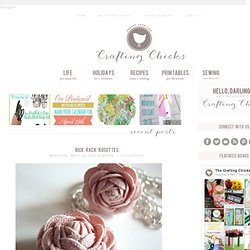 From a distance you really can't tell that they're made out of rick rack! Yes, rick rack! She shared how to make them with me, and now I'm sharing with all of you readers! The wow of the rosette comes from a few simple steps! Ten minute no-sew recycled t-shirt bag! Tutorial time!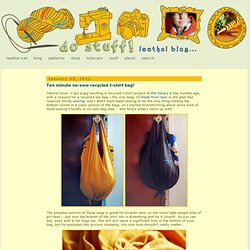 I got a gig teaching a recycled t-shirt project at the library a few months ago, with a request for a recycled tee bag – the only bags I'd made from tees in the past had required sturdy sewing, and I didn't want hand-sewing to be the only thing holding the bottom closed in a class version of the bags, so I started brainstorming about some kind of hand-sewing-friendly or no-sew bag idea…. and here's what I came up with! The simplest version of these bags is great for smaller tees, or the more light-weight kind of girl-tees – just turn the bottom of the shirt into a drawstring and tie it closed!
As you can see, even with a not huge tee, this will still leave a significant hole in the bottom of your bag, but for purposes like grocery shopping, this size hole shouldn't really matter… But to make smaller holes, just make more than one of them! Here's a bag bottom with 2 holes:
Make a Friendship Bracelet the Easy Way.
---