Pastries
Sajtos Pogácsa - Hungarian Cheese Puffs. We have different traditions in Hungary in the holiday season.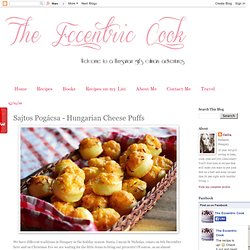 Santa, I mean St Nicholas, comes on 6th December here and on Christmas Eve we are waiting for the little Jesus to bring our presents! Of course, as an almost 22-year-old I don't expect any gifts on Nicholas day...That is why I was so surprised when I got absolutely the coolest thing ever! Naan Recipe. Cheesy Garlic Biscuits a la Red Lobster – Step by Step Easy Recipe. I posted about these amazingly delicious biscuits in September, but the post isn't very complete, I didn't give you my actual recipe, and the picture is somewhat lacking.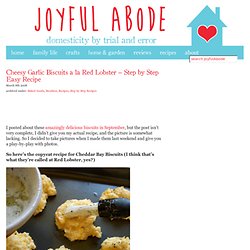 So I decided to take pictures when I made them last weekend and give you a play-by-play with photos. So here's the copycat recipe for Cheddar Bay Biscuits (I think that's what they're called at Red Lobster, yes?) Hasselback Garlic Cheesy Bread. Hasselback Garlic Cheesy Bread First thing: this Calphalon Giveaway ends on Friday!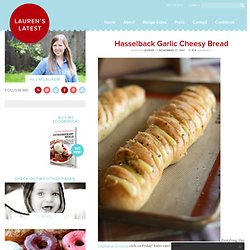 Enter enter enter! GET OFF YOUR BUTT AND BAKE!: PRETZEL BITES - Parmesan or Cinnamon and Sugar with glaze. Do you need a perfect snack for the big game?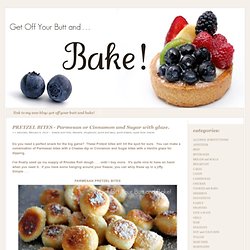 These Pretzel bites will hit the spot for sure. You can make a combination of Parmesan bites with a Cheese dip or Cinnamon and Sugar bites with a Vanilla glaze for dipping. I've finally used up my supply of Rhodes Roll dough . . . until I buy more. It's quite nice to have on hand when you need it. Fried Dough Mozzarella Bites. These weren't as crazy amazing(cramazing?)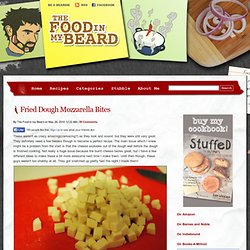 As they look and sound, but they were still very good. They definitely need a few tweaks though to become a perfect recipe. The main issue which I knew might be a problem from the start is that the cheese explodes out of the dough well before the dough is finished cooking. Not really a huge issue because the burnt cheese tastes great, but I have a few different ideas to make these a bit more awesome next time I make them. Until then though, these guys weren't too shabby at all. Homemade Croissants - Step by Step Instructions w/Photos So You Can Do it Too! Pull Apart Cheesy Herb Bread | NerdyBaker. The weather was getting cold this week and I just really wanted some bread in the oven.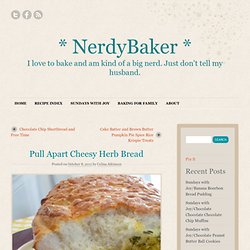 It was as simple as that. I had several recipes on deck but this one cut in line simply for having yeast in it. Also, I finally restarted my sourdough starter! I cannot wait to have me some homemade sourdough. How to Make Cheddar Biscuits Like Red Lobster. Smokey Porter Molasses Chicken Skewers Beer is a natural meat tenderizer.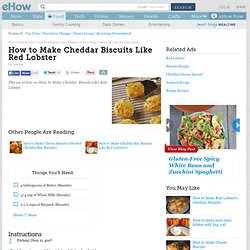 When it comes to grilling and cook-outs, nothing pulls double duty like a good brew. It'll give you malty flavor and tender chicken, all while giving you something nice to sip while you're in … Pepperoni Pizza Monkey Bread Recipe. Kids can be frustratingly picky eaters.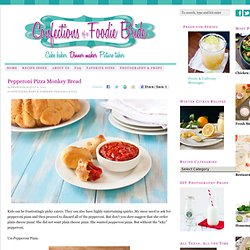 They can also have highly entertaining quirks. My niece used to ask for pepperoni pizza and then proceed to discard all of the pepperoni. But don't you dare suggest that she order plain cheese pizza! Frites & fries - Garlic Knots. Garlic Knots Most of my early food memories had to do with all the garlic dishes that my grandmother made.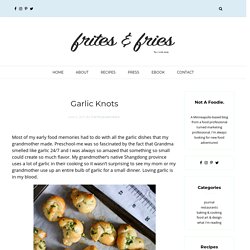 Preschool-me was so fascinated by the fact that Grandma smelled like garlic 24/7 and I was always so amazed that something so small could create so much flavor. My grandmother's native Shangdong province uses a lot of garlic in their cooking so it wasn't surprising to see my mom or my grandmother use up an entire bulb of garlic for a small dinner. Pita bread. Oh, am I so happy to finally have a great pita recipe.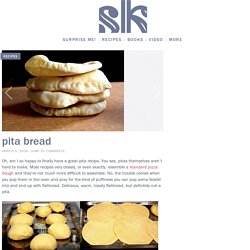 You see, pitas themselves aren't hard to make. Most recipes very closely, or even exactly, resemble a standard pizza dough and they're not much more difficult to assemble. The Pastry Affair - Home - Garlic Parmesan Pull-Apart Bread. I once made the driest pancake in the world. I can see you sitting at home, staring at your computer screen, and scoffing at my bold statement.
Driest pancake in the world? Yeah, right. How would you even know? But this is the truth, my friends. How to Make Cheese Crackers at Home. I love cheese crackers. I try to put the blame on my children as the reason I buy them, but the simple truth is, I buy them for me and the kiddos get the benefit from it. Whether it's Cheese Nips, Cheez-It's, Better Cheddars or Goldfish, I like them all. So, when I saw a recipe in the 4 Ingredients Cookbook for cheese crackers, I decided to try it myself.
---