Beauty
Wash an old mascara or nail polish container and fill with: 1/4 of the container with Castor Oil, 1/2 Vitamin E Oil, 1/4 Aloe Vera Gel. Mix the concoction together as well as you can with your mascara wand, and apply a light layer to lashes (or brows) eve.
Makeup. Homemade Beauty Gift Idea : Luxurious Body Dusting Powder. The beginnings of a luxurious dusting powder.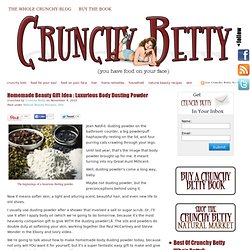 Jean Naté dusting powder on the bathroom counter, a big powderpuff haphazardly resting on the lid, and four purring cats crawling through your legs. Until last year, that's the image that body powder brought up for me. It meant turning into my Great-Aunt Millicent. Well, dusting powder's come a long way, baby.
Homemade Probiotic Deodorant – That Really Works! Probiotics.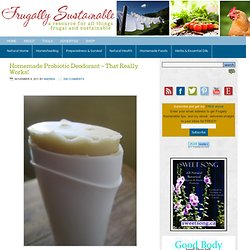 A buzzword within the natural health community. And rightfully so! Most health conscious individuals understand the positive effects on digestion that come from using probiotic foods and supplements. In fact, the benefits of ingesting probiotics have been well researched and the craze is taking over. If you haven't already heard of fermented foods, kefir, and kombucha you will soon. DIY! 7 new stylish ways to de-clutter your beauty closet. » How to drop a dress size in 20 minutes The Beauty Gypsy. Home Remedies To Get Rid Of Facial Hair On Women. Although there are several methods to remove female mustache hair, waxing is the preferred method.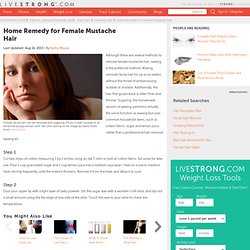 Waxing removes facial hair for up to six weeks without the threat of embarrassing stubble or shadow. Additionally, the hair that grows back is often finer and thinner. Sugaring, the homemade version of waxing, performs virtually the same function as waxing but uses common household items, such as cotton fabric, sugar and lemon juice, rather than a professional hair-removal waxing kit. Cut two strips of cotton measuring 1 by 2 inches using an old T-shirt or bolt of cotton fabric. Set aside for later use.
---