Clothes and accessories
A DIY "look for less" LOVE! | The Adventures of an Urban Socialite™ - StumbleUpon. Watermark Tee by Sweet Verbana - StumbleUpon. Hello U-Create readers!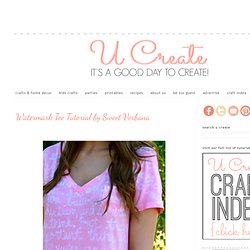 I am so excited to be guest posting here today. It just so happens to be my first guest post and I'm still a little shocked that it's here at Ucreate, one of my favorite blogs! DIY Pom Poms. If you don't absolutely love pom poms or haven't ever considered making them yourself, perhaps we can sway you after this week's DIY.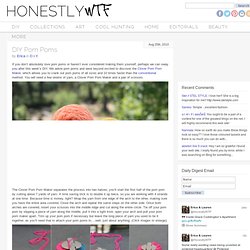 We adore pom poms and were beyond excited to discover the Clover Pom Pom Maker, which allows you to crank out pom poms of all sizes and 10 times faster than the conventional method. You will need a few skeins of yarn, a Clover Pom Pom Maker and a pair of scissors. The Clover Pom Pom Maker separates the process into two halves; you'll start the first half of the pom pom by cutting about 7 yards of yarn. A time saving trick is to double it up twice, so you are working with 4 strands at one time.
DIY Shibori. Shibori is a Japanese term for methods of dyeing cloth by binding, stitching, folding, twisting, and compressing.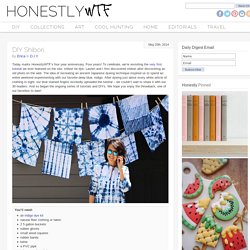 In Japan, the earliest known example of cloth dyed with the shibori technique dates back to the 8th century where indigo was the main dye used. We were immediately inspired by this fascinating technique, it's history and beauty. DIY Wrap Bracelet. You should all know by now that we are all about stacking bracelets on our wrists.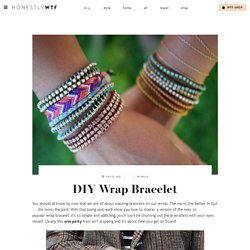 The more, the better. In fact . . . the most, the best! With that being said, we'll show you how to master a version of the ever so popular wrap bracelet. It's so simple and addicting, you'll soon be churning out these wristlets with your eyes closed. Clearly this arm party train isn't stopping and it's about time you get on board! DIY Bleach Tie Dye. Last summer, we were obsessed with shibori indigo tie dying.
No, really . . . we just about dyed anything white in sight. So when Free People asked us to include a DIY in their guest blogger series, we knew a new tie dye project was absolutely in order. And as the weather is beginning to warm up, what better time than now to start experimenting with reverse tie dye using bleach!
---