Blogging Tips
Monetize Your Blog By Directly Approaching Advertisers
Y ou have now created your "advertise here" blog page and your blog media kit document . You have your contact details available on your blog but still no e-mails from interested advertisers. If you run a small blog, having an advertise page will not be enough to attract advertisers. Google Adsense is your friend while your blog readership is small.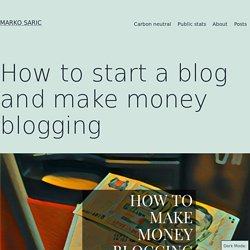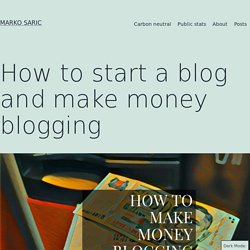 Create A Media Kit To Attract Advertisers To Your Blog
H aving direct advertisers is a very lucrative way of monetizing your blog. Ads are one of the few ways in which a blogger can capitalize on existing blog traffic without any additional work, such as developing products like e-books or providing services like search engine optimization. First step for a blogger to attract sponsors to his blog is to create an online blog media kit. What is a blog media kit?
How a Rookie Blogger Became an Accidental Entrepreneur and Created a Six-Figure Online Business in Under 19 months [CASE STUDY] A-List Blogging Bootcamps
From Zero to 2001 Subscribers in 4 Months: How I Made My Blog Bloom [Case Study] A-List Blogging Bootcamps
By Barrie Davenport of Live Bold and Bloom Your blog can and will grow. But just like a garden or a relationship, you have to tend to it constantly to make it take seed and bloom.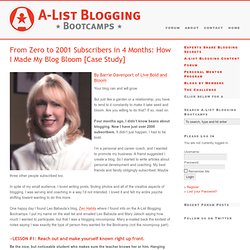 N ot satisfied with your blog yet? Looking to improve and optimize your chances of blogging success? Need inspiration for how to get your blog to the next level? This is a list of 58 simple things that you can do to improve your blog today. Get a domain name Forget yourname.wordpress.com or yourname.blogspot.com .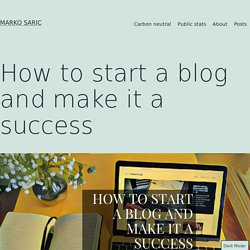 58 ways to build a better blog