Blogging Tips
Monetize Your Blog By Directly Approaching Advertisers. You have now created your "advertise here" page and your media kit document.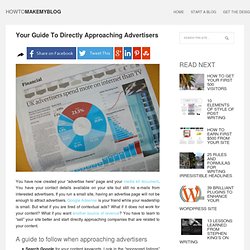 You have your contact details available on your site but still no e-mails from interested advertisers. If you run a small site, having an advertise page will not be enough to attract advertisers. Google Adsense is your friend while your readership is small. But what if you are tired of contextual ads? What if it does not work for your content? Create A Media Kit To Attract Advertisers To Your Blog. Having direct advertisers is a very lucrative way of monetizing your site.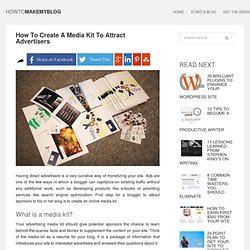 Ads are one of the few ways in which a blogger can capitalize on existing traffic without any additional work, such as developing products like e-books or providing services like search engine optimization. First step for a blogger to attract sponsors to his or her blog is to create an online media kit. What is a media kit? Your advertising media kit should give potential sponsors the chance to learn behind-the-scenes facts and stories to supplement the content on your site. Think of the media kit as a resume for your blog. How a Rookie Blogger Became an Accidental Entrepreneur and Created a Six-Figure Online Business in Under 19 months [CASE STUDY] A-List Blogging Bootcamps.
Blog Tips | Blogging Tips | Best Blogging Tips | Blog Help. From Zero to 2001 Subscribers in 4 Months: How I Made My Blog Bloom [Case Study] A-List Blogging Bootcamps. By Barrie Davenport of Live Bold and Bloom Your blog can and will grow.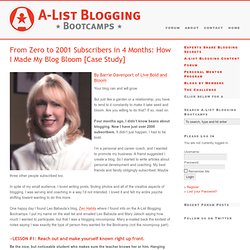 But just like a garden or a relationship, you have to tend to it constantly to make it take seed and bloom. 58 ways to build a better blog. Are you not satisfied with your site yet?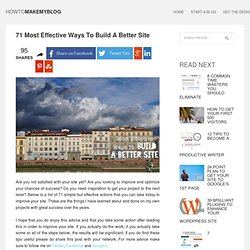 Are you looking to improve and optimize your chances of success? Do you need inspiration to get your project to the next level? Below is a list of 71 simple but effective actions that you can take today to improve your site. These are the things I have learned about and done on my own projects with great success over the years.
---