Artists
TIM STORY. Francis And The Lights 'Like A Dream' EP Stream + Video Okayplayer. It may have been a minute since we've heard anything from Francis And The Lights, but lucky for us, Mr.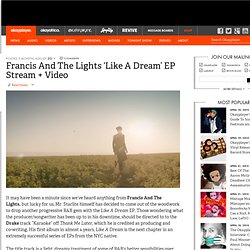 Starlite himself has decided to come out of the woodwork to drop another progressive R&B gem with the Like A Dream EP. Those wondering what the producer/songwriter has been up to in his downtime, should be directed to to the Drake track "Karaoke" off Thank Me Later, which he is credited as producing and co-writing. Interview: DJ Deep.
"Today, kids want to be more Kerri Chandler than Kerri Chandler," says DJ Deep, his words accompanied by a gentle flutter as he leafs through his enormous record collection.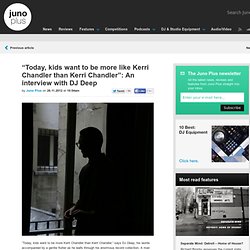 A man whose two-decade career has seen him forge a close personal and professional relationship with New Jersey's house pioneer, he's in a good place to judge. "Just because something sounds like Kerri Chandler doesn't mean it's a good idea to put it out," he continues, "because Kerri already did it 20 years ago." His voice lilts gently down the line from his Parisian office. He doesn't sound upset by the sudden re-emergence of the Chicago and NY house sound he's been obsessed with since he was 16. Instead, he's fascinated at its cycle. Ennio Morricone - Official Site - News. It is with great disappointment that the management of Maestro Ennio Morricone has to announce that the forthcoming April concerts in Europe have to be postponed following medical advice after a recent back procedure.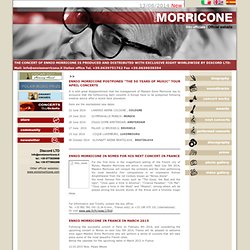 Here are the rescheduled new dates: 22 June 2014 LANXESS ARENA COLOGNE , COLOGNE. SiteSakamoto. Vince Clarke Music – Latest News. 'Dancers of War' video game project announced, featuring original music by Vince Clarke (27 March 2014) Vince Clarke has today announced that he is to partner with Johnny Bravo creator, Van Partible, game industry veteran Scott Eaton (Medal Of Honor, Call of Duty, and Lost Planet 3) and veteran entertainment marketing consultant Michael Pagnotta in a brand new venture Easy Like, LLC. to launch Dancers Of War, a new, over-the top, third person action video game for both Mac and PC.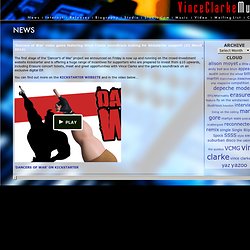 The Dancers of War initiative will commence with a crowd-funding campaign at Kickstarter set to go live on March 31. The Observatory - Home. Latest Updates Posted on March 28, 2014 Behind These Eyes: The Catacombs Remixes Official release date - 25 April 2014.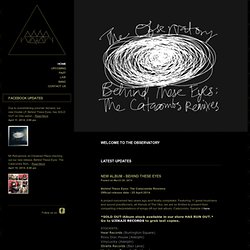 ---