Grafika
Stock
Favicon. Photoshop. Top 10 stron z wzorkami na tła dla Webdesignerów - WEBPHOTOSHOP.PL. Dzisiaj prezentujemy Wam 10 najbardziej popularnych stron z wzorkami na tła dla stron internetowych.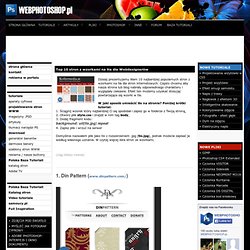 Często chcemy aby nasza strona lub blog nabrały odpowiedniego charakteru i wyglądały ciekawie. Efekt ten możemy uzyskać stosując powtarzające się wzorki w tle. W jaki sposób umieścić tło na stronie? Code > Projects > showplus Image Slideshow > Files > Browse Frs Release. Displaying Phoca Gallery Plugin. Add the following code into the article: Categories displaying phocagallery view=categories phocagallery - display Phoca Gallery Plugin view - categories | category | switchimage - display all categories, some image from category or the switch image categoryid - number - ID of category which you want to display, in case of only 1 category imagecategories - 0|1 - display or hide image beside the category name in a list of all the Phoca Gallery Categories imagecategoriessize - 0|1|2|3|4|5|6|7 - means 0 - small | 1 - medium | 2 - smallfolder | 3 - mediumfolder | 4 - smallshadow | 5 - mediumshadow | 6 - smallfoldershadow | 7 - mediumfoldershadow - image size beside the category name hidecategories - number - hide the category in categories view.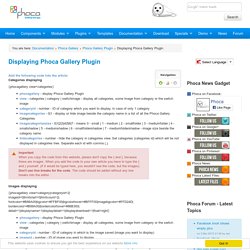 Set categories (categories id) which will be not displayed in categories tree. Quick Start Guide. Let's say you want to upload all your family photos to your Joomla!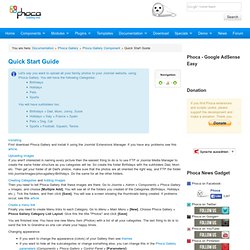 Website, using Phoca Gallery. You will have the following Categories: Birthdays Holidays Pets Sports You will have subfolders too: Birthdays » Dad, Mum, Jonny, Susie Holidays » Italy » France » Spain Pets » Dog, Cat Sports » Football, Squash, Tennis. 70+ Visually Impressing Header Graphics. Free Web Page Headers - Main Index.
---