Travel
Overland Trips, Adventure Holidays
Regional Explorers: Trips up to 34 days in Egypt, Jordan, Morocco, Peru & Bolivia. These adventure trips use local transport or private minibuses.
Oasis Overland – Adventure Travel Holidays, Trips and Expeditions | Oasis Overland
Travel & living abroad
Young Pioneer Tours - Tours to North Korea for the budget traveller
Welcome to Young Pioneer Tours, the first company to offer budget tours to the Democratic People's Republic of Korea. Every company has their own ethos and demographic, and for us it's taking people on a great tour that does far more than just show you around a few designated sites. We show people the 'real' Korea, taking our guests to places other companies do not dare to. We know North Korea, and our tours deliver an unforgettable experience that will stay with you for life.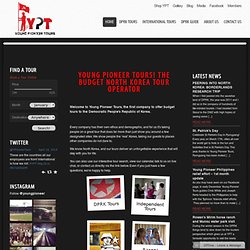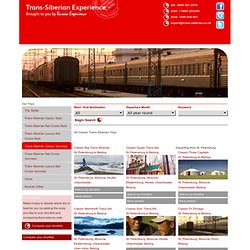 Our Trips Your Shortlist Make it easy to decide which trip is best for you by adding the ones you like to your shortlist and comparing them side-by-side Compare your shortlist All Classic Trans-Siberian Trips
Trans-Siberian | Russia Experience
With our local guide leading the way, we head out of the city today, bound for an in-depth look at some of China's fascinating ancient history. Located south of Beijing, at a site specially selected by the Emperor Zhu Di, lies the tombs of the Ming Emperors. Here 13 Emperors of the ancient Ming & Qing dynasty were buried during a period of over 200 years. Our Local Guide will explain the history of the tombs at this UNESCO World Heritage Listed site & show you some of the treasure that was retrieved during the tomb excavations. After a delicious lunch, there's your chance to do a spot of shopping for some locally made souvenirs to take home for family & friends. Later it's time for an un-beatable experience with a visit to one of the world's most famous monuments, the Great Wall of China.
China Adventure Tour — Asia — Contiki Tours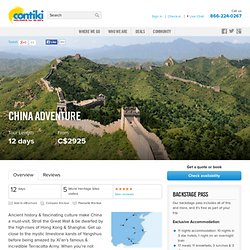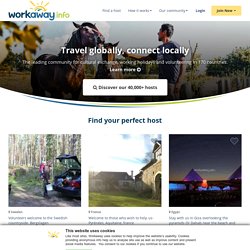 Work abroad, integrate in local cultures, learn a language, acquire new skills, make new friends through......Workaway.info The site for travel, language and work exchange. Meet other workawayers Within your Workaway profile you can click on a map to get in touch with other Workawayers in your area.