Nativos Digitales
You can't be my teacher.
Nativos Digitales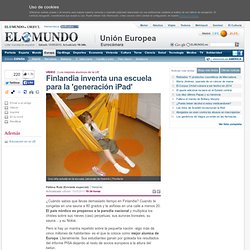 Finlandia inventa una escuela para la 'generación iPad' | Unión
¿Cuándo sabes que llevas demasiado tiempo en Finlandia? Cuando te congelas en una sauna a 80 grados y te asfixias en una calle a menos 20. El país nórdico es propenso a la parodia nacional y multiplica los chistes sobre sus nieves (casi) perpetuas, sus auroras boreales, su sauna... y su Nokia. Pero si hay un mantra repetido sobre la pequeña nación -algo más de cinco millones de habitantes- es el que la coloca como mejor alumna de Europa. Literalmente. Sus estudiantes ganan por goleada los resultados del informe PISA dejando al resto de socios europeos a la altura del betún.
Jeremy Rifkin, the author of the just-published book The Empathic Civilization: The Race to Global Consciousness in a World in Crisis, suggests that The Age of Reason is being eclipsed by the Age of Empathy. The Age of Reason refers to the eighteenth-century European Enlightenment, in which reason, analysis and science became the metrics by which all knowledge is measured. Unfortunately, Rifkin says, our educational structures and modes of teaching science remain grounded in the Age of Reason. Rote memorization of facts, competition among peers and individual achievement are hallmarks of this approach.
Dr. Larry Dossey: Is Technology Making Children More Empathic?
Contenidos « El e-portafolio de Isbelia
En el nuevo contexto de rápidos avances científicos y una economía globalizada, los ciudadanos se ven obligados a adquirir unas nuevas competencias personales, sociales y profesionales. Al respecto, Marqués 2000, hace el siguiente señalamiento: "Las personas que no tengan competencias básicas en el manejo de las tecnologías de información y comunicación TIC, y muy especialmente quienes no sepan leer a través de las fuentes de información digitales, escribir con los editores informáticos y comunicarse a través de los canales telemáticos, se considerarán analfabetas, y estarán en franca desventaja para desenvolverse en la sociedad". En gran medida estas competencias siempre han sido necesarias, sobre todo para el área laboral, pero hoy en día resultan imprescindibles para cualquier desempeño y es motivo de preocupación para los países delinear estrategias para formar a sus ciudadanos.