Web
Réseau : Google suggère une refonte du protocole TCP
Google mise sur une refonte du protocole TCP pour minimiser l'encombrement des réseaux et le temps de latence, accélérant ainsi le chargement des pages Web. Il s'agirait notamment d'élargir la fenêtre de congestion, de diviser par 3 le timeout initial, d'avoir recours à la technologie Fast Open et de remodeler les algorithmes de restauration des paquets perdus ou cassés au cours d'une transaction. Mis sur pied en 1973, le dénommé TCP (pour Transmission Control Protocol) constitue, de par sa fiabilité, une interface idéale entre la couche réseau et la sphère applicative. A l'heure où le commun des salariés connectés ne compte plus les requêtes adressées en premier lieu aux moteurs de recherche tels que Google Search, de telles transactions foisonnent et occasionnent, à l'appui de force kilo-octets, une congestion du trafic.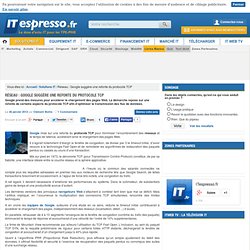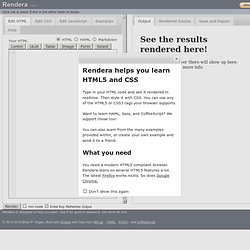 Type in your HTML and CSS to see it rendered. Each time you press the Enter key, the live preview will update. You can save your results to a file - just look under the export tab. Learn By Example I'm adding HTML5 and CSS examples so you can start playing around with all of the neat stuff you'll be able to use.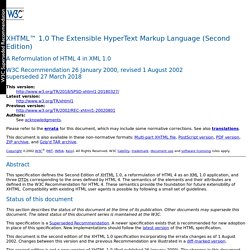 A Reformulation of HTML 4 in XML 1.0 W3C Recommendation 26 January 2000, revised 1 August 2002 This version: http://www.w3.org/TR/2002/REC-xhtml1-20020801 Latest version: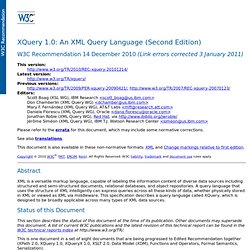 Full Axis Feature A conforming XQuery implementation that supports the Full Axis Feature MUST support all the optional axes. Gregorian
XQuery 1.0: An XML Query Language (Second Edition)
This specification defines the 5th major revision of the core language of the World Wide Web: the Hypertext Markup Language (HTML). In this version, new features are introduced to help Web application authors, new elements are introduced based on research into prevailing authoring practices, and special attention has been given to defining clear conformance criteria for user agents in an effort to improve interoperability. This section describes the status of this document at the time of its publication. Other documents may supersede this document. A list of current W3C publications and the latest revision of this technical report can be found in the W3C technical reports index at http://www.w3.org/TR/. If you wish to make comments regarding this document in a manner that is tracked by the W3C, please submit them via using our public bug database.