Tools
Geomorph Home Page
Generative Art - LSystems - Artificial Life
[ f l o w ]
Buy The Windows versions of Caustics Generator Lite and Caustics Generator Pro are available for online purchase. Price list for Caustics Generator Lite / Pro including one year free updates and support: Invoice orders are available by email for an additional administration fee of 10 Euro. A receipt of your order will be sent to your stated email address.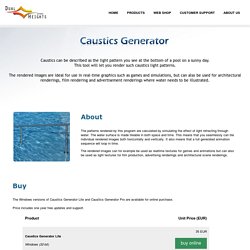 www.dualheights.se/caustics/
May I use the Ivy Generator in a commerical project? May I use my results (renderings and meshes) in a commerical project? Yes, you are allowed to do that.