Robes
Our First Guest Post - The Chloe Dress Pattern By Dawn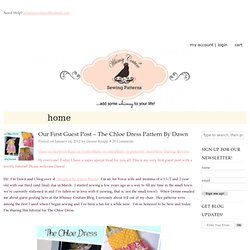 Hi everyone! Today I have a super special treat for you all! This is my very first guest post with a terrific tutorial! Please welcome Dawn!
Winter Wonderland Dress Tutorial
www.craftinessisnotoptional.com/2011/09/penny-dress.html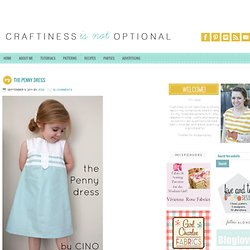 Have you seen the movie Secretariat? I watched it the other week, and it was pretty good. Especially the last race! (I may or may not have been bouncing in my seat, cheering him on!) I love me a good horse flick, so I thoroughly enjoyed it. (used to be somewhat obsessed with horses and horse racing when I was younger…and by younger I mean….last week.)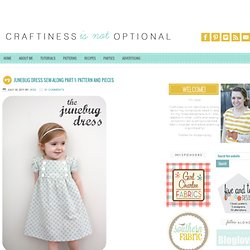 And now for the Junebug dress tutorial/sew along. (without much fanfare apparently) You'll need: 1-2 yards of fabric, depending on child's size. I barely scraped by with one yard for my 2T size
I can't believe this is FINALLY ready.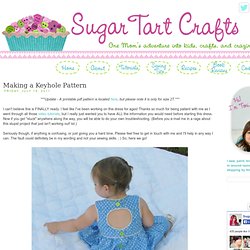 Making a Keyhole Pattern
Inspired By: Little Grey Dress via Pinterest (plus a gift for you!)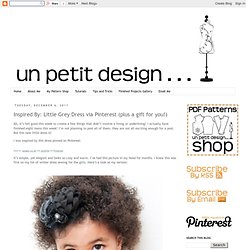 Ah, it's felt good this week to create a few things that didn't involve a lining or underlining! I actually have finished eight items this week! I'm not planning to post all of them, they are not all exciting enough for a post.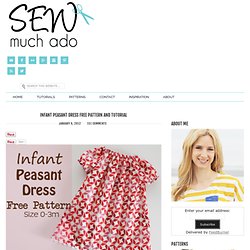 Doesn't every baby girl need a dress that's just as sweet as she is?
Infant Peasant Dress Free Pattern and Tutorial
Fait Maison > Mode > Vêtements enfants > Robes 165 produits de 4.0€ à 100.0€ catégories : mode, mode-enfant, robes-enfant
Robes - Vêtements Enfants - Mode : Toutes les créations - Fait Maison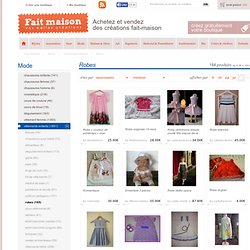 Version 1, with radiating pintucks at neckline and lace at hemline.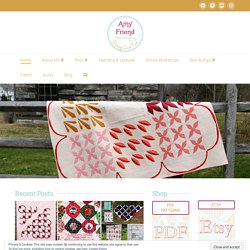 Pintuck Perfection Baby Dress Tutorial
Etape 4 Poser la parementure sur l'encolure, endroit contre endroit.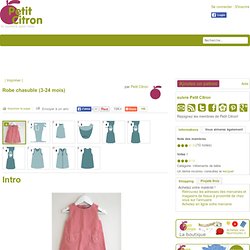 Robe chasuble | Vêtements de bébé
During a recent little heat wave, the ease and functionality of the basic sundress - no ruffles, no layers, no sleeves - become rather urgent. Believe it or not, but there are very few 'plain' dresses around here. Smootch's taste tends to run towards drag queen and I try stay out of wardrobe decisions. The high temperature, though, wore Smootch down and a dress without any extras to trap heat and a wide enough base to get a little breeze going was requested. Happy to oblige, little lady. This dress is a simple as I could design, while keeping my mind on wear-ability beyond these few weeks of summer weather.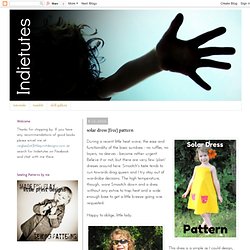 solar dress (free) pattern
corset dress
This dress has a lined bodice and unlined, gathered skirt. The straps can be made from regular folded fabric, ribbon, or bias tape. Make sure if you are using ribbon that it is going to be sturdy enough to withstand some pulling (and washing). Strap length is going to vary according to size also, but I do suggest being generous, as you can always shorten, but lengthening will drive you mad. The loops shown above are made with 1/2" bias tape, though ribbon and regular fabric work well also.
Winter Wonderland Dress Tutorial
Pourquoi toujours épingler à plat ? ou les dangers d'épingler sur ses cuisses… Outre le fait qu'épingler sur ses cuisses peut être un peut... Lire la suite › Toutes les soldes tissus et mercerie (et aussi de machines à coudre) hiver 2014
Une robe taille empire, pour la grossesse, ou non
DIY "Pillowcase" Baby Dress Pattern
"Pillowcase" dresses are popular because they are so simple to make, the measurements aren't super important, and they can grow with baby from a dress into a top. I guess they are often made out of pillowcases but I used regular old fabric. The small one pictured here fits about 0-3 months and the large one is about a 2T, templates for both are after the jump. If you are new to sewing and want to try a dress, this is the one. See pics of it on my girl here, and get the full DIY on How to Sew A Pillowcase Dress after the jump…Pillowcase – Style Baby Girl Dress Free Pattern1. First you need to cut your fabric.
34 Dress Patterns for Sewing
Learn how to sew a dress with 31 dress patterns for sewing. You'll find free little girl dress patterns, free pillow case dress patterns, and other simple dress patterns in this stylish sewing collection. If you're looking for instructions on how to sew a dress for summer, for the holidays, or for special occasions, look no further. Learn to sew dresses for yourself, your kids, and even babies with these free patterns. Baby Dresses You can make baby dresses from pillowcases, t-shirts, and other fabric scraps because they're so small and cute!
Promo, Robe/tunique taille 12/18 mois , Chapoli : Mode bébés par chapoli sur Alittlemarket