CSS-HTML5
Feng-GUI - Attention Analysis for Websites and Advertisements. Big Brother is watching... your website. Comment apprécier le rendu visuel d'un site web?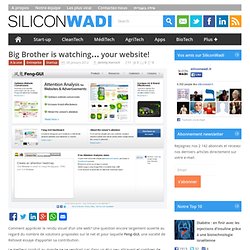 Une question encore largement ouverte au regard du nombre de solutions proposées sur le net et pour laquelle Feng-GUI, une société de Rehovot essaye d'apporter sa contribution. Le meilleur produit au monde ne se vendrait pas dans un étui peu attrayant et combien de produits quelconques ne nous attirent que par la qualité de leur emballage? Weekly Freebies: 15 Impressive CSS and PSD Navigation Menus. Today's awesome collection of design freebies brings you a veritable utopia of navigation menu bliss.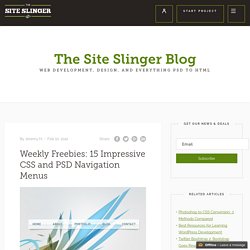 Each of the fifteen navigation menus below are both completely gorgeous 100% free to download. I've included both CSS and PSD menus so whether you're just looking to create a mockup or need something fully functional, we've got you covered. 3D Gallery with CSS3 and jQuery. Today, we want to share an experimental 3D gallery with you that uses CSS 3D transforms.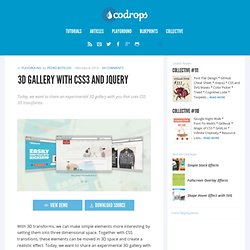 View demo Download source With 3D transforms, we can make simple elements more interesting by setting them into three dimensional space. 50+ Creative Examples of Websites Designed With HTML5. The web is constantly evolving.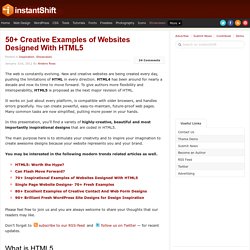 New and creative websites are being created every day, pushing the limitations of HTML in every direction. HTML4 has been around for nearly a decade and now its time to move forward. To give authors more flexibility and interoperability, HTML5 is proposed as the next major revision of HTML. 50 Creative and Effective Minimalist Print Ads | Onextrapixel - Web Design & Development Magazine. Simple things are often more difficult to create as they require much more brain power to generate as compared to the most intricate stuff.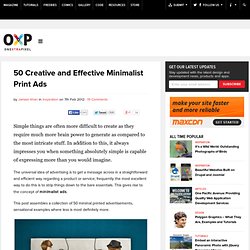 In addition to this, it always impresses you when something absolutely simple is capable of expressing more than you would imagine. The universal idea of advertising is to get a message across in a straightforward and efficient way regarding a product or service; frequently the most excellent way to do this is to strip things down to the bare essentials. This gives rise to the concept of minimalist ads.
---