I love to tell stories
Les mécaniques de jeu dans les webdocumentaires
Dans un contexte général de morosité et de récession, l'industrie mondiale du luxe maintien une croissance insolente alimentée en grande partie par l'accession des citoyens BRIC (Brazil, Russia, India, China) au statut de millionnaire.
Poésie et cinématique sont-ils les nouveaux outils marketing du 21ème siècle ?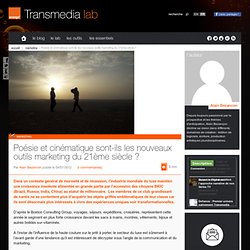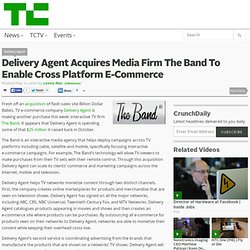 Delivery Agent Acquires Media Firm The Band To Enable Cross Platform E-Commerce
Fresh off an acquisition of flash sales site Billion Dollar Babes, TV e-commerce company Delivery Agent is making another purchase this week: interactive TV firm The Band . It appears that Delivery Agent is spending some of that $25 million it raised back in October. The Band is an interactive media agency that helps deploy campaigns across TV platforms including cable, satellite and mobile, specifically focusing interactive e-commerce campaigns.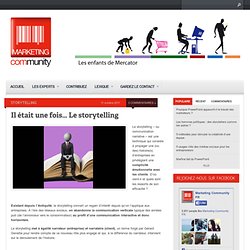 Le storytelling – ou communication narrative – est une technique qui consiste à propager une (ou des) histoire(s) d'entreprises en privilégiant une complicité émotionnelle avec les clients . D'où vient-il et quels sont les ressorts de son efficacité ? Existant depuis l'Antiquité , le storytelling connaît un regain d'intérêt depuis qu'on l'applique aux entreprises. À l'ère des réseaux sociaux, on abandonne la communication verticale typique des années pub (de l'annonceur vers le consommateur) au profit d'une communication interactive et donc horizontale . Le storytelling met à égalité narrateur (entreprise) et narrataire (client) , un terme forgé par Gérard Genette pour rendre compte de ce nouveau rôle plus engagé et qui, à la différence du narrateur, intervient sur le déroulement de l'histoire. Les grands artistes ont toujours su écrire de belles histoires.
Il était une fois… Le storytelling
Portraitgraphy - Cinematic Video Portrait - Intro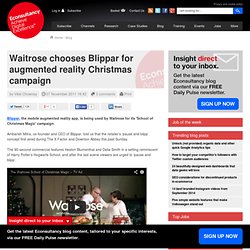 Waitrose chooses Blippar for augmented reality Christmas campaign
Blippar , the mobile augmented reality app, is being used by Waitrose for its 'School of Christmas Magic' campaign. Ambarish Mitra, co-founder and CEO of Blippar, told us that the retailer's 'pause and blipp' concept first aired during The X Factor and Downton Abbey this past Sunday. The 90-second commercial features Heston Blumenthal and Delia Smith in a setting reminiscent of Harry Potter's Hogwarts School, and after the last scene viewers are urged to 'pause and blipp'.