Web-to-Print services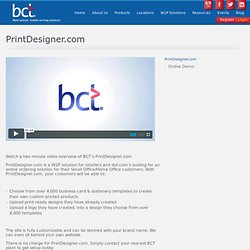 Watch a two minute video overview of BCT's PrintDesigner.com
BCT Online > W2P Solutions > PrintDesigner.com
Web-To-Print Technology - Online Print Order Management - GoePower Online
Tribalsketch
Web-to-Print: Printgroove JT Web 5 - Product Overview - dots software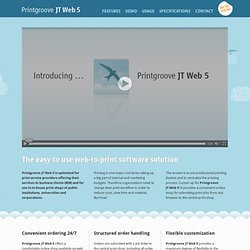 Convenient ordering 24/7 Printgroove JT Web 5 offers a comfortable online shop available via web browser 24 hours a day, seven days a week and in 16 languages .
Inc.
Custom Print Now - Web to print marketing solutions, Inventory control with On Demand Publishing, Brand control plus customization
Yemo
Yemo
Our web to print solutions provide you the facility to upload your printed products online and give your customers the ability to design and submit orders anytime, from any computer. W3C Solutions is the best web to print solution provider in the market today. Unlike, other Web to Print Companies, W3C Solutions makes sure that their customers are satisfied and therefore applies a very holistic marketing concept.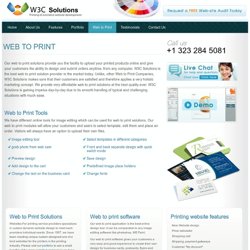 Web to print | Web to print application | Printing website development | printing website
PENT NET
NEOzenzai ® combines marketing management and web-to-print on an innovative, unique solution platform. Flexible and individual – available in three editions: Media-Production-Edition: Comprehensive adaptability to diverse project requirements – from content to production workflow.
English
isod2.isynapps.com
Online Digital Print, Design and Gifting services | Printbindaas
Intuitive Solutions Group - Content Management Systems, Dynamic Publishing and Web-to-Print Solutions > Products > Press-sense iWay - Web-to-Print Solution
Press-sense iWay is a customer-driven Web-to-Print workflow solution From web submission to automated workflow and business flow, Press-sense iWay's end-to-end process allows you to create, customize, order, print and deliver in one low-cost, streamlined operation. >>> click here for iWay Workflow Automation diagram <<< Press-sense iWay is a complete, web-based, end-to-end print-on-demand workflow and management solution.
for XML, database publishing, web2print, content management and document management
DesignDB, solution Web2print | Graphique Alliance
We will be previewing some exciting new tools for PressWise, our Web-to-Print and Print Workflow Software, at the OnDemand printing tradeshow, which is being held in Washington, DC from March 22-24th, 2011. New features to be shown at OnDemand include: 1.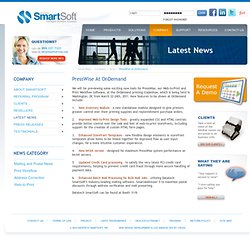 SmartSoft | PressWise Web-to-print and Workflow Software at OnDemand
Kolorco - Colour Print | Printers Bradford | Printing Leeds
Watercolor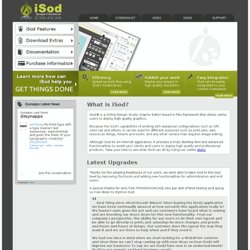 isod2.isynapps.com/?url=home
Thanks for the amazing feedbacks of our users, we were able to take iSod to the next level by improving iSod tools and adding new functionalities for administrators and end users. A special thanks for Jerry from PROMOSHOWCASE who put alot of time testing and giving us new ideas to improve iSod.
Flexi Page - Digital Asset Management and web to print software
NowDocs International, Inc. – Web-to-Print, RFQ and Supplier Management, Document Output Management, and Laser Checks and Forms.
What is inEdit?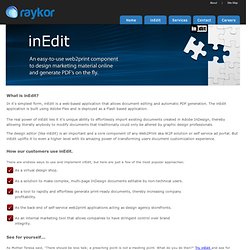 inEdit | Online InDesign Document Editor for - Web to Print | Dynamic Publishing | Self Service Documents | InDesign Server
Web to Print - BFC - Integrated Print Management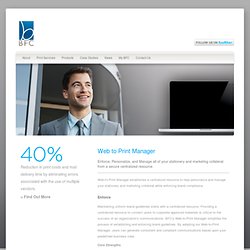 Enforce, Personalize, and Manage all of your stationery and marketing collateral from a secure centralized resource. Web-to-Print Manager establishes a centralized resource to help personalize and manage your stationery and marketing collateral while enforcing brand compliance. Enforce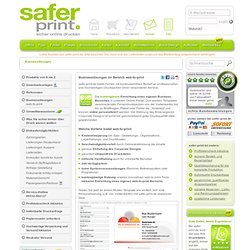 safer-print.de bietet Firmen mit kontinuierlichem Bedarf an professio­nellen und hochwertigen Drucksachen einen besonderen Service: Die kostenlose Einrichtung eines eigenen Business-Bereiches in unserem Online-Portal. Dort werden Templates verschie­den­ster Firmendrucksachen von der Visitenkarten bis hin zu Briefbogen, Plakat oder Folder etc., hinterlegt und können online personalisiert werden.
Businesslösungen
Votre partenaire imprimeur
Flexible Web-to-Print Software Solution
Loup Solutions
Webmart | Webmart Print Management
GmbH - Web-to-Print, Cross Media Publishing, Remote Publishing, Katalogmanagement, Database Publishing, Publikationsmanagement
Elite Print – Solution Web To Print - Solutions Web To Print
Le composant Web to print fonctionne parfaitement avec la solution Magento e-commerce.
web to print solution
Studio d'exécution Paris - easy factory rapide et économique