Usability
Downloads
Below is where you can find the latest releases of all the Selenium components.
Website Usability Testing Service - Feedback Army
OpinionLab
Online Screenshot Testing Software First click testing of screenshots and visual designs ensures that your users get started on the right foot when they hit your website. Use Chalkmark to increase your customer conversion and task oriented success rates by getting quick feedback on designs before you implement or update them.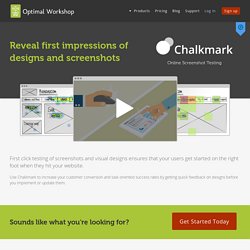 Click testing | Chalkmark
Behavioral Analytics Software | Quantivo