Tablet Publishing
Last year Push Pop Press set off to re-imagine the book. We created a new way of publishing and exploring text, images, audio, video and interactive graphics, then teamed up with Melcher Media and Al Gore to create a new kind of book.
Push Pop Press: About Us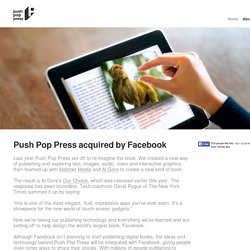 développe des applications web et mobiles personnalisées pour plate-forme iPhone et iPad.
PressRun
PDFtoTablet
iPad Publishing from InDesign with RovingBird ePublisher: easy and affordable
Global Software Development and Consulting, Advancing Solutions Through Choice