Tablet Publishing
Last year Push Pop Press set off to re-imagine the book. We created a new way of publishing and exploring text, images, audio, video and interactive graphics, then teamed up with Melcher Media and Al Gore to create a new kind of book. The result is Al Gore's Our Choice, which was released earlier this year. The response has been incredible. Tech columnist David Pogue of The New York Times summed it up by saying: "this is one of the most elegant, fluid, impressive apps you've ever seen.
Push Pop Press: About Us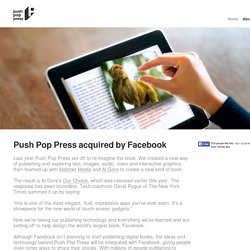 développe des applications web et mobiles personnalisées pour plate-forme iPhone et iPad.
PressRun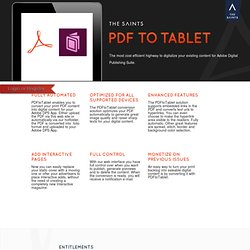 PDFtoTablet
PDFtoTablet enables you to convert your print PDF content into digital content for your Adobe DPS App. Either upload the PDF via this web site or automatically via our hotfolder, the PDF is converted into .folio format and uploaded to your Adobe DPS App. Now you can easily replace your static cover with a moving one or offer your advertisers to place interactive adds, without the need of creating a completely new Interactive magazine. The PDFtoTablet conversion solution optimizes your PDF automatically to generate great image quality and raiser sharp texts for your digital content. With our web interface you have full control over when you want to publish, generate previews and to delete the content.
iPad Publishing from InDesign with RovingBird ePublisher: easy and affordable
Global Software Development and Consulting, Advancing Solutions Through Choice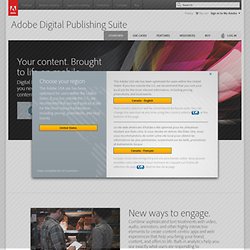 The Adobe USA site has been optimized for users within the United States. If you live outside the U.S., we recommend that you visit your local site for the most relevant information, including pricing, promotions, and local events. United States
electronic publishing software | Adobe Digital Publishing Suite