Enterprise Content Management
Data Privacy and Compliance Certified for SafeHarbor, Alfresco in the cloud uses Amazon's Web Services for data storage to ensure compliance with the EU personal data protection directives. Security is enforced with external users only having access to documents that you have shared with them. Independent validation to the SOC2 and ISEA 3000 Type II standards.SSL encryption (256 bit) prevents interception of data while in transit.Content encrypted at rest to protect from unauthorized access on the server. Find out more or read the FAQ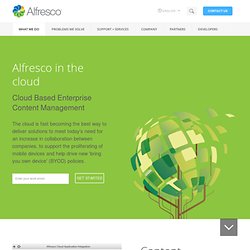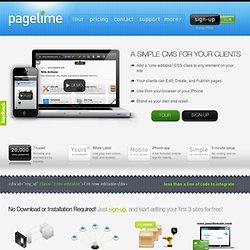 No Download or Installation Required!Just sign-up, and start editing your first 3 sites for free! No Installation
Home - VYRE
On Brand SaaS Our software as a service On Brand is designed for single or growing brands. Our modular approach means you get all the features you need and as On Brand is built on Unify you can move to tailored or full enterprise at any time. On Brand Tailored Our tailored SaaS offering provides single, multiple brands and configured options to extend On Brand to match your exact needs. Our services team work with you to determine what extra options you'd like on top of our SaaS solution.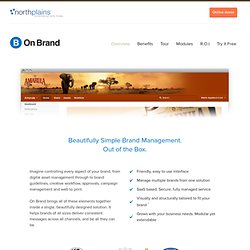 We're proud to announce Plone 4, the latest version of our state-of-the-art open source CMS. It's faster, more powerful and more beautiful than ever before. Take a tour of the new features in Plone 4 Plone 4 brings significant performance improvements — it's 50% faster than Plone 3.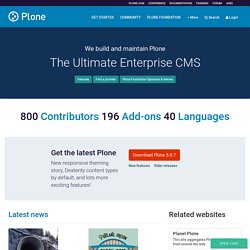 Global Enterprise Web Content Management System (WCM)
Web Content Management (WCM) for the Enterprise
Oracle has acquired FatWire Software (FatWire), a leading provider of web experience management solutions. FatWire's solutions are designed for business users with easy-to-use tools, enabling marketers to optimize the online experience for customers. The proposed acquisition of FatWire supports Oracle's strategy to provide the broadest unified software suite for web experience management. FatWire's solutions complement and further extend Oracle's solutions including BI, CRM, Enterprise Content Management, WebCenter and ATG Web Commerce. Oracle and FatWire together expect to provide the most complete web experience management solution—enabling companies to fully optimize the multi-channel online customer experience through an integrated and scalable platform.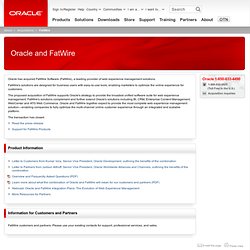 CoreMedia WCM - CoreMedia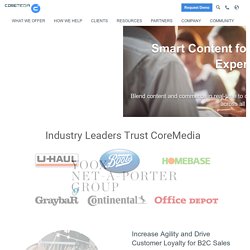 FEATURED GUIDE Selecting a Web Content Management System Gain strategic guidance about how a next-generation WCM solution can help to support operationalizing go-to-market strategies focused on delivering consistent and compelling customer experiences. From channel and device proliferation to big data and increasing customer expectations, you'll find insights that make you think. more... LEARN FROM THE EXPERTS Customer Experience Management Video Series Presented by Tim Walters, principal analyst at Digital Clarity Group, this four-part video series provides practical, impartial and actionable advice for transforming your customers' online experiences. more... FEATURED GUIDE Gaining Business Traction with Online Optimization Exploit your company's potential for online engagement.
Clickability | www.clickability.com | SaaS Web Content Management System (WCM) for Enterprises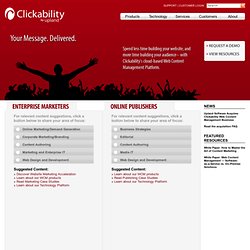 If your focus is creating a compelling visitor experience while capturing and qualifying leads for your Sales Team, the Clickability Website Marketing Acceleration (WMA) solution offers unrivaled capabilities to derive business value from your website. In combination with our award-winning Web Content Management (WCM) system, your website moves from simple brochure-ware to a strategic demand generation engine. Highlights include: Anonymous visitor identification Progressive profiling Lead scoring First click content targeting Personalized visitor experiences Integration with existing CRM and Marketing Automation solutions Rapid content entry and updates Landing page management Microsites SEO optimization Social Media tools Built-in analytics and easy integration with 3rd party tools
Master Your Content - Jalios solution ECM : CMS GED Portail Collaboratif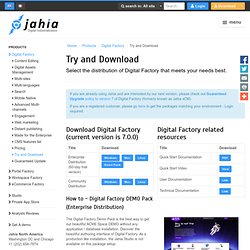 How to - Digital Factory DEMO Pack (Enterprise Distribution) The Digital Factory Demo Pack is the best way to get our beautiful ACME Space DEMO without any application / database installation.
Enterprise Open Source CMS, Multichannel Web Content Management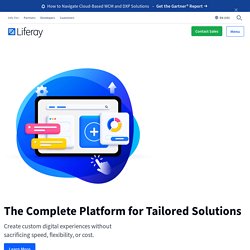 We are generating more content than ever, working with it from our devices as well as our desktops, and delivering it to the right channels to empower sales reps, reach new markets, and solve customer issues. Which is why it is more important than ever to have full control of your content creation process. When you put content in context, you empower people to make critical decisions when they're immersed in the business moment.
Enterprise Web Content Management Systems (CMS) | RedDot , now OpenText Web Solutions Group
» Sollan - ACCUEIL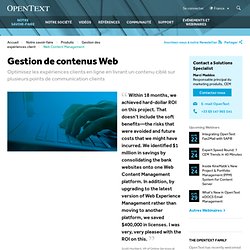 Avec l'augmentation, dans le même temps, de la quantité de contenu et du marketing mobile, une bonne interaction en ligne nécessite des échanges pertinents basés sur le contenu concerné et une compatibilité des designs Web sur une myriade d'appareils mobiles différents. Pour satisfaire aux attentes du client, votre site Web doit être adaptatif et offrir une expérience fluide sur les différents terminaux et appareils. OpenText Web Content Management (WCM) est une famille de produits évolutive au niveau de l'entreprise conçue pour les applications Web à volume élevé orientées sur les transactions pour tous les points de communication centrés sur le client, Intranet ou extranet, publics ou privés. Si une infrastructure puissante répond aux besoins des spécialistes du marketing et des concepteurs de contenu, des développeurs Web et des utilisateurs commerciaux, elle permet de générer des expériences contextuelles et ciblées sur tous les points de communication omnicanal.
Vignette - solution de Gestion de Contenu d'Entreprise
Product Information Management
Product Lifecycle Management