Enterprise Content Management
Team Home
Alfresco in the cloud is a fully managed SaaS offering that helps your organization keep control of its content while providing your users with powerful ways to access their content securely on any device, anywhere. In a world of increasing collaboration between companies, proliferating mobile devices, Bring Your Own Device (BYOD) policies and the increasing need for agility, cloud is fast becoming the best way to deliver solutions to your users that can meet their needs today and tomorrow. The case for cloud Today's tough economic environment forces IT departments to do more with less and keep up with the ever increasing and changing demands of their users. Alfresco in the cloud gives you enterprise-level security to help you keep control over your content while helping you solve these problems: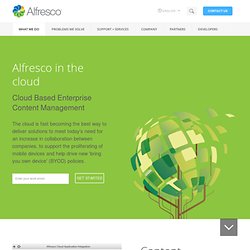 Home - VYRE
Global Enterprise Web Content Management System (WCM)
Web Content Management (WCM) for the Enterprise
Oracle has acquired FatWire Software (FatWire), a leading provider of web experience management solutions. FatWire's solutions are designed for business users with easy-to-use tools, enabling marketers to optimize the online experience for customers. The proposed acquisition of FatWire supports Oracle's strategy to provide the broadest unified software suite for web experience management. FatWire's solutions complement and further extend Oracle's solutions including BI, CRM, Enterprise Content Management, WebCenter and ATG Web Commerce. Oracle and FatWire together expect to provide the most complete web experience management solution—enabling companies to fully optimize the multi-channel online customer experience through an integrated and scalable platform.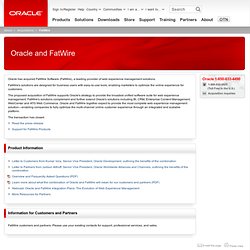 CoreMedia WCM - CoreMedia
Clickability | www.clickability.com | SaaS Web Content Management System (WCM) for Enterprises
Master Your Content - Jalios solution ECM : CMS GED Portail Collaboratif
Enterprise Open Source CMS, Multichannel Web Content Management
Enterprise Web Content Management Systems (CMS) | RedDot , now OpenText Web Solutions Group
» Sollan - ACCUEIL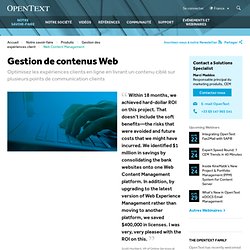 Avec l'augmentation, dans le même temps, de la quantité de contenu et du marketing mobile, une bonne interaction en ligne nécessite des échanges pertinents basés sur le contenu concerné et une compatibilité des designs Web sur une myriade d'appareils mobiles différents. Pour satisfaire aux attentes du client, votre site Web doit être adaptatif et offrir une expérience fluide sur les différents terminaux et appareils.
Vignette - solution de Gestion de Contenu d'Entreprise
Product Information Management
Product Lifecycle Management