Musique
Every fall I seem to go on an all-out apple bender, putting them in everything and anything I can think of. I usually make it a good month or two until my excitement finally sputters out, and then I'm satisfied for another season. This batch of apple streusel muffins marks this year's kickoff using my favorite fall fruit, and what a delicious start it turned out to be. I am always aiming to achieve light and airy muffin perfection, and my all-time favorite is the orange poppyseed recipe I created last spring. With a chill finally settling in down South, I've been craving a heartier fall-friendly muffin so I decided to tweak that recipe using gorgeous local apples and cozy autumnal spices. These turned out oh-so-satisfying, like warm apple pie you can hold in your hand.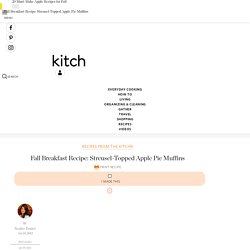 Fall Breakfast Recipe: Streusel-Topped Apple Pie Muffins Recipes from The Kitchn
Ella Fitzgerald : One note Samba (scat singing) 1969
Quantum | Revista online de música electrónica.