Things I want to do
Bending Popsicle Sticks for a Wooden Helix Vase. Why didn't I think of that... / Too sweet! DIY wooden picture. I Want My Two Dollars! From: kkoller@nyx10.cs.du.edu (Captain Sarcastic) Date: December 17, 1993 On my way home from the second job I've taken for the extra holiday ca$h I need, I stopped at Taco Bell for a quick bite to eat.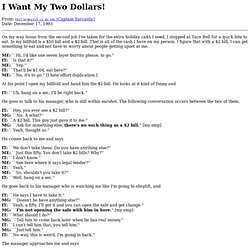 In my billfold is a $50 bill and a $2 bill. That is all of the cash I have on my person. Tutorial: Vintage-looking painted sign from salvaged wood. Today I have a little tutorial for you.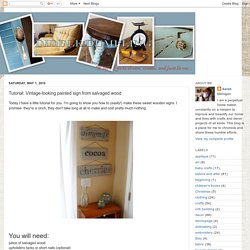 I'm going to show you how to (easily!) Make these sweet wooden signs. I promise- they're a cinch, they don't take long at all to make and cost pretty much nothing. You will need: piece of salvaged wood upholstery tacks or short nails (optional) hammer acrylic paint (background color) black acrylic paint (or other color to fill in letters) large paint brush small paint brushink jet printer twine Sharpie Marker or other dull, rounded tool This project started with a pile of cedar fence pieces that we've had sitting in our backyard for ages. Button Flower Bouquet. Fashion Infographic by ~JakeGcreate on deviantART. Skinny Ties.
One of Ralph's requests for his birthday was skinny ties.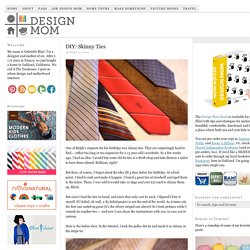 They are surprisingly hard to find — either too long or too expensive for a 13-year-old's wardrobe. So a few weeks ago, I had an idea: I would buy some old fat ties at a thrift shop and take them to a tailor to have them altered. Brilliant, right? But then, of course, I forgot about the idea till 3 days before his birthday. At which point, I tried to rush and make it happen. Unusual (and fun!) Date Ideas.
---