Development
How to Find the Poor - India Real Time
A Global Solutions Network by Jeffrey D. Sachs
Exit from comment view mode. Click to hide this space NEW YORK – Great social change occurs in several ways. A technological breakthrough – the steam engine, computers, the Internet – may play a leading role.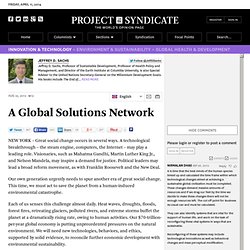 Quinoa Nonsense, or Why the World Still Needs Agricultural Economists | Marc F
First came this post by Joanna Blythman on The Guardian's Comment Is Free blog: Quinoa was, in marketing speak, the "miracle grain of the Andes," a healthy, right-on, ethical addition to the meat avoider's larder (no dead animals, just a crop that doesn't feel pain). Consequently, the price shot up – it has tripled since 2006 – with more rarefied black, red and "royal" types commanding particularly handsome premiums. But there is an unpalatable truth to face for those of us with a bag of quinoa in the larder. The appetite of countries such as ours for this grain has pushed up prices to such an extent that poorer people in Peru and Bolivia, for whom it was once a nourishing staple food, can no longer afford to eat it. Imported junk food is cheaper.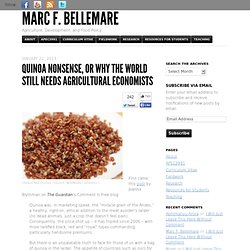 HKS Executive Education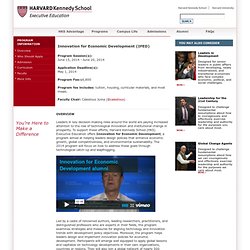 Leaders in key decision-making roles around the world are paying increased attention to the role of technological innovation and institutional change in prosperity. To support these efforts, Harvard Kennedy School (HKS) Executive Education offers Innovation for Economic Development, a program aimed at helping leaders design policies that enhance economic growth, global competitiveness, and environmental sustainability. The 2014 program will focus on how to address these goals through technological catch-up and leapfrogging.
2012 saw the passing of a great development economist, Albert O. Hirschman, at the age of 97. Development economists spend their time these days performing randomized controlled experiments, in which a particular intervention like co-payments for mosquito bed nets are introduced into one group of villages and not into another matched set. This approach establishes causality with a level of certainty approaching that of the randomized trials used in pharmaceutical testing.
Albert O. Hirschman, 1915-2012 | Francis Fukuyama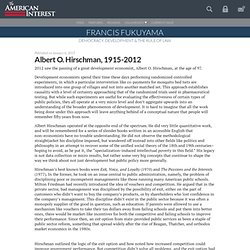 Science, Technology, and Globalization - Conference Announcements - Harvard - Belfer Center for Science and International Affairs
  Games in International Development: Fad or Innovation?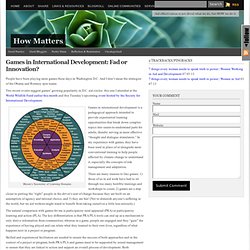 People have been playing more games these days in Washington D.C. And I don't mean the strategies of the Obama and Romney spin teams. Two recent events suggest games' growing popularity in D.C. aid circles: this one I attended at the World Wildlife Fund earlier this month and this Tuesday's upcoming event hosted by the Society for International Development. Bloom's Taxonomy of Learning Domains Games in international development is a pedagogical approach intended to provide experiential learning opportunities that break down complex topics into easier-to-understand parts for adults, thereby serving as more effective "thought and dialogue stimulators."
Brett Keller » When randomization is strategic
Here's a quote from Tom Yates on his blog Sick Populations about a speech he heard by Rachel Glennerster of J-PAL: Glennerster pointed out that the evaluation of PROGRESA, a conditional cash transfer programme in Mexico and perhaps the most famous example of randomised evaluation in social policy, was instigated by a Government who knew they were going to lose the next election. It was a way to safeguard their programme. They knew the next Government would find it hard to stop the trial once it was started and were confident the evaluation would show benefit, again making it hard for the next Government to drop the programme. Randomisation can be politically advantageous.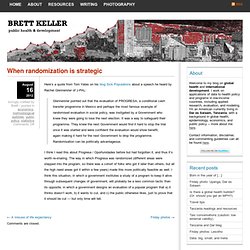 Almost everyone agrees that poverty is not a good thing. Almost everyone would like to end poverty. Almost everyone would benefit from ending poverty. So why don't we? To find out, let's look at the problem through the lens of game theory.
We Can End Poverty, So Why Don't We? | Econ201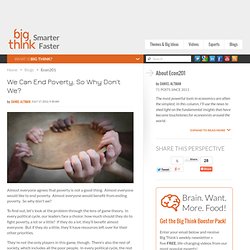 African child mortality: The best story in development
As part of a new series looking how institutions are approaching impact evaluation, DI virtually sat down with Nick York, Head of Evaluation and Gail Marzetti, Deputy Head, Research and Evidence Division Development Impact (DI): There has been an increasing interest in impact evaluation (defined as experimental/quasi-experimental analysis of program effects) in DFID. Going forward, what do you see as impact evaluation's role in how DFID evaluates what it does?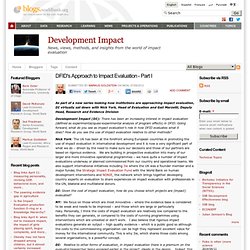 DFID's Approach to Impact Evaluation - Part I | News, views, methods, and insights from the world of impact evaluation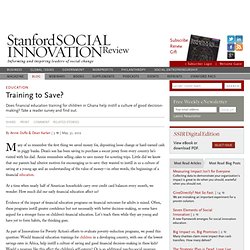 Does financial education training for children in Ghana help instill a culture of good decision-making? Take a reader survey and find out. Many of us remember the first thing we saved money for, depositing loose change or hard-earned cash in piggy banks. Dean's son has been saving to purchase a soccer jersey from every country he's visited with his dad.
Training to Save?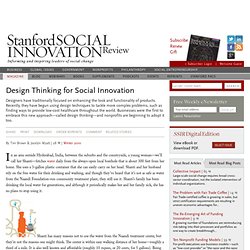 Design Thinking for Social Innovation
Designers have traditionally focused on enhancing the look and functionality of products. Recently, they have begun using design techniques to tackle more complex problems, such as finding ways to provide low-cost healthcare throughout the world. Businesses were the first to embrace this new approach—called design thinking—and nonprofits are beginning to adopt it too.
Economic development efforts are best served by testing and refining assumptions about what works. Should we assume that small enterprises in developing countries are lacking in business skills—and that guidance and training will improve these businesses? Economic theory says that firms do as much as possible to maximize profits—including paying for advice from management consultants.
Can Management Consulting Help Small Firms Grow?
An unmanned rocket owned by the private company Space Exploration Technologies launched Tuesday on the first commercial flight to the International Space Station. SpaceX, founded by PayPal's Elon Musk, has spent about $1.2 billion to date -- $400 million of it from NASA -- in its bid to develop private space flight into a viable commercial enterprise. It's been a busy couple of weeks for rich guys with outer space ambitions.
Jobs for Billionaires - By Joshua E. Keating
Poverty: The audacity of hope
Interview: A Business-Like Approach to Foreign Aid - By Samuel Loewenberg
The son of Indian immigrants from Ann Arbor, Mich., and a graduate of the University of Pennsylvania Medical School and the Wharton School of Business, Rajiv Shah began his career at the Bill and Melinda Gates Foundation, where he ran the organization's agriculture program and went on to serve as chief scientist at the U.S. Department of Agriculture (USDA). In December 2009, at the age of 37, he was sworn in as head of the U.S. Agency for International Development (USAID) -- only days before a devastating earthquake hit Haiti. In an interview for Foreign Policy, Samuel Loewenberg spoke with Shah about how he is reinventing USAID, an often-embattled agency charged with helping the world's poorest countries develop, while at the same time dealing with crises around the globe.
How Not to Write About Africa - By Laura Seay
It's hard out here for us old Africa hands. We are desperate to see more coverage of important stories from the continent and for our neighbors to become more educated about the places where we study and work. Yet when we get that coverage, it tends to make us cringe. Take, for instance, the current violence in northern Mali. In the last six weeks, Mali has experienced a coup d'état and a declaration of independence from rebels who now loosely control half its territory.
Dumb and Dumber - by Charles Kenny
Poor Economics: Barefoot Hedge-fund Managers, Reluctant Entrepreneurs and the Surprising Truth about Life on less than $1 a Day - Video and audio - News and media
The *Poor Economics* in *Why Nations Fail* by Michael Heller
What You Can Do to Stop Malaria
Artful Dodgers - By Joshua Keating
Global development news, comment and analysis | Global development
Branchless Banking in India: 3 More Reasons for Optimism
Book Review: Why Nations Fail
Experimental economics: Double-blind lessons
"Women on the Verge of an Economic Breakthrough" by Heidi Hautala
"Free-Trade Blinders" by Dani Rodrik
El Universal - Finanzas - ONU urge a México fijar salario que garantice alimentación
Commitment to Development Index : Center for Global Development
www.cgdev.org/files/1425806_file_Kenny_Sumner_MDGs_FINAL.pdf
Should Peru pay for its own development? | Mattia Cabitza | Global development
Global poverty: A fall to cheer
Poverty in Japan: Shadowy figures
Focus: Poverty, inequality and redistribution
Onward and Upward - By Charles Kenny