Development
How to Find the Poor - India Real Time
Indranil Mukherjee/Agence France-Presse/Getty Images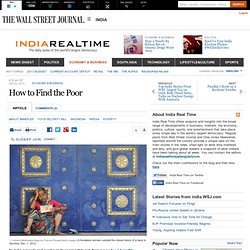 A Global Solutions Network by Jeffrey D. Sachs
Exit from comment view mode.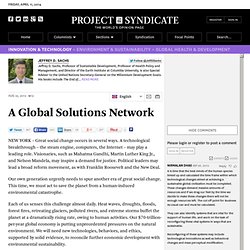 Quinoa Nonsense, or Why the World Still Needs Agricultural Economists | Marc F
First came this post by Joanna Blythman on The Guardian's Comment Is Free blog: Quinoa was, in marketing speak, the "miracle grain of the Andes," a healthy, right-on, ethical addition to the meat avoider's larder (no dead animals, just a crop that doesn't feel pain).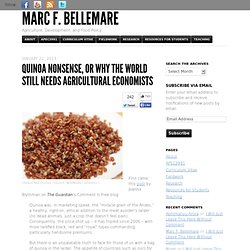 HKS Executive Education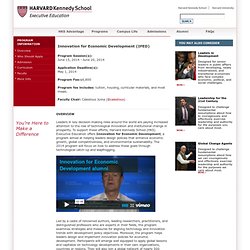 Leaders in key decision-making roles around the world are paying increased attention to the role of technological innovation and institutional change in prosperity. To support these efforts, Harvard Kennedy School (HKS) Executive Education offers Innovation for Economic Development, a program aimed at helping leaders design policies that enhance economic growth, global competitiveness, and environmental sustainability. The 2014 program will focus on how to addressed these goals through technological catch-up and leapfrogging.
2012 saw the passing of a great development economist, Albert O.
Albert O. Hirschman, 1915-2012 | Francis Fukuyama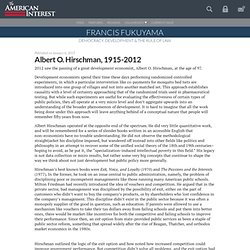 Science, Technology, and Globalization - Conference Announcements - Harvard - Belfer Center for Science and International Affairs
  Games in International Development: Fad or Innovation?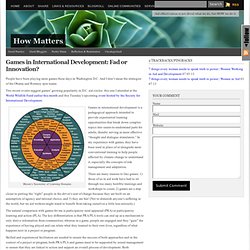 People have been playing more games these days in Washington D.C.
Brett Keller » When randomization is strategic
Here's a quote from Tom Yates on his blog Sick Populations about a speech he heard by Rachel Glennerster of J-PAL: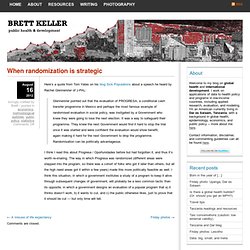 Almost everyone agrees that poverty is not a good thing.
We Can End Poverty, So Why Don't We? | Econ201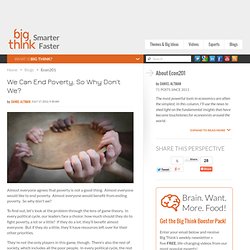 Correction to this article
African child mortality: The best story in development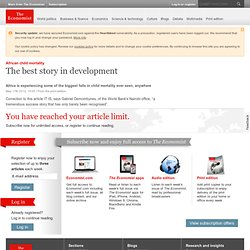 The UK has been at the forefront among European countries in promoting the use of impact evaluation in international development and it is now a very significant part of what we do – driven by the need to make sure our decisions and those of our partners are based on rigorous evidence. We are building in prospective evaluation into many of our larger and more innovative operational programmes – we have quite a number of impact evaluations underway or planned commissioned from our country and operational teams. We also support international initiatives including 3ie where the UK was a founder member and a major funder, the Strategic Impact Evaluation Fund with the World Bank on human development interventions and NONIE , the network which brings together developing country experts on evaluation to share experiences on impact evaluation with professionals in the UN, bilateral and multilateral donors.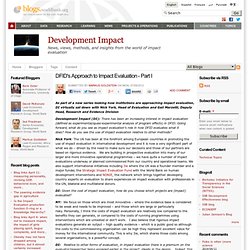 DFID's Approach to Impact Evaluation - Part I | News, views, methods, and insights from the world of impact evaluation
Does financial education training for children in Ghana help instill a culture of good decision-making?
Training to Save?
Design Thinking for Social Innovation
Designers have traditionally focused on enhancing the look and functionality of products. Recently, they have begun using design techniques to tackle more complex problems, such as finding ways to provide low-cost healthcare throughout the world. Businesses were the first to embrace this new approach—called design thinking—and nonprofits are beginning to adopt it too.
Economic development efforts are best served by testing and refining assumptions about what works. Should we assume that small enterprises in developing countries are lacking in business skills—and that guidance and training will improve these businesses? Economic theory says that firms do as much as possible to maximize profits—including paying for advice from management consultants.
Can Management Consulting Help Small Firms Grow?
An unmanned rocket owned by the private company Space Exploration Technologies launched Tuesday on the first commercial flight to the International Space Station.
Jobs for Billionaires - By Joshua E. Keating
Poverty: The audacity of hope
Interview: A Business-Like Approach to Foreign Aid - By Samuel Loewenberg
How Not to Write About Africa - By Laura Seay
Dumb and Dumber - by Charles Kenny
Poor Economics: Barefoot Hedge-fund Managers, Reluctant Entrepreneurs and the Surprising Truth about Life on less than $1 a Day - Video and audio - News and media
The *Poor Economics* in *Why Nations Fail* by Michael Heller
What You Can Do to Stop Malaria
Artful Dodgers - By Joshua Keating
Global development news, comment and analysis | Global development
Branchless Banking in India: 3 More Reasons for Optimism
Book Review: Why Nations Fail
Experimental economics: Double-blind lessons
"Women on the Verge of an Economic Breakthrough" by Heidi Hautala
"Free-Trade Blinders" by Dani Rodrik
El Universal - Finanzas - ONU urge a México fijar salario que garantice alimentación
Commitment to Development Index : Center for Global Development
www.cgdev.org/files/1425806_file_Kenny_Sumner_MDGs_FINAL.pdf
Should Peru pay for its own development? | Mattia Cabitza | Global development
Global poverty: A fall to cheer
Poverty in Japan: Shadowy figures
Focus: Poverty, inequality and redistribution
Onward and Upward - By Charles Kenny