Democracy
The Worst Places to Be a Woman - By Valerie M. Hudson
Entrepreneurship and Democracy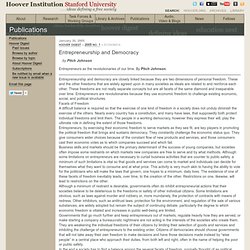 Entrepreneurs as the revolutionaries of our time. The Kauffman Foundation yesterday released its 2011 national Index of Entrepreneurial Activity , showing a 5.9 percent drop in U.S. startup activity from 2010. Not so in Tunisia, according to Mondher Khanfir, an entrepreneur in Tunis who recently co-launched Wiki Start Up , the country's first startup incubator:
Could Tunisia be a startup nation?
Chinese coup watching
Last week, controversial politician Bo Xilai, whose relatively open campaigning for a seat on China's top ruling council shocked China watchers (and possibly his elite peers, as well), was removed from his post as Chongqing's party secretary. I would like to address some of the lessons that we have learned in South Africa -- lessons that might be helpful to all the countries around the world that are in the process of transition, that strive to clamp down on violence, that hope to fight poverty and improve the quality of life of all their people, that aim to move towards democracy and to bring freedom to their people.
A Recipe for Freedom - By F.W. de Klerk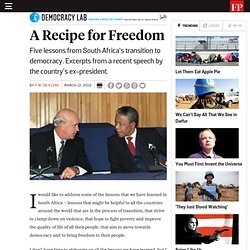 Map of the Day: How Long are World Leaders Staying in Power?